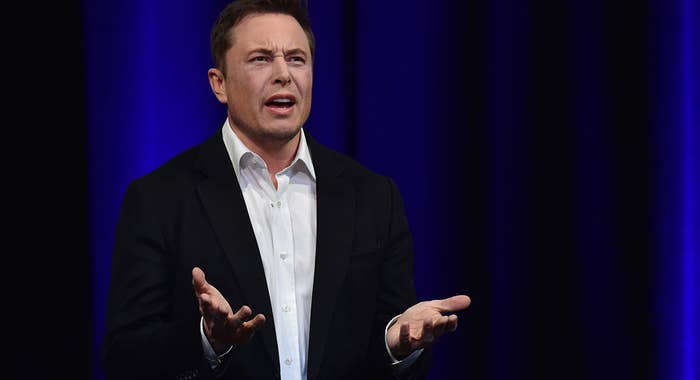 Tesla and SpaceX CEO Elon Musk is making life difficult for himself on Twitter again. Days after picking up the pieces from a failed bid to take his electric car manufacturer private — an attempt seemingly initiated by an ill-advised tweet — the billionaire revisited a groundless accusation he made about a private citizen involved in a child-rescue operation that caught the world's attention.
Back in July, Musk was forced to apologize after facing widespread condemnation for calling a British diver, who had criticized his attempts to aid a cave rescue effort in Thailand, a "pedo" on the social media site. On Tuesday, in a chain with several Twitter users, including the author of this story, Tesla's CEO revisited the claim, asking an individual whether they had investigated the pedophile claim leveled against the diver, Vern Unsworth.
While Tesla's board members have reportedly asked Musk to stay off Twitter and focus on building cars and running his company, the 47-year-old tech luminary seems to have disregarded their guidance resurrecting a possibly defamatory remark for which he had already apologized.
A Tesla spokesperson declined to comment.
Tuesday's back-and-forth began with Musk responding to a tweet about a previous interview he had given to the New York Times, in which he allegedly cried and detailed how difficult the last few months have been for him. In a tweet, however, Tesla's CEO denied that he had shed any tears.
"For the record, my voice cracked once during the NY Times article," he wrote. "That's it. There were no tears."
In the discussion that followed, Drew Olanoff, a former technology reporter who goes by the name @Yoda on Twitter, joked about Musk's defense of himself. In a follow-up message, Olanoff suggested that Musk would be more believable had he been more dedicated to the truth before accusing someone of being a pedophile with no evidence.
And that's when Musk suggested the pedophilia accusation wasn't baseless at all.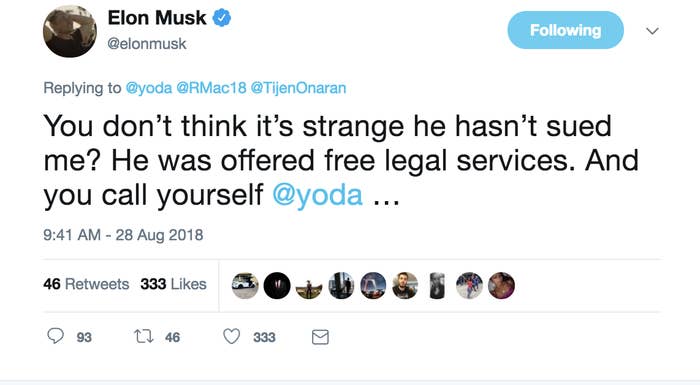 "You don't think it's strange he hasn't sued me?" Musk responded, suggesting that Unsworth's lack of legal action against him was a red flag. "He was offered free legal services."

"Did you investigate at all?" he said in a follow-up tweet to Olanoff. "I'm guessing answer is no. Why?"
Olanoff, who told BuzzFeed News that he stood by the point he made, fired back barbs of his own.
"i think a lot of things are strange, elon," he wrote. "what i think is especially strange here is that you're wondering why he hasn't sued you while the rest of us are wondering why you did something so egregious that he could sue you for in the first place."
Other reporters, including the author of this post, also tweeted at Musk, asking about his suggestions to investigate the baseless claims. The Tesla CEO did not respond to any of those tweets, but did note that Olanoff should be "a truth-seeker" because of his Twitter name, @Yoda. It's unclear what "truths" Musk was referring to.
Beyond pondering why a private citizen has yet to sue him, Musk has plenty of other issues on his hands. The Securities and Exchange Commission is reportedly investigating Musk for his botched attempt to take Tesla private, while the company is now facing several shareholder lawsuits over the matter. What's more, its top communications executive is leaving after a year that's been riddled with scandals, missed production goals, and unexpected tweets from the company's CEO.
Speaking to Sky News on Wednesday, Unsworth said he couldn't comment on the matter for legal reasons, but said: "It's all being dealt with, that's all I can say."
UPDATE
The story has been updated with a comment from Drew Olanoff.