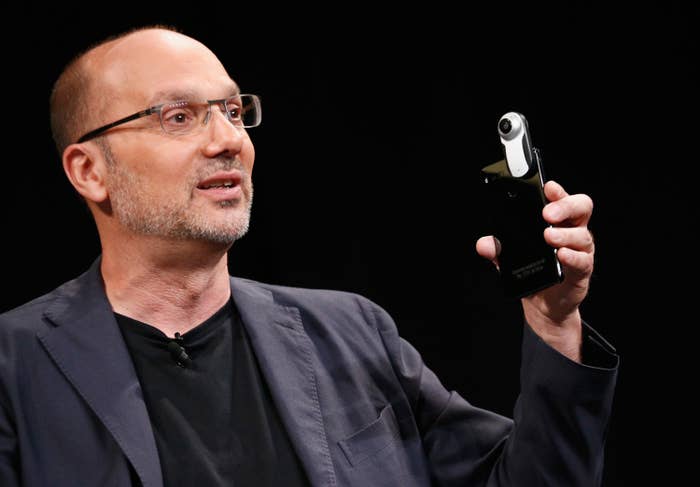 Andy Rubin, the former Google senior vice president whose $90 million exit package caused a worldwide employee walkout at the search giant last year, quietly left Playground Global, the venture firm he founded, in May according to documents viewed by BuzzFeed News.
The revelation comes as Rubin, who was accused of coercing a subordinate into sexual acts while at Google before being given a hero's send-off in 2014, attempts to make a public comeback with Essential Products, the mobile device company he founded. On Tuesday, Rubin tweeted images of Essential's new phones, some of his first public statements since late 2018 when news broke on the circumstances surrounding his exit from Google.
Those circumstances caused an uproar at Google, which was already dealing with several stories of executive harassment and misbehavior, and provided direct proof that Larry Page, the CEO of Google parent company Alphabet, and his board members had intentionally tried to cover up misdeeds at the top. Not only were Google executives aware of allegations of sexual misconduct at the time of Rubin's exit, but they failed to notify employees, lauded him in a departure announcement, and sent him off with a $90 million exit package.
Rubin's departure from Playground was also accompanied by a payout, with a source familiar placing the amount at more than $9 million. Documents related to his exit, which were seen by some investors and the company's leadership, but not all of Playground's staff, were reviewed by BuzzFeed News.
"Effective May 31, 2019, Playground Global ended our business relationship with Andy Rubin," read one internal document. "While Andy is still a good friend of Playground, he no longer has any economic interest in or any ongoing roles at Playground Global or the related funds."
The exact reasons for Rubin's exit from Playground are unknown, though he remains on the company's site with the title of "Founding Partner." Rubin did not respond to an email request for comment. A spokesperson for Playground acknowledged receipt of BuzzFeed News' specific questions Rubin's departure but did not respond in time for publication.
Rubin's quiet, money-padded exit from Playground and his public reemergence at Essential is yet another example of a male technology executive with sexual misconduct allegations coming back into an industry leadership role and reaping the associated rewards. Recently, executives from companies including SoFi, Uber, and Google returned to positions of power at different tech companies following credible allegations and investigations into sexual misconduct, as some employers and investors have decided to look beyond past indiscretions.
"I don't think the culture of technology and venture capitalists has changed enough that we should be comfortable bringing back people who have had bad behavior back into the mix," said former venture capitalist Ellen Pao, who now leads up the diversity initiative Project Include. "We don't have any accountability to prevent it from happening again."
In showcasing Essential's new phone on Tuesday, Rubin — who has made few statements since the news broke about his alleged misconduct and exit package at Google — seemed to be signaling his public return to his hardware startup. In late 2017, he took a leave of absence from Essential after the Information reported about "an inappropriate relationship" with an employee at Google. That was followed by an October 2018 New York Times story in which Rubin was said to have coerced a subordinate to perform oral sex on him in 2013, leading to a complaint with the company's human resources department.
Instead of firing him, however, Page and Google's board protected Rubin, the inventor of the Android operating system, announcing that he was leaving to focus on investing and startups, while awarding him a $90 million exit package that has since become the subject of a shareholder lawsuit. In response to the news, thousands of Alphabet employees from Tokyo to London to Mountain View, California, walked out in protest last November.
That outrage spurred some change. Google CEO Sundar Pichai would go on to announce that the company had previously terminated 48 people for sexual harassment, including 13 who were senior managers or above. None received an exit package, he said.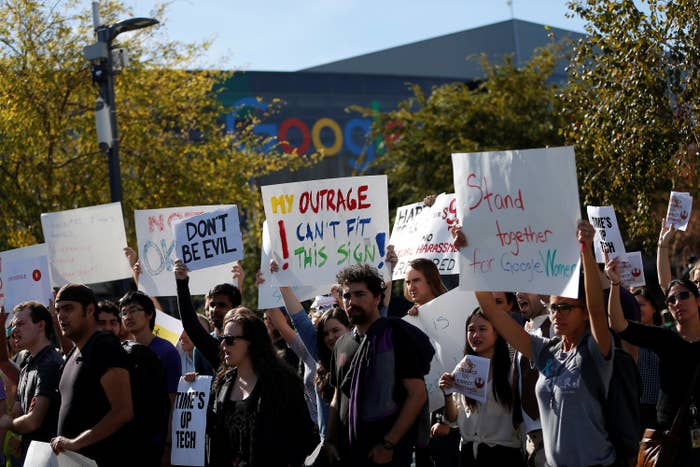 Following his departure from Google, Rubin remained connected to the company, which reportedly paid out his exit package in monthly $2 million installments. In 2015, he founded Playground Global, an investment firm and hardware incubator that initially raised around $50 million from the likes of Google, Hewlett-Packard, and venture outfit Redpoint Ventures, where Rubin also joined as a partner. The firm closed a $500 million fund in 2017, according to venture intel company PitchBook.

At Playground, Rubin would have seemingly been the firm's "key man," a phrase used to describe a company's main dealmaker and typically one of the main reasons why investors, or limited partners, decide to back a venture firm. It's unclear if all of Playground's investors were notified of Rubin's departure.
Playground did not respond to a request for comment. Google declined to comment and would not say if it's still an investor in Playground's funds. HP did not return a request for comment.
A spokesperson for Redpoint only confirmed that Rubin was no longer at their firm. They did not respond to questions about when or why he left, or if Redpoint is still an investor in Playground. Online archives of Redpoint's website show Rubin disappearing from the company's roster around the time of the first stories in late 2017 of a previous "inappropriate relationship" at Google.
Data from PitchBook suggests the firm has been relatively active through 2019, taking part in the seed rounds of a robot software and gene therapeutics startups in June as well as investing in a $140 million round into Relativity Space, a 3D printing aerospace company. Of the seven deals Playground has done this year, six closed after the official split with Rubin in May, which was kept under wraps.
Rubin, however, is still using Playground's money to build Essential. The two are heavily linked, with Playground investing in both of Essential's fundraising rounds that have raised a collective $330 million and the two companies sharing the same address, according to their websites.
It's not clear why Rubin, Playground's founder and figurehead, departed the venture firm, but the nimbus of persistently negative publicity around him may have played a role. In the months leading up to his official departure from Playground, Rubin was dragged back into the news when the disclosure of his Google exit package became the focal point of a January shareholder lawsuit against Alphabet and its executives. There was also a messy divorce and lawsuit from his estranged wife, Rie Hirabaru Rubin, who alleged that he deceived her into signing a prenuptial agreement and cheated her out of millions, while maintaining secret sexual relationships on the side.
Documents unsealed in the case alleged that Andy Rubin concealed the terms of his 2014 payout from Google from his wife and used hundreds of thousands of dollars from it to pay women with whom he had "'ownership' relationships" that allowed him to offer them to other men. One of those women "was complicit with Rubin in running what appeared to be a sex ring," the complaint alleged.
Rubin has since settled the civil case with his former wife, according to filings made in a California superior court. A lawyer for Hirabaru Rubin declined to comment on the settlement. Rubin's divorce lawyer did not respond to a request for comment.
When Rubin left Playground in May 2019, the document noting his exit made no mention of the accusations leveled by his estranged wife, the news surrounding his ignominious departure from Google, or the shareholder lawsuit that followed. Instead, it commended him.
"Andy, who has an unparalleled track record in the mobile industry, has been devoting all his energy to our portfolio company, Essential, since early 2019," the announcement read. "Andy will continue as CEO of Essential. Essential's success will have a significant impact on Playground Ventures I and Playground Global."