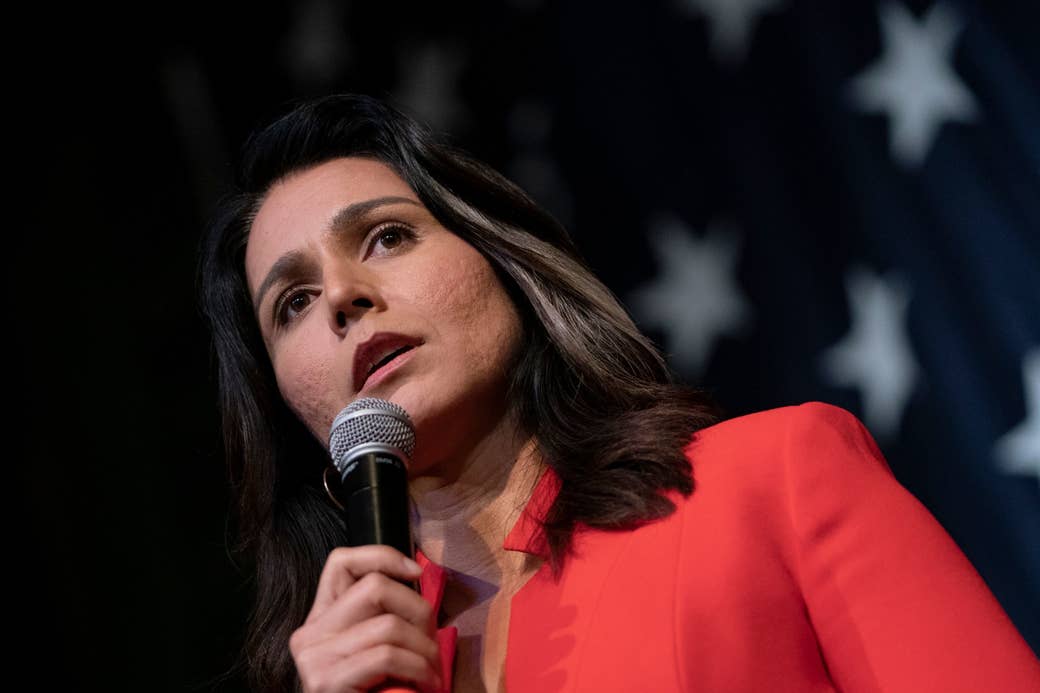 Former Democratic presidential nominee Hillary Clinton said last week she believed the Russian state has a favorite in the Democratic primary.

"I'm not making any predictions, but I think [the Republicans] got their eye on somebody who's currently in the Democratic Party," Clinton said to former Obama campaign manager David Plouffe on his podcast, Campaign HQ. "They're grooming her to be the third-party candidate. The favorite of the Russians. They have a bunch of sites and bots and ways of courting her so far, and that's assuming Jill Stein will give it up, because she's a Russian asset. Yeah, she's a Russian asset. Totally."
Clinton's team later confirmed she was talking about Tulsi Gabbard. "If the nesting doll fits," Clinton spokesperson Nick Merrill said.
The Democratic representative from Hawaii swung back at Clinton on Friday, tweeting, "Great! Thank you @HillaryClinton. You, the queen of warmongers, embodiment of corruption, and personification of the rot that has sickened the Democratic Party for so long, have finally come out from behind the curtain."
There is no evidence that Gabbard is coordinating with the Kremlin or with an assortment of foreign dictators and extremists. At the same time, Gabbard has been consistently championed by Syrian dictator Bashar al-Assad's propaganda machine, an international network of pro-Trump Hindu nationalists, the American far right, and Russian state media. And if some of these forces are trying to use Gabbard as a cat's-paw, it serves their purposes to cast her as an oppositional force to the so-called deep state, which is exactly what Clinton's comments did.
The narrative Clinton flirted with — a compromised candidate receiving direct support from a foreign government to disrupt an election — is hilariously old fashioned; The Manchurian Candidate is literally more than 50 years old. It is much easier for an adversary to find a chaotic politician and amplify them. Wrapping the American media up in paranoia about Russian assets is much more disruptive than controlling a candidate from Moscow. To have the hosts of The View discuss Gabbard being a Russian "Trojan horse," to have Gabbard insist that Clinton enter the race, and to have Trump defend Gabbard — this grenade throwing has played out about as well as Gabbard's antidemocratic supporters could have hoped.
During the 2016 US presidential election, international troll armies, misogynist incels, neofascists, and white nationalists all learned how to do the same thing — infiltrate poorly moderated social networks to seed propaganda. This toxic mishmash has deployed this same strategy to disrupt the 2020 election: Pick a Democratic candidate, infiltrate the candidate's online fanbase, radicalize their supporters, use social media to recontextualize the campaign, and hope the media or other candidates (or Hillary Clinton) take the bait.

Several Democratic candidates have been targeted by these appropriation psyops so far — most notably entrepreneur Andrew Yang, who, after flirting with the fringe via the Yang Gang, spent the summer disentangling himself from Trump trolls, men's rights activists, and gamers. Author Marianne Williamson's campaign has similarly courted a strange online fanbase, made up of anti-vaxxers and other New Age identity movements — although her Orb Gang has avoided blatant hijacking so far, most likely because she's been so vocal about her opposition to Trump.

Gabbard, though, is the perfect candidate for political bad actors to weaponize. She has spent most of her political career defending policies that line up with the interests of extremist groups and dictators.
Her unusual political background is perfect for extremists looking to paint her as a covert Republican — or worse. Gabbard's father, Democratic state Sen. Mike Gabbard, was an anti-gay crusader in the '90s; in the early 2000s, Tulsi Gabbard worked for an anti-LGBTQ group that backed conversion therapy. Gabbard and her family have connections to a Hare Krishna offshoot called the Science of Identity Foundation, which critics have accused of being a cult. In her first two terms in office, Gabbard met multiple times with the right-wing Hindu nationalist volunteer organization, Rashtriya Swayamsevak Sangh (RSS), with whom many of her US donors are affiliated. The international branch of the RSS organized the "Howdy, Modi" event between Trump and the right-wing Indian Prime Minister Narendra Modi in Houston last month. She visited India in 2014 after a personal invitation from Modi.
Gabbard caught the attention of the American far right in February 2016 when she resigned as vice chair of the Democratic National Committee to endorse Democratic presidential candidate Bernie Sanders. In June and July that year, WikiLeaks published emails between Gabbard and Rep. Debbie Wasserman Schultz, then the chair of the DNC, clashing over what Gabbard perceived as Wasserman Schultz's favoritism of Clinton over Sanders — a leak that Gabbard would later defend. In February this year, Gabbard praised WikiLeaks publishing the 2016 DNC emails (an endorsement that the site proudly publicized), saying, "the information that has been put out has exposed a lot of things that have been happening that the American people were not aware of and have spurred some necessary change there."
In November 2016, according to a senior official on the transition team talking to ABC News, Trump seriously considered Gabbard for a cabinet position. Not only did Gabbard meet with the president that month, but the meeting was organized by Trump's then–chief strategist, Steve Bannon. Bannon reportedly thought Gabbard's foreign policy views, in particular, would make her a perfect fit inside Trump's administration. Gabbard did not end up in Trump's cabinet, but the possibility was enough to grow a following inside the MAGAsphere.
"LITERALLY OUR GIRL," one 4chan user wrote of Gabbard at the time. "THE BREAKS ON THE KEK TRAIN ARE BROKE"
"I've always like her and respected her," a redditor in the pro-Trump subreddit r/The_Donald wrote the same day. "Now I do even more. She is awesome, and much more deserving on the title First Woman President than Hillary is."
It wasn't just radicalized message boards buzzing about Gabbard — the Hill published a piece titled "Tulsi Gabbard Is the Pick for Secretary of State, Not Mitt Romney," which was shared thousands of times on Facebook.
Gabbard has continually connected with dictators aligned with both Russian interests and Republican foreign policy. In 2015, Gabbard traveled to Cairo with then–Republican California representative Dana Rohrabacher, known in Washington as "Russia's favorite congressman," whom the Kremlin liked enough to give a code name. While in Cairo, Gabbard met with Egyptian President Abdel Fattah el-Sisi and praised him for his "great courage" in the fight against "extreme Islamist ideology." In January 2017, Gabbard traveled to Syria to meet with Assad for a "fact-finding" mission and, at the time, referred to Syrian rebels, then backed by the US government, as "terrorists." She refused to condemn Assad and was publicly skeptical over whether his regime carried out chemical attacks in April 2017 against the town of Khan Shaykhun.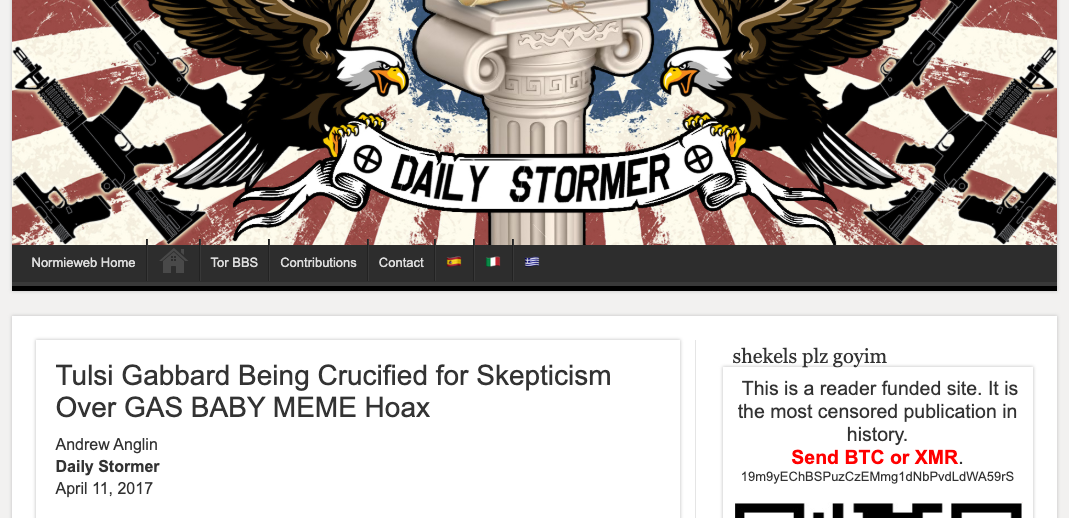 Gabbard's visits to Assad occurred at the same time the American far right embraced the dictator's regime, driven by a combination of pro-Assad propaganda infiltrating radicalized platforms like 4chan, Russian misinformation about Syria flooding Twitter, and Assad's strongman persona reminding some of Trump. Memes of Assad as Pepe the frog flooded Twitter and Reddit. Radicalized Facebook pages started sharing jokes about Assad's use of barrel bombs.

Gabbard's comments on Syria didn't go unnoticed. Neo-Nazi Andrew Anglin wrote glowingly about her on the Daily Stormer in April 2017. "She's basically the only person in our government right now who is actually saying the truth about the situation in Syria, so I support her," Anglin wrote. The same month, alt-right founder Richard Spencer tweeted, "Tulsi Gabbard 2020 #Trumped." In February this year, the former grand wizard of the Ku Klux Klan David Duke endorsed Gabbard for president — a vote of confidence she rejected: "I have strongly denounced David Duke's hateful views and his so-called 'support' multiple times in the past, and reject his support," she said in a statement.
In January, as Gabbard was about to announce her presidential run, Russian state media started amplifying her campaign. Russian state broadcaster Russia Today swarmed her candidacy, chronicling what the outlet described as "panic" among Republicans and Democrats over Gabbard entering the race and categorizing claims that she was a Hindu nationalist as a religious slur. On Twitter, the Russian Embassy in South Africa attacked the investigative journalism website Bellingcat over its report on Gabbard's skepticism about the use of chemical weapons attacks in Syria.
At the same time, multiple 4chan threads began debating exactly what they should do about her campaign, according to an incomplete archive of 4chan threads.
"There are essentially two schools of thought here: Support the most inept person possible from the DNC, as a guarantee that Trump will win. Support the most /pol/-ish person possible from the DNC, as a fail-safe in case Trump loses," one user wrote. "Again, nobody is suggesting that we support her over Trump in the general. But there is definitely massive meme potential when it comes to making her the nominee."
By the time Gabbard started appearing in debates, 4chan users were calling her "mommy" and trying to hack polls in her favor. Far-right influencers like Jack Posobiec and Infowars' Paul Joseph Watson have both tried to hijack Gabbard's campaign to inject radicalized messages into it. Pro-Trump media personality Mike Cernovich is especially enamored with Gabbard, spreading a conspiracy that foreign agents from Qatar have bought influence inside the media to smear her. Right-wing YouTuber Steven Crowder, just this week, began spreading a conspiracy theory that YouTube is blocking Gabbard-related content from the platform to support Clinton.
As a consequence of the far-right smoke machine, the accusations that Gabbard is running as a secret pro-Trump candidate or as a "Russian asset" have persisted. In August, the hashtag #KamalaHarrisDestroyed — referencing a clash between Gabbard and Democratic candidate Sen. Kamala Harris — went viral on Twitter. At the same time, Gabbard became the most-searched candidate on Google, which raised concerns that coordinated bot activity was promoting Gabbard. Still, there is no concrete evidence that Russia is actively exploiting the campaign, aside from Russian state media coverage.
Gabbard has spent the days since Clinton's accusation defending herself in fiery tweets and media appearances, drawing support from other candidates in the process. "People can disagree on issues, but it is outrageous for anyone to suggest that Tulsi is a foreign asset," Bernie Sanders tweeted Monday.
It's not outrageous to suggest that Gabbard has benefitted from foreign assistance, but accusations of a compromised candidate delegitimize the democratic system just as effectively as actual Russia interference. It's one of the oldest trolls there is, dating back to the founding of the United States.

But today, the scale is much different than when opponents of President Thomas Jefferson accused him of being in cahoots with France. In 2014, as 4chan was radicalizing into a white nationalist message board, its users undertook one of its first large-scale harassment campaigns. Men's rights activists, incels, and pickup artists created Twitter accounts to pose as women of color. The fake accounts began promoting the hashtag #EndFathersDay. The campaign drew the attention of the wider community, who either fell for it or pilloried it. Conservative media picked up the trend, using it to paint the social justice community as ridiculous. Activists then outed the hashtag as fake. The point was to destabilize liberal activists, undermining trust that activists had in their own movement.
According to the Mueller report, Russian trolls carried out the same strategy in 2015. They posed as black activists and generated hundreds of thousands of interactions for content that included calling Hillary Clinton a "monster," supporting Bernie Sanders, and decrying racial injustice and police violence in the US. They focused a large number of their resources on creating black social justice Facebook groups like "Black Matters," "Blacktivist," and "Don't Shoot Us." They purchased ads for the account Black Matters to organize anti-Clinton flash mobs. The infiltration is merely a setup; the eventual unmasking is the punchline.
For the online coalition of extremists and foreign bad actors hoping to disrupt the 2020 election, there may not have been a better outcome than Clinton accusing Russia of grooming Gabbard. The former first lady has been its main target since 2015: White nationalists, Trump trolls, Assadists, and the Kremlin's propaganda apparatus all profess to believe that Clinton has turned the DNC into a corrupt deep state. And Gabbard is the 2020 presidential candidate in whom they've invested the most.
And now Clinton set off that land mine. Conservative media is already taking advantage of it. On Monday, Fox & Friends rushed to Gabbard's side.
"She's been an absolute standout during this whole election campaign," cohost Brian Kilmeade said.
"We don't really know what happens behind the scenes, and it looks like she's pulling back the curtain," cohost Ainsley Earhardt said. "It shows how dirty politics is."