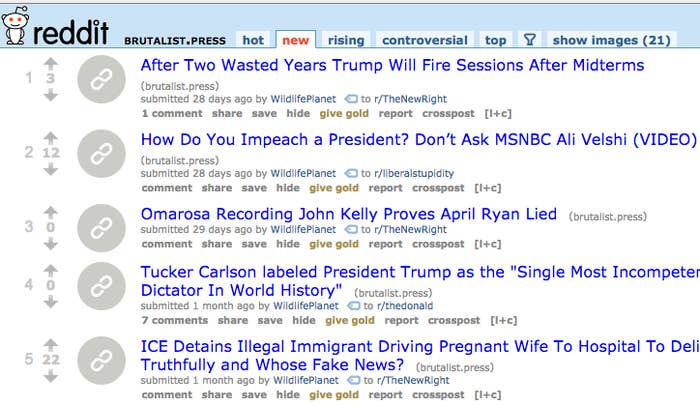 It appears that right-wing news websites funded by Russia's Internet Research Agency have been aggressively targeting Reddit's largest pro-Trump subreddit, /r/The_Donald, for over a year.

In a viral thread posted to /r/FuckTheAltRight last week, a user named DivestTrump laid out a staggering list of suspicious political content coming from a handful of domains. As Facebook and Twitter have become more active this year in tackling fake news, bots, and political bad actors, it has left Reddit as one of the few places where people are freely sharing links online. /r/The_Donald currently has over 600,000 subscribers and still acts as the pro-Trump world's central hub for memes, talking points, and conspiracy theories.
The bulk of the investigation that was posted to /r/FuckTheAltRight focused on two suspicious domains: brutalist.press and usareally.com. Both domains were registered in Russia, both sites contain linguistic errors common with other Russia-affiliated sites, and both heavily targeted /r/The_Donald. Based on job listings posted online, brutalist.press appears to have been created in St. Petersburg in 2016. And usareally.com is owned by a member of a civil society institution called the Civic Chamber of the Russian Federation.

The thread posted to /r/FuckTheAltRight was deleted and archived several hours after it was posted. It appears DivestTrump deleted his account after posting, which has only added to conspiracy theories from users about how Reddit might be dealing with allegations of Russian meddling on its most controversial subreddit. DivestTrump explained why he deleted his account in a subsequent post, writing, "I'm not interested in spending my time getting doxxed, death threats, brigades, witch hunts and general reddit vitriol for no good reason."
A spokesperson for Reddit told BuzzFeed News that the company had been in the final stages of investigating the domains listed in DivestTrump's post when the thread was posted.
"We are continuing our investigation into suspicious content on Reddit and have taken action against several domains that break our site-wide policies," the spokesperson said. "We have dedicated teams that enforce our site-wide policies, proactively go after bad actors on the site, and create engineering solutions to prevent them in the future."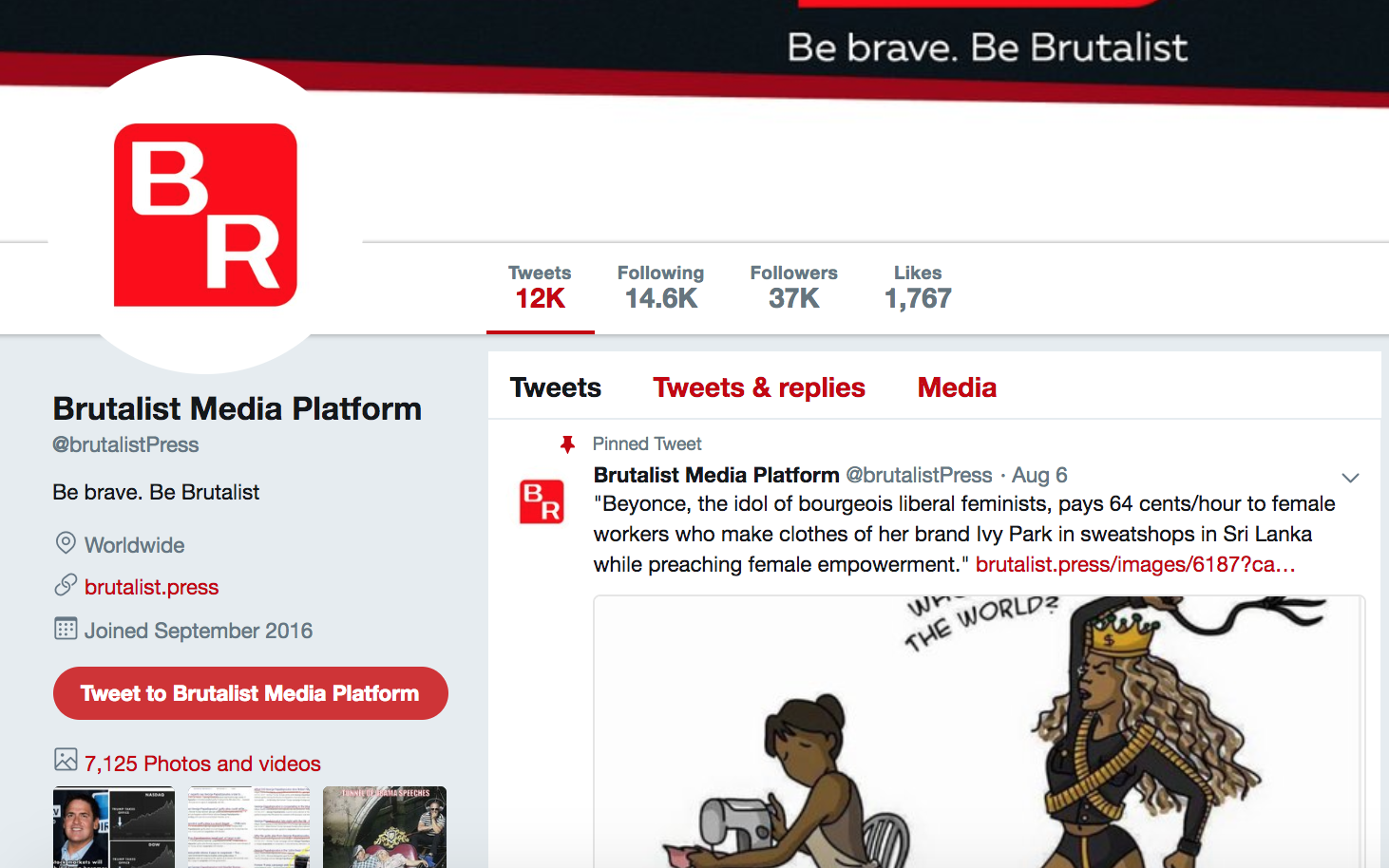 Brutalist.press submitted over 500 links to Reddit over the last year. The top two most upvoted links were both submitted to /r/The_Donald.

One was titled "Furious Formula 1 'Grid Girls' Who Were Fired From Their Jobs Say They've 'Lost Important Income Because Feminists Think They Know Best,'" which received 2,095 upvotes. The second most popular submission was titled "Chart showing how amnesty padded California's voting to Dems," which was upvoted 1,001 times.

Interestingly, Brutalist's articles had very little engagement outside of Reddit. Its articles "DNA Testing Companies Like 23andme Admit Adding Fake African Ancestry To White Profiles In Order To 'Screw With Racists'" and "Muslims Wreaking Havoc in Belgium" were the site's most read of the last year, according to BuzzSumo data, with thousands of shares from Reddit but nothing from Facebook or Twitter.
Its most recent submission to Reddit was a link titled "After Two Wasted Years Trump Will Fire Sessions After Midterms," submitted to /r/TheNewRight.
Brutalist's website no longer works, but its Twitter page is still live and gives a snapshot of the kind of content it was publishing. The account, which was auto-tweeting links to the site, stopped doing this the same day Brutalist stopped submitting links to Reddit, Aug. 24, 2018.
In the last few days, the account — which has 37,000 followers — has been retweeting a pro-Trump meme account called @BasedDemocrat.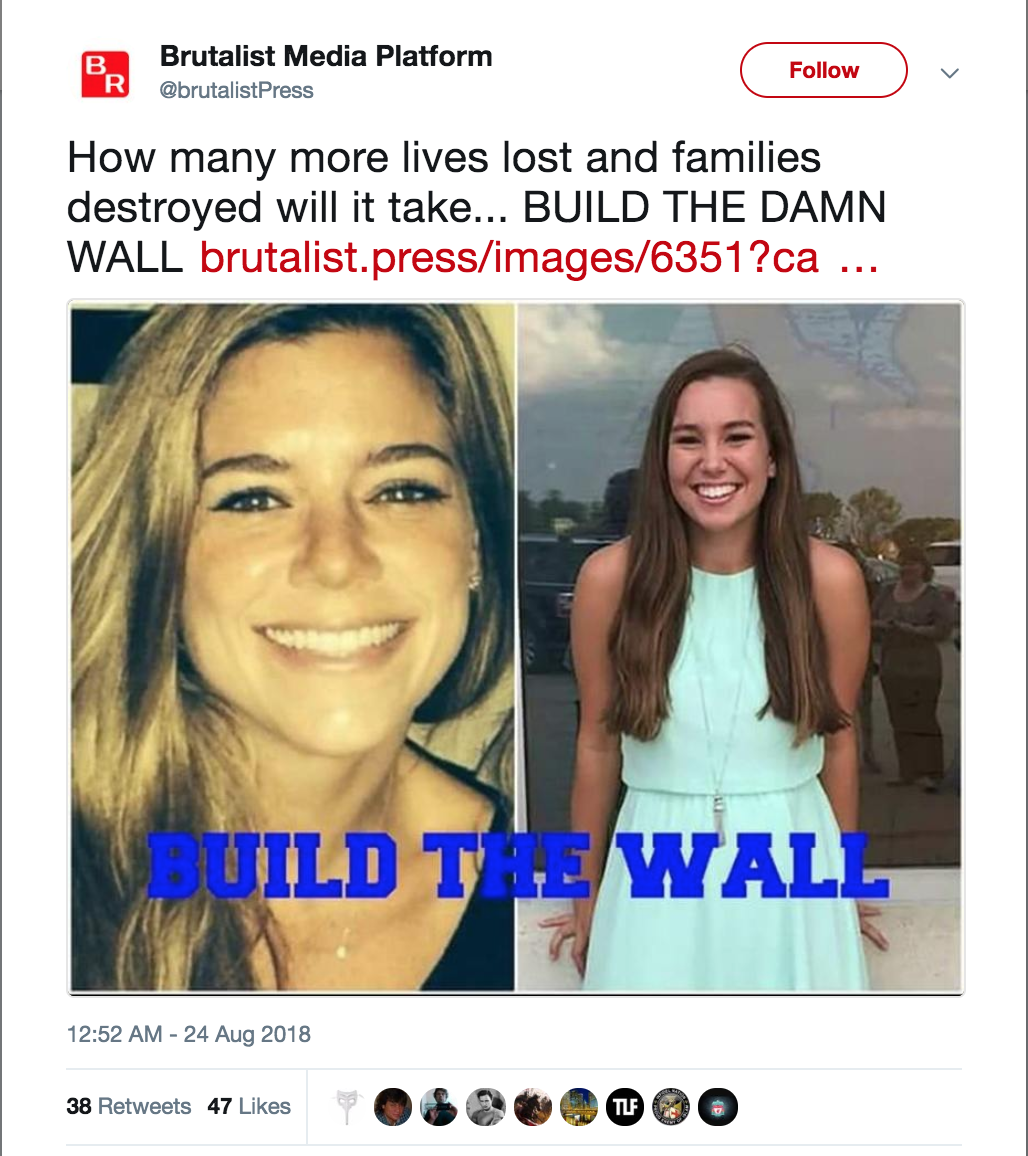 Brutalist had a Russian IP address and was running on a server maintained by Yandex — an extremely popular Russian web services company. Brutalist's website and Facebook page are both down, but its Instagram and Twitter are still public.

Brutalist.press appears to have been created by a software developer from St. Petersburg named Alex Antonov in 2016. Antonov was listed as one of the site's main contributors.
His Twitter account retweeted a Brutalist tweet in 2017. He also tweeted at Brutalist's Twitter account three times in August and September of 2017.
And someone with the email address alex@brutalist.press posted a job listing on the Russian job board moikrug.ru in June of 2017. The listing is for a frontend developer who can speak technical English and be available for remote work with periodic trips to St. Petersburg. St. Petersburg is where Russia's Internet Research Agency — or troll factory — was initially located.
BuzzFeed News has reached out to Antonov for comment.
The bulk of the Brutalist links have been submitted by accounts that have since been deleted, but three recent users were posting Brutalist links regularly over the last six months: WildlifePlanet, kjfriend2, and a now-deleted user named SgtPlumley.
SgtPlumley shared 16 USA Really articles to /r/The_Donald over the last 13 days using the URL shortener geotus.army. GEOTUS is an acronym for "God Emperor of the United States," a common nickname on Reddit for President Trump. SgtPlumley also shared three USA Really articles with the URL shortener geotus.band.
Five articles were shared directly to Reddit, in subreddits like /r/TwoXChromosomes and /r/atheism. Three of the most recent links were posted in the last 10 days.
USA Really hasn't been operating for very long and the majority of its articles don't appear to be getting a lot of readers yet, but according to BuzzSumo, an article from August titled "Phenomenon of Missing & Murdered Indigenous Women Has Become an Epidemic in the US" was shared on Facebook almost 80,000 times.
The timing of USA Really links appearing on Reddit also coincides with Brutalist's website going down. USA Really links started showing up on Reddit about a week after Brutalist stopped publishing.
USA Really is working on an IP address located in Missouri, but its domain is registered in Russia. Its LinkedIn page lists it as an online media business operating out of Moscow. The LinkedIn has one employee listed, Dmitry Kukushkin. Kukushkin's profile only includes his work at USA Really. A Facebook profile for him exists but offers no additional information. It includes the same photo and its only activity appears to be sharing USA Really articles.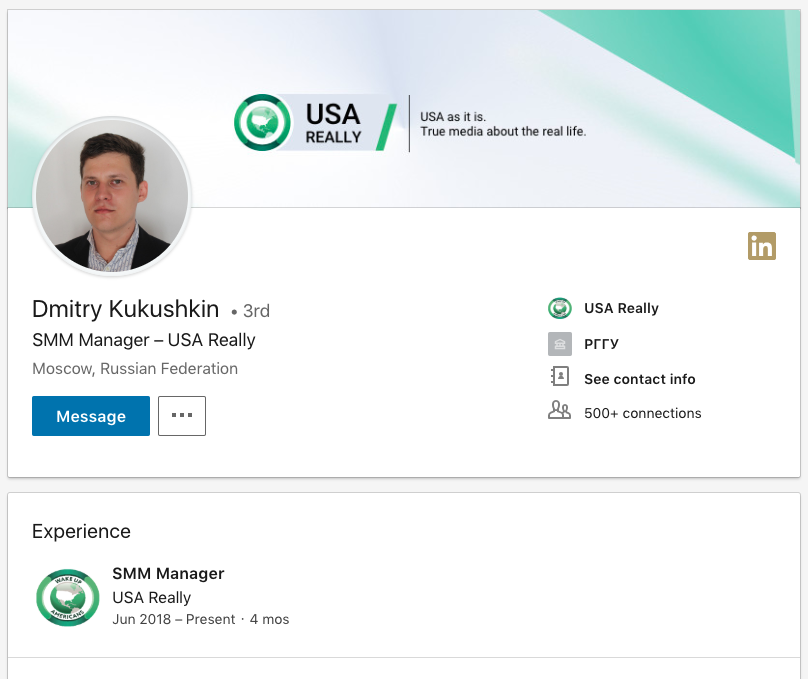 In August, the same week that Brutalist links stopped being shared on Reddit, a member of the Civic Chamber of the Russian Federation named Alexander Malkevich told Yahoo News that he was the chief editor of USA Really and wanted to use the site to prove that the "deep state is real."

According to Malkevich's interview, when it first launched, USA Really was banned from Facebook almost immediately. "I can't understand why in six hours of our launch, Facebook banned our account," Malkevich said. "We have three or four posts, and we have zero subscribers."
USA Really's Facebook is now back online. Also, Malkevich is Facebook friends with the Dmitry Kukushkin profile.
According to an AP story from July, USA Really's Moscow office is in the same building as the Federal News Agency, which is allegedly run by Putin ally Yevgeny Prigozhin, who is also in charge of the Internet Research Agency.
Malkevich told the AP that USA Really's funding comes from the Federal News Agency. "I absolutely don't understand this spy mania," he said at the time.
Over the weekend, a Reddit Admin wrote that four domains included in DivestTrump's post have been banned, the custom URL shorteners geotus.army and geotus.band, UsaReally.com, and Brutalist.press.

UPDATE
This post has been updated to included further comment from Reddit.