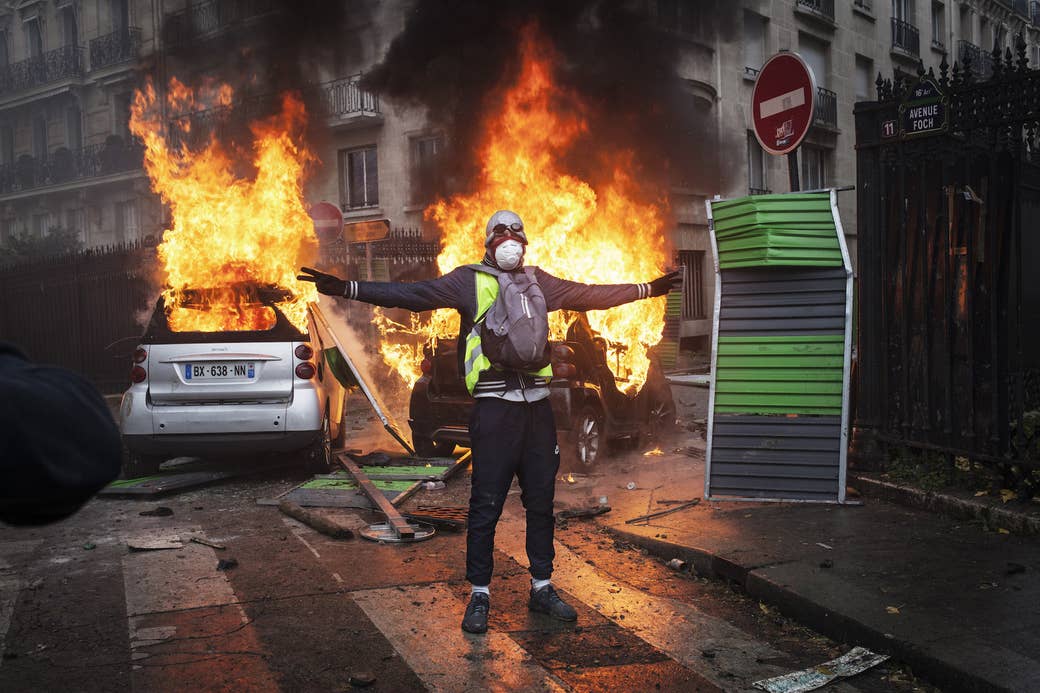 This week, protesters scaled the Arc de Triomphe, burned cars, and clashed with police in the third consecutive weekend of riots in France. More than 300 people were arrested in Paris last weekend alone, and 37,000 law enforcement officers have been deployed around the country to restore order.

The "Gilets Jaunes" or "Yellow Vests" protests have only gotten more violent since they began last month. Three people have died, hundreds more have been injured. To hear the protesters tell it, they're marching through the streets to fight back against rising fuel prices and the high cost of living in the country. Beyond that, though, it's an ideological free-for-all. Fights have also been witnessed among demonstrators, and some have sent death threats to other protesters.
But what's happening right now in France isn't happening in a vacuum. The Yellow Vests movement — named for the protesters' brightly colored safety vests — is a beast born almost entirely from Facebook. And it's only getting more popular. Recent polls indicate the majority of France now supports the protesters. The Yellow Vests communicate almost entirely on small, decentralized Facebook pages. They coordinate via memes and viral videos. Whatever gets shared the most becomes part of their platform.
Due to the way algorithm changes made earlier this year interacted with the fierce devotion in France to local and regional identity, the country is now facing some of the worst riots in many years — and in Paris, the worst in half a century.
This isn't the first time real-life violence has followed a viral Facebook storm and it certainly won't be the last. Much has already been written about the anti-Muslim Facebook riots in Myanmar and Sri Lanka and the WhatsApp lynchings in Brazil and India. Well, the same process is happening in Europe now, on a massive scale. Here's how Facebook tore France apart.

In January this year, "Anger Groups" (Groupes Colère) started to appear across French Facebook. The first group was titled "Are you fed up? This is now! (anger + dept)" and it was started by a Portuguese bricklayer named Leandro Antonio Nogueira, who was living in the southwest département — or administrative territory — of Dordogne.
Nogueira's group called for members to peacefully protest local authorities by blocking roads. Nogueira then quickly helped set up Anger Groups in other départements across France. These immediately gave lower-middle-class and working-class people in small towns a chance to complain about local issues. Nogueira's first group, which is private, currently has around 90,000 members.
These pages weren't exploding in popularity by coincidence. The same month that Nogueira set up his first group, Mark Zuckerberg announced two algorithm changes to Facebook's News Feed that would "prioritize news that is trustworthy, informative, and local." The updates were meant to combat sensationalism, misinformation, and political polarization by emphasizing local networks over publisher pages. One change upranks news from local publishers only. Another change made the same month prioritizes posts from friends and family, hoping to inspire back-and-forth discussion in the comments of posts.
"In Groups, people often interact around public content," Adam Mosseri, the head of News Feed at the time, explained in a subsequent blog post. "Pages whose posts prompt conversations between friends will see less of an effect."
"We have doubled down on our efforts to prevent the spread of false information on our platform and to educate people on how to identify and signal this type of content," a Facebook spokesperson told BuzzFeed News. "We also have robust partnerships with French fact-checking organizations to tackle misinformation by verifying information shared on our platform."

Facebook, by all indication, plans to continue emphasizing local content. It announced plans this month to expand the feature to create local news hubs in 400 test cities in the U.S.
So, Facebook tweaked its algorithm and local Anger Groups spread across French Facebook at a shocking speed. The groups were able to organize a dozen or so decent-sized protests last winter. French départements are numbered, so between January and February, demonstrations with names like "Anger 24" or "Anger 87" would pop up, shut down roads, and protest things like labor law reforms, reducing the speed limits on busy roads, or proposed local vaccination plans. France's anti-vax movement is particularly nasty at the moment and Anger Groups were, and still are, a hotbed of anti-vax misinformation.

Département numbers are displayed on car license plates — they play a significant role in the identity of most French people, as well as how they use Facebook. When French Facebook users, especially older ones, want to share something to their local community, they will often write "ptg," which is short for "sharing," followed by the two- or three-digit number of their département.
By the spring, the protest movement had more or less died down. But on May 29, a 32-year-old woman from the Paris suburb of Seine-et-Marne named Priscillia Ludosky went on Change.org and created a petition titled "Pour une Baisse des Prix du Carburant à la Pompe!" or "For a drop in the fuel prices at the pump!" BuzzFeed News has reached out to Ludosky for comment.
Ludosky, an entrepreneur who currently sells organic cosmetics and aromatherapy advice online, told Le Parisien that she started the petition after she googled fuel taxes and was scandalized at how high they are. Her petition didn't immediately go viral, though. She received only a few hundred signatures at first.
According to Ludosky's Facebook page, she spent the summer on Facebook sharing links to various aromatherapy products and promoting her Change.org petition. All the while, gas prices in France were getting worse. But things didn't really pick up steam until this October.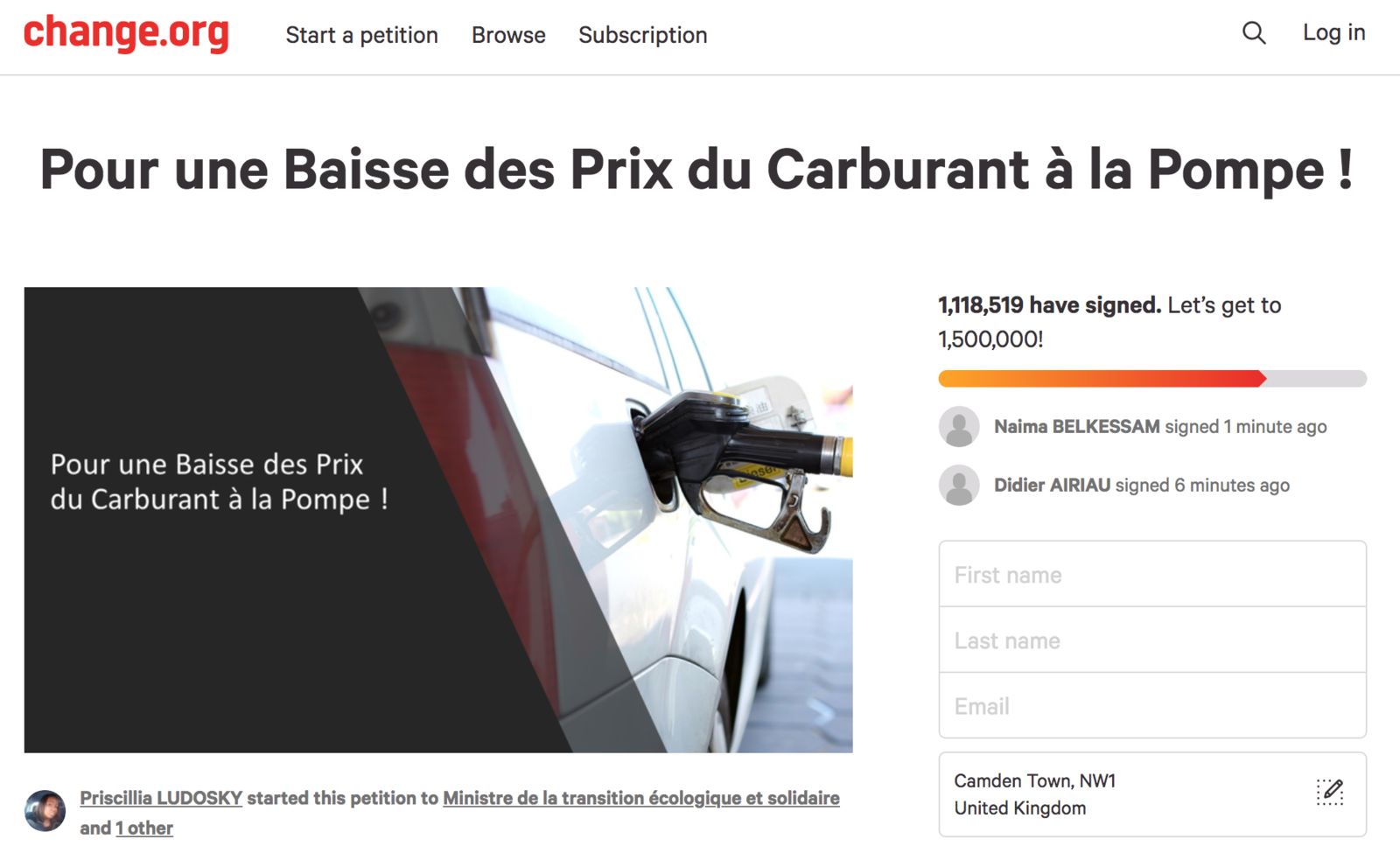 On Oct. 10, Ludosky wrote on her Facebook page that a local radio station agreed to have her on one of its shows if her petition could pass 1,500 signatures. A day later, she wrote that she'd be appearing on the show the next day.
The radio segment was then written up by a small local news page for Seine-et-Marne and shared to a Seine-et-Marne Facebook page with about 50,000 subscribers. That appears to be when all hell broke loose. The article got about 500 shares off the local Facebook page and a lot of local engagement.
The same day that Ludosky went on the radio, a second petition against fuel taxes was posted to the French-language crowdsourcing site MesOpinions, titled "Pour un prix du carburant plafonné à 1€ le litre" or "For a fuel price capped at 1 euro per liter." The MesOpinions petition went viral fast. According to an analysis by social media intelligence tool BuzzSumo, this one received 160,000 engagements off the MesOpinions Facebook page alone.
There was also a Facebook event created on Oct. 12 by two truck drivers, Eric Drouet and Bruno Lefevre, from the same Paris suburb as Ludosky. The event was called "National Blockage Against Rising Fuel" and was scheduled for Nov. 17. "We talked one night on the phone and we said we were tired of paying taxes and seeing the price of fuel increase," Lefevre told French newspaper Libération.
On Oct. 15, a group was started called "Stop the fuel at the price of gold" and it shared the MesOpinions petition. The page has since changed its named to "France in Anger" and received 17.3 million total interactions since October, according to another social media intelligence tool, CrowdTangle. All 10 of the currently most popular public Anger Groups, according to CrowdTangle, were started the same week that Ludosky went on the radio and the second petition went viral.
On Oct. 22, Le Parisien wrote up Ludosky's petition from May, which at that point still hadn't actually received that much attention, especially compared to the Facebook traffic the MesOpinions petition was receiving at the time. But after the Le Parisien article, Ludosky's petition finally jumped from 10,000 signatures to 225,000. The article itself also went viral. In a subsequent piece on Oct. 24, Le Parisien bragged that Ludosky's original petition didn't get any attention until it was written up by the paper two days earlier.
So, in less than two weeks, what you end up with is this: A Change.org petition with fewer than 1,500 subscribers gets talked about on a local radio station. The radio appearance is written up by a local news site. The article is shared to a local Facebook page. Thanks to an algorithm change that is now emphasizing local discussion, the article dominates the conversation in a small town. Two men from the same suburb then turn the petition into a Facebook event. A duplicate petition goes viral within the local Facebook groups. Then a daily newspaper writes up the original petition. This second article about the petition also goes viral. So does the original petition. And then the rest of French media follows.
Ludosky's petition now has over a million signatures.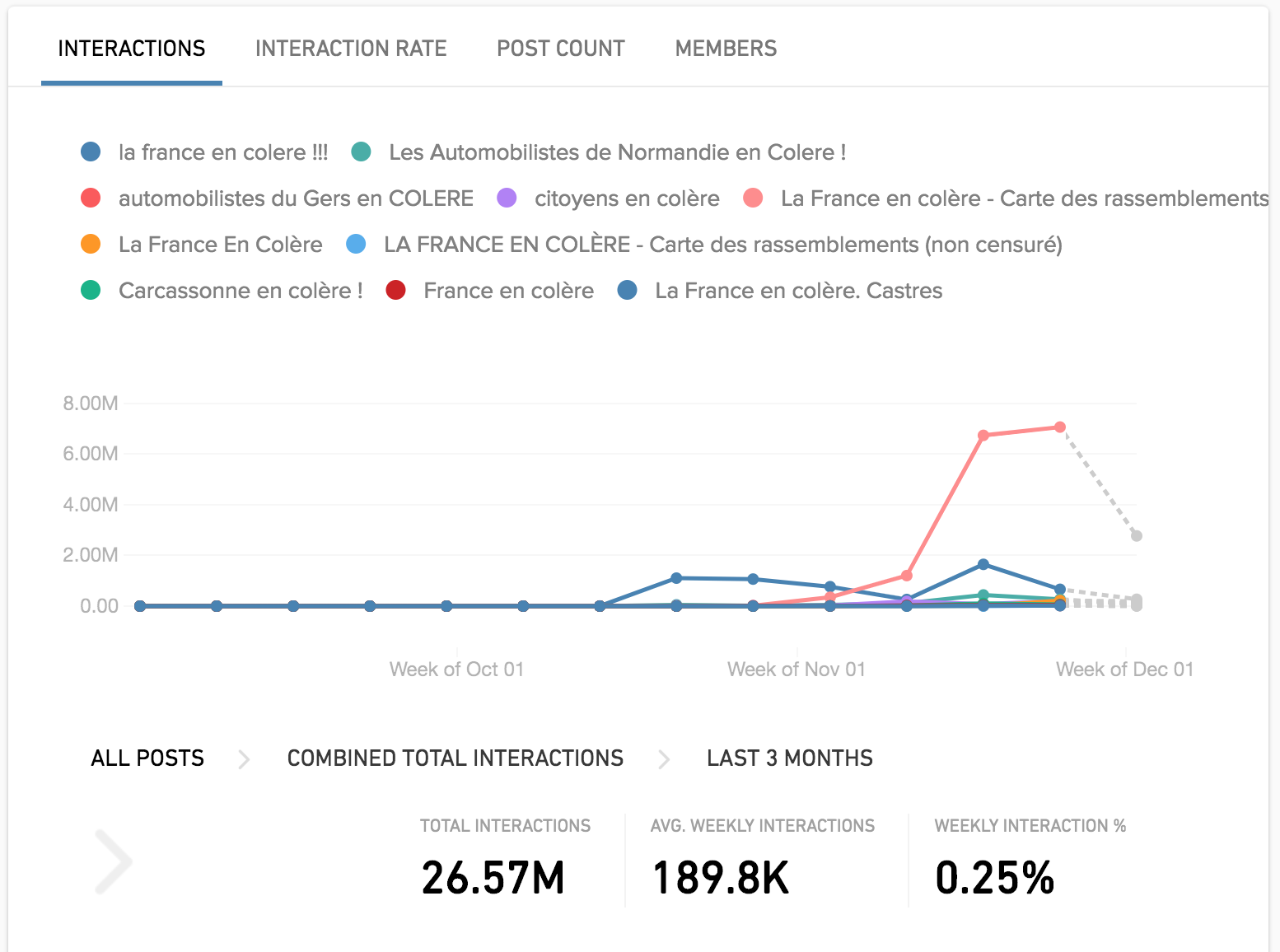 Anger Groups have always been huge hubs for fake news and general fringe-internet nonsense. The newfound national attention is making things even worse. According to the about page for "Citizens in Anger," its true goal is to defend France against a Masonic cabal of global bankers who control France. It currently has 15,000 members.

Among the first posts shared by "France in Anger," one of the public groups with the most engagement right now, is a post that, according to Snopes, has been bouncing around the internet since at least 2017, and claims a million Germans abandoned their cars and walked through the streets to protest increased fuel prices. They didn't, and the accompanying photo is most likely from a 2010 traffic jam in China.
Another rumor, reportedly spread by a French YouTuber, claimed that the national police were going to march on Nov. 17 with the Yellow Vests. Before the same protest, Yellow Vests Facebook groups were filled with pictures of a fake letter from the Élysée Palace, France's equivalent of the White House. In the letter, President Emmanuel Macron asks the Paris prosecutor to "use force" against protesters. Not only was it obviously fake, it was filled with typos.
Because the Yellow Vests have no real leader or coherent political stance beyond viral anger, most of the structure of the movement is being decided by whichever video spreads far enough to make an impact. One of the movement's leading vloggers is a 51-year-old chemtrail truther from Brittany named Jacline Mouraud.
Even the now-iconic safety vest that the protesters are all wearing comes from a viral Facebook video. Ghislain Coutard, a 36-year-old from Narbonne on the south coast, posted a video on Oct. 24, urging protesters to wear the yellow vest — an item all French motorists are required to have in their cars. "If only we could do what we did for the World Cup in 1998 and 2018 but for oil, for taxation, for everything, everything," Coutard says in the video, referring to France's victory in the 1998 soccer World Cup on home soil. "We all have a yellow jacket in the car. Display it on the dashboard, all week, until the 17th — a simple color code to show that you agree with us."

"Spontaneously, during the video, I said to myself, it is something that we see well from a distance, it could be the color code of this protest movement," Coutard told FranceInfo. His video has 5.4 million views and over 200,000 shares.
Maxime Nicolle, one of eight people who now claim to be spokespersons for the movement, is a prolific sharer of conspiracy theories. Nicolle, who is known as "Fly Rider," was recorded saying that a man — who asked to remain anonymous — had recently made him sign a nondisclosure agreement before giving him confidential documents.
"I now know things that might lead people to try and kill me. If you only saw one sheet out of the 30 I've seen this evening," he said to a group of Yellow Vests, "it would trigger a third world war in less than an hour." Nicolle said in a Facebook livestream later in the night that if the name of the anonymous man was revealed, "Macron would have a stroke." However, in the same video, Nicolle then backtracked, saying that whatever secrets he knows, people should just keep protesting.
Any kind of internet conspiracy theory you can imagine, there's probably a Yellow Jacket in an Anger Group spreading it, including the theory that Facebook is censoring every Yellow Vests post.
On French cable news, several Yellow Vests protesters said that the French constitution was made null by a 2016 decree from then-prime minister Manuel Valls, echoing a similar conspiracy theory popularized by a 70-year-old YouTuber named Serge Petitdemange. According to the Yellow Vests who believe this, everything that happened in the French state after the first day of 2017 is meaningless and a new regime has to be founded, as was the case after the Second World War. A protester played the video during the Nov. 24 protest, footage of which was, of course, posted to a Gilets Jaunes Facebook group where it was shared almost 10,000 times.
This universe of wildly viral misinformation has made the Yellow Vests a prime target for bad actors. A large page that shares Yellow Vests content is Anonymous France, a Facebook page with 1.2 million likes. It shares videos and memes, as well as links to blogs that all belong to the same shady online fake news network, "Tu sais quoi?" ("What do you know?").
The biggest Yellow Jacket group is called "COMPTEUR OFFICIEL DE GILETS JAUNES" or "The Official Yellow Vests Counter." It currently has 1.7 million members according to its members page. It's impossible to post in the group, though — all people do is add dozens of their friends at once. The page has spread through friend networks by appearing in the platform's sidebar, suggesting more people to add.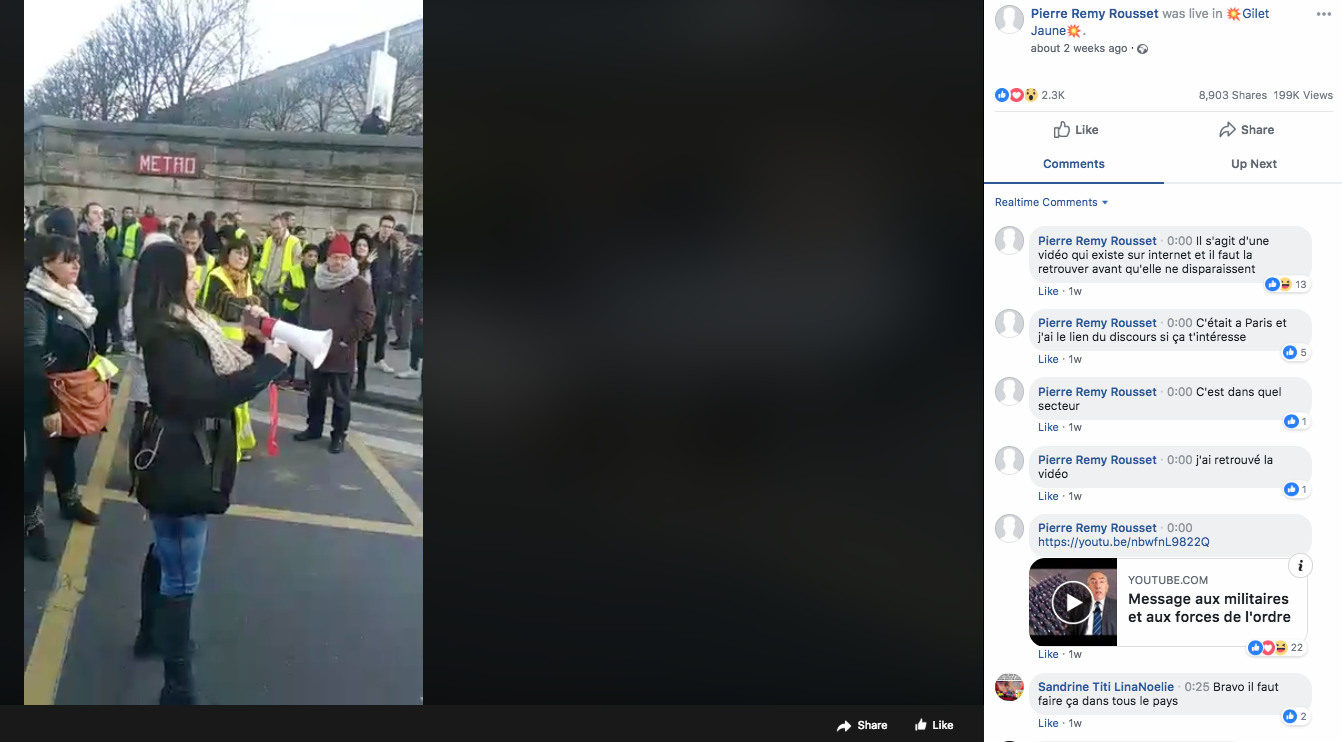 This viral free-for-all finally came to a head on Nov. 17, when 300,000 Yellow Vests mobilized across France. By all accounts, it was a logistical disaster. One person died, 585 people were injured, another 115 policers were hurt, and the military had to be deployed on the overseas French island of Réunion, after looting and riots broke out. The violence has only gotten worse since then.
But unruly and violent or not, the movement is popular: 72% of the country currently supports it. French unions are announcing their support. And they've now also forced President Macron into a corner. France's prime minister, Édouard Philippe, announced Tuesday that fuel tax increases would be suspended for six months as the country deals with the situation.
Thomas Miralles, a 25-year-old spokesperson for the Yellow Vests and the one who registered the Gilets Jaunes domain name, told BuzzFeed News that the movement has gotten too large and he expects this weekend's violence to surpass previous protests. "I think it will be a real disaster," he said.
Miralles said he was drawn to the movement originally when he saw a petition and the Facebook event and thought it was a good way to organize people. But between the violence and the fake news he's seeing, he's unsure what happens next. Also, Macron's backtracking on tax increases didn't comfort him much. "They announced they were going to suspend taxes for six months, but what happens in six months?" he said.
There are no plans for the movement to go away. There's talk of creating new legislation via a referendum. Take a quick scan of any Yellow Vests group: They aren't celebrating. If next weekend's protests are extreme as Miralles fears they may be, it's unclear what Macron will do. He's already discussed the possibility of declaring a state of emergency.
But whatever does happen, you can bet that it'll all be breathlessly documented and memed and, of course, posted to your local Anger Group. ●
UPDATE
This article has been updated with a comment and additional information from Facebook.