On Sunday afternoon, a Twitter account called @bigotbasher posted a photo of a man apparently riding Seattle's D line while wearing a swastika armband.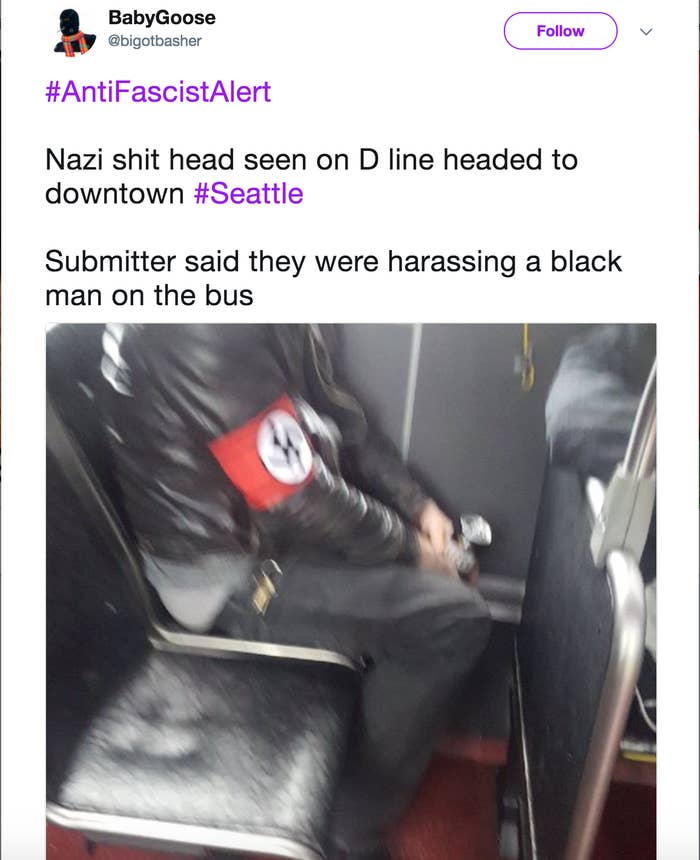 Around the same time, the photo was posted to Reddit's Seattle subreddit.
The picture was picked up by a few anti-fascist–affiliated Twitter accounts that quickly got to work trying to identify the man.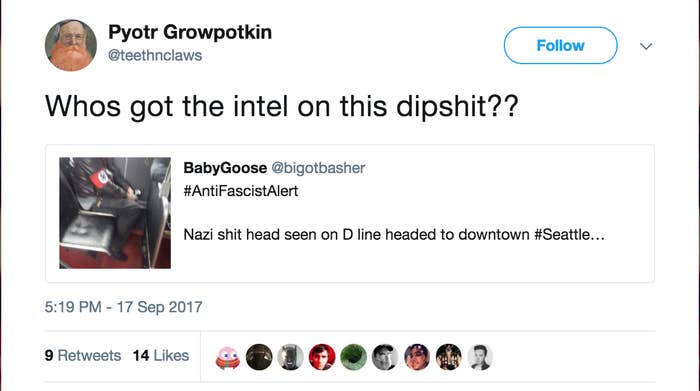 One account called @teethnclaws posted a text saying that the man in the armband had been spotted on the corner of Seattle's Third Avenue and Union Street.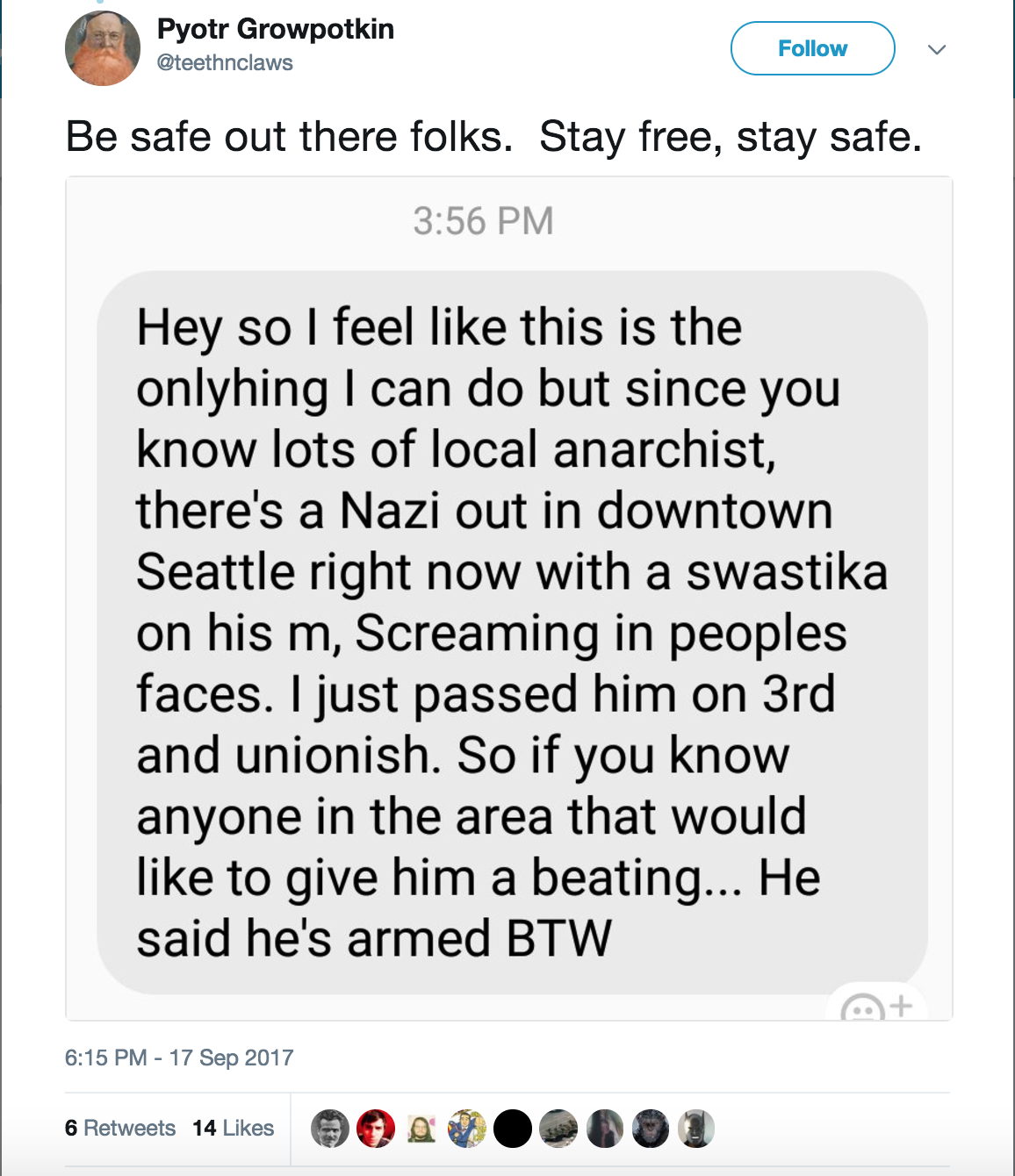 At around the same time, a report of a man in a swastika armband appeared from a Twitter account that wasn't anti-fascist–affiliated.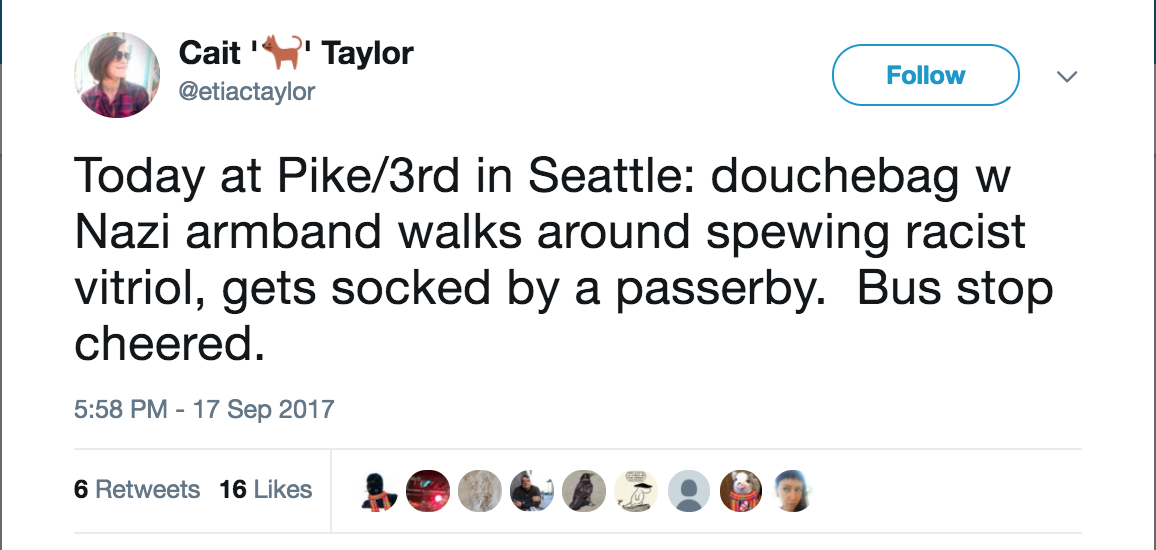 Then, just a few minutes later, a Facebook user named Shaughn Patrick Ffud, real name Sean Patrick Duff, shared a photo captioned, "Just watched a Nazi get knocked the fuck out."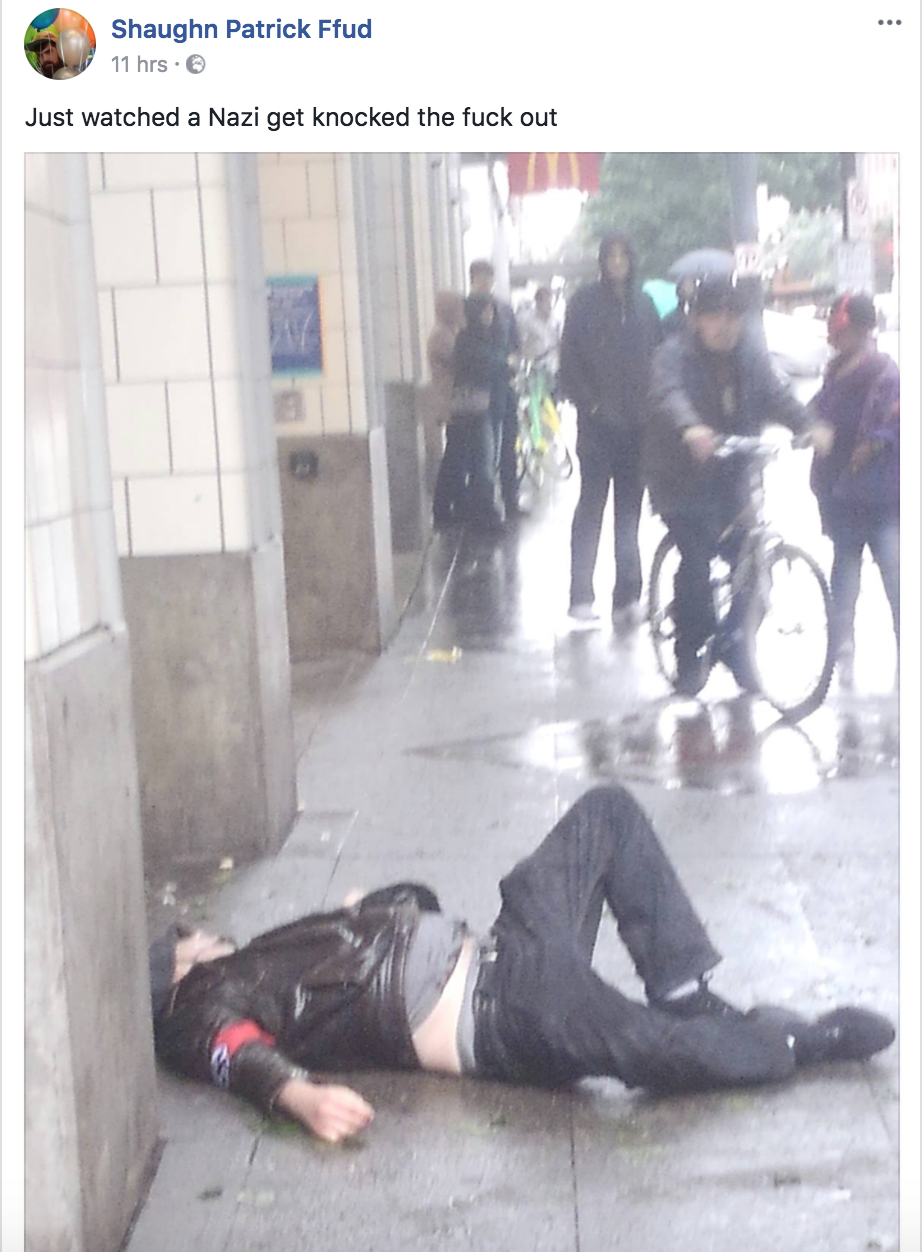 Duff said he tried to take a video of the punch, but his phone was too slow. "He couldn't get up and he was reaching up for anyone with the Nazi armband and no one was helping him," he said.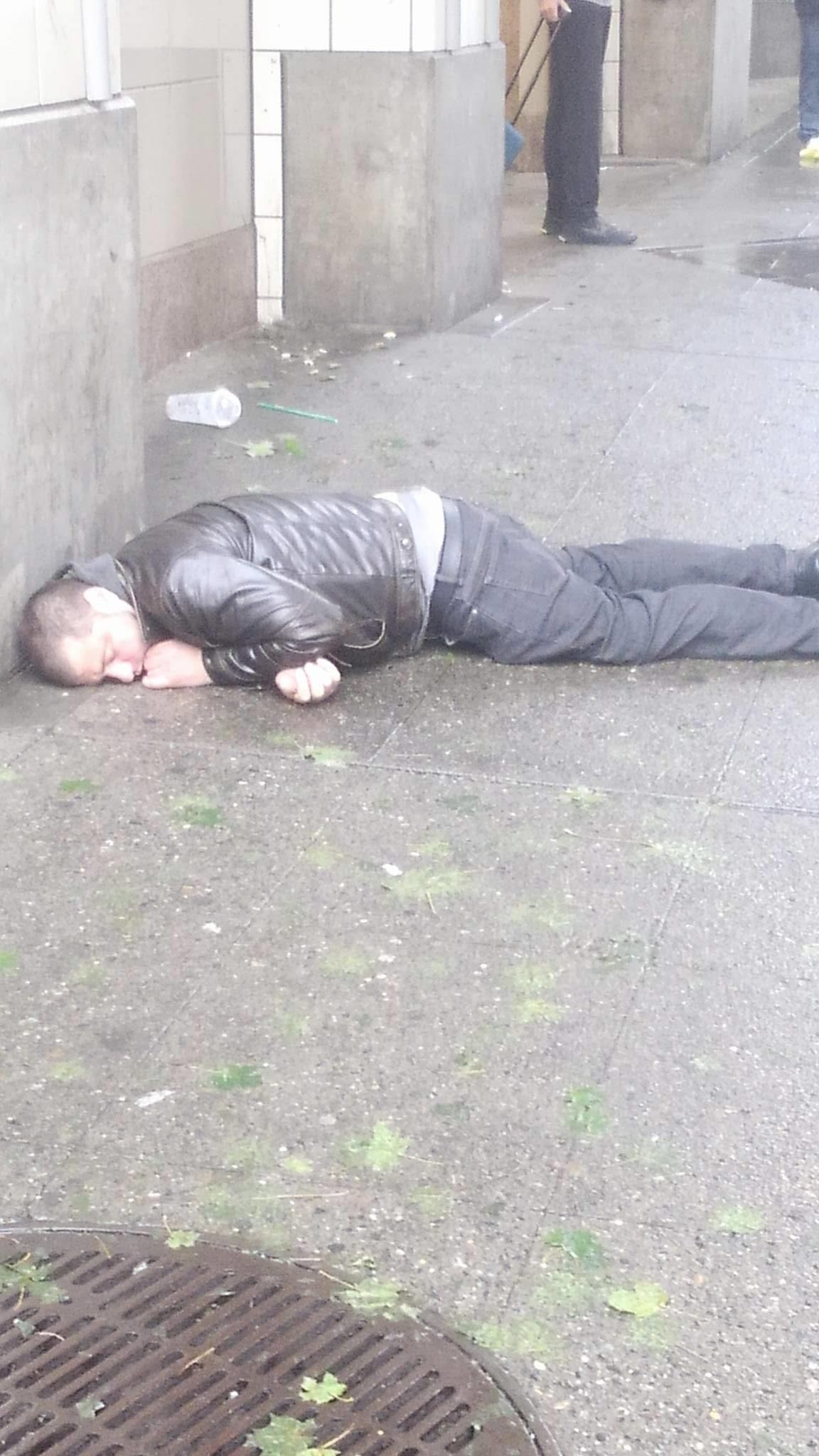 The man in the swastika armband can be heard saying "they deserve the welfare" before he's hit directly in the face by a man in a gray sweatshirt.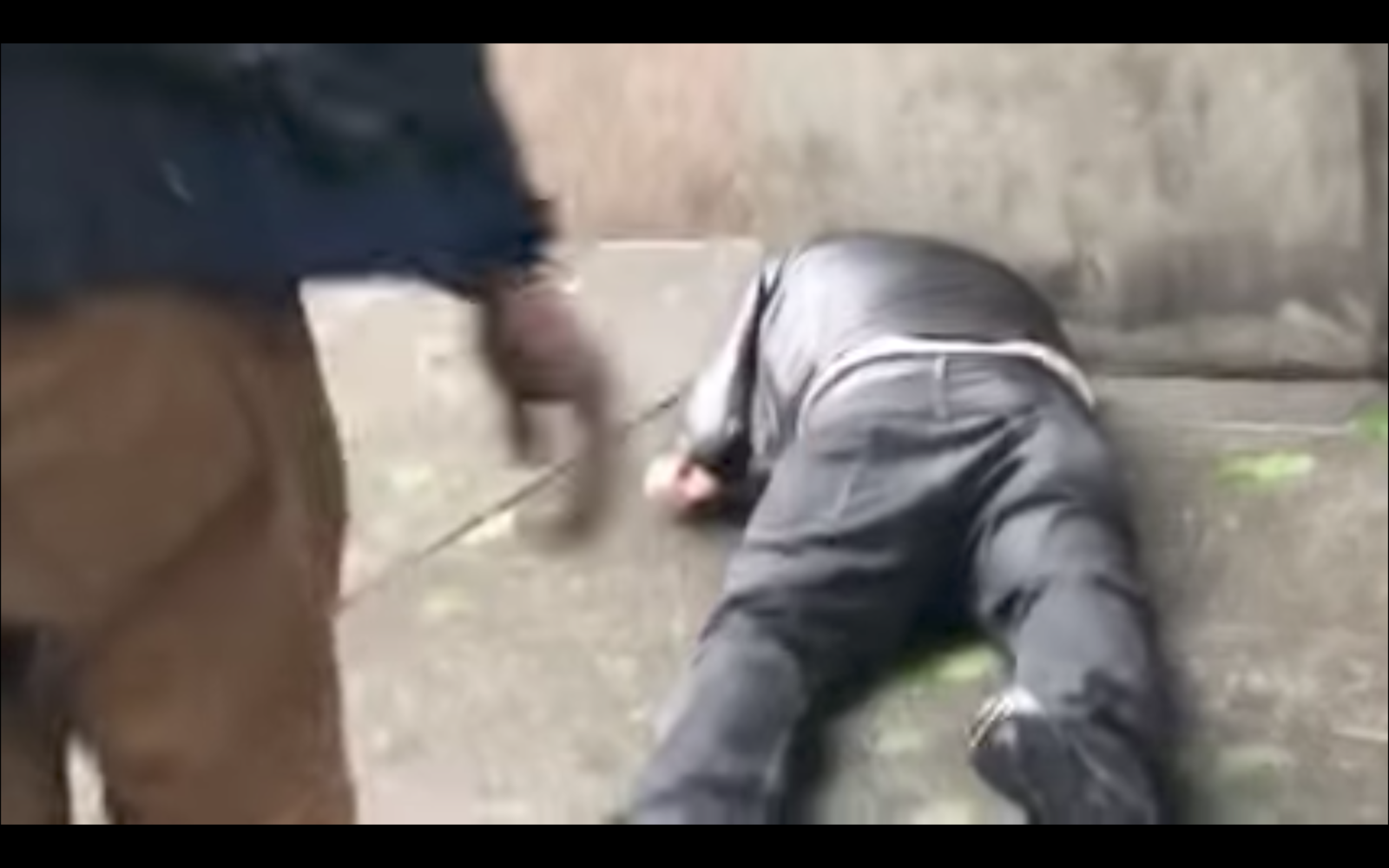 The man doesn't get back up. The camera then zooms in on him as a man out of shot says, "night night."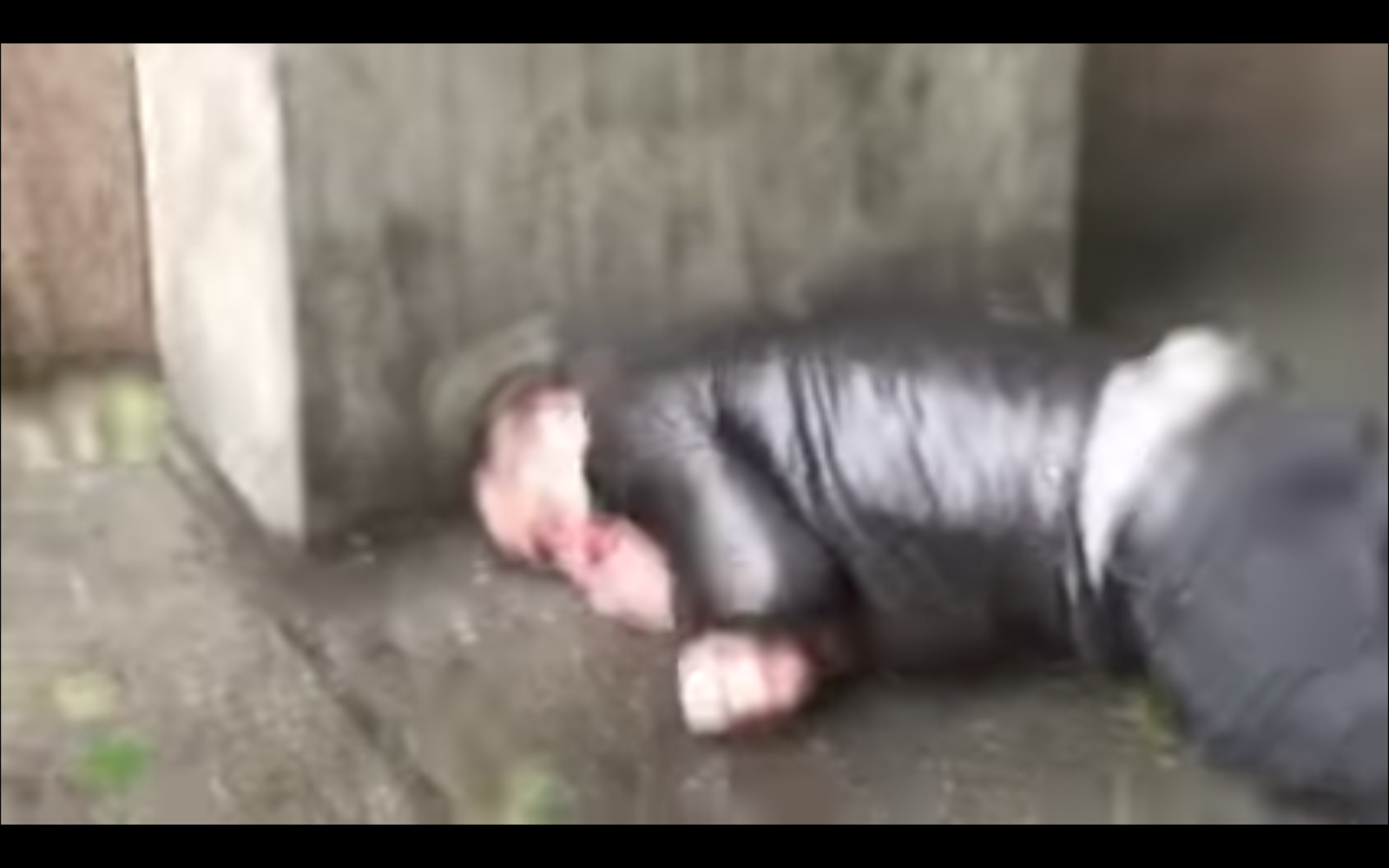 Twitter's anti-fascist community is celebrating the punch.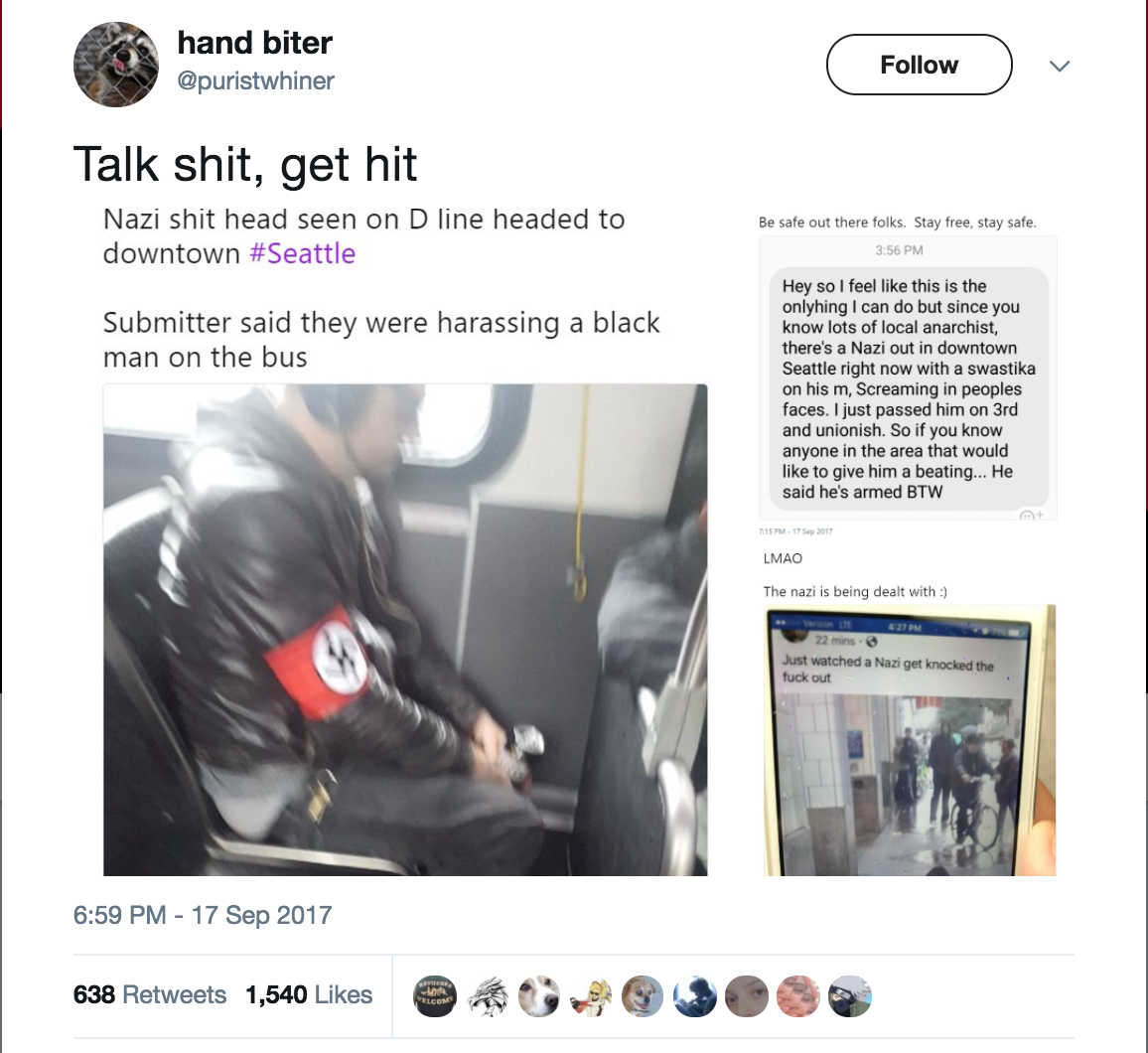 And Seattle's subreddit even had someone offer to do an AMA (Ask Me Anything) thread about witnessing the punch.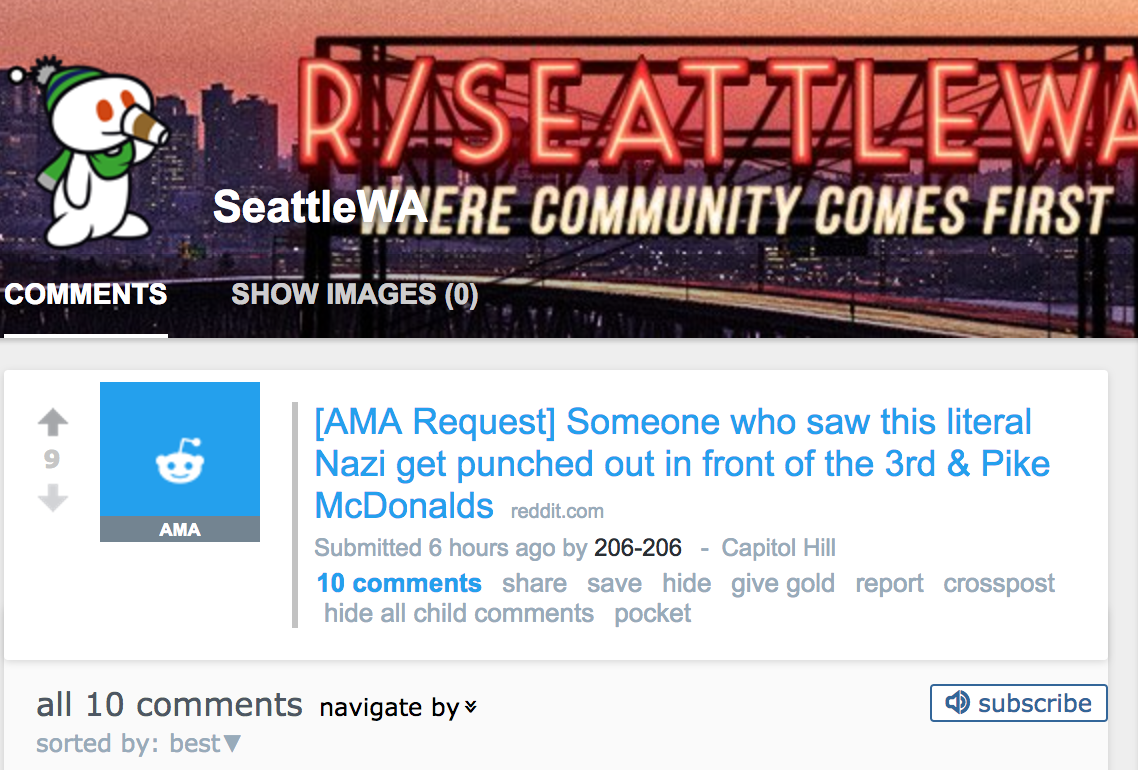 The user behind @teethnclaws, who initially picked up and signal-boosted the first photo, described the punch as a "logical and necessary step toward a Fascism-free Seattle."
The person using the @teethnclaws account asked not to be identified, citing concerns over his personal safety. He said he wasn't aware of who actually threw the punch, but credits anti-fascist Twitter networks for making it happen.
"I would say that we successfully identified, tracked and coordinated to neutralize a clear and present danger to Seattle. Whether we coordinated the actual punch or not," he said, "I, for one, applaud the anonymous hero."
@teethnclaws described himself as an active anti-fascist fighter for the last 20 years and said that the punch in Seattle was the coordinated effort of "horizontal organizing between concerned neighbors." He said nobody knows who threw the punch and that he wouldn't help anyone find out.
"When anti-fascists, casual or organized, have their identity broadcast they are put in extreme danger," he said.
When asked whether or not local anti-fascists knew the identity of the man in swastika armband, @teethnclaws said, "we will know who he is soon enough."
BuzzFeed News has reached out to the Seattle Police Department as well as the Pacific Northwest Antifascist Workers Collective for comment.