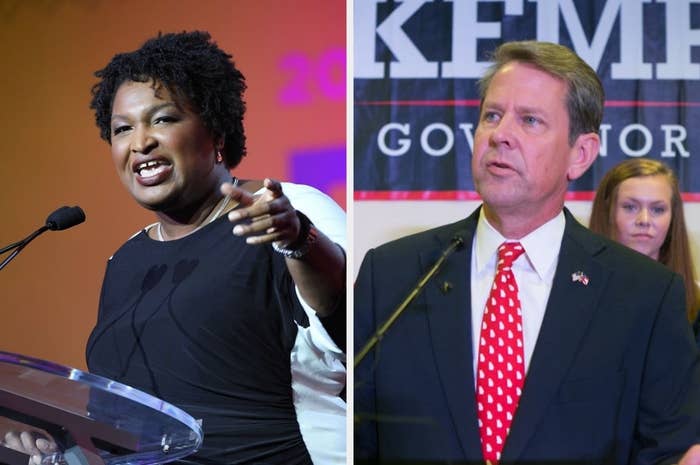 Democrat Stacey Abrams and Republican Brian Kemp clashed over voting rights in Tuesday's first debate in the Georgia governor's race.

"We took you to court in 2016 and a federal judge said that you illegally canceled 34,000 registrations," Abrams, a former state house minority leader, told Kemp, Georgia's current secretary of state, at one point during the debate. "You've used the exact same system, the exact match system that is under dispute right now."
Voting rights have become a central issue of the campaign after the AP reported that there are 53,000 Georgians whose voter registration status is on a "pending" list because of the state's exact match policy, which requires voters' names on government ID to accurately match the name listed on their voter registration forms. The applications in purgatory are predominantly for black voters, according to the AP.
Voters with pending registration can still vote this election if they have a state ID that clears up the discrepancy on their registration forms, but the issue has put more focus on the already nationally watched race.
Abrams launched the New Georgia Project in 2014 in an attempt to register a large swath of minorities across the state and helped nonprofit groups sue Kemp's office to restore some purged voter registrations in 2016.
"My responsibility as a leader is to see a problem and try to solve it. When I saw that we had 800,000 unregistered people of color in the state of Georgia, I started an organization that has reached into every county and increased those registrations," Abrams said.
Kemp has argued that the New Georgia Project is "sloppy," and the reason his office has had to put registrations on pending lists. Abrams tried to fend off that attack on Tuesday before it happened, saying Kemp's "tendency is to blame everyone else for the mistakes that you make."
Throughout the debate, Kemp fiercely denied accusations that he'd used his office to suppress voter registration efforts in the state and claimed that he'd help make it "easier to vote and harder to cheat" in elections, pointing to the implementation of a voter registration website.
"This farce about voter suppression, and people held up from being on the rolls and being able to vote, is absolutely not true," Kemp said, pointing to increased turnout in recent elections as proof that suppression wasn't taking place in the state (in the 2016 presidential election, voter turnout in Georgia surpassed 4 million votes with 77% turnout). He accused Abrams of making voter suppression an issue to distract from her campaign's progressive agenda.
Abrams shot back citing her family's legacy around voting rights issues and accusing Kemp of creating an "atmosphere of fear" around casting a vote in Georgia.
"The right to vote is a right. I grew up in a family that fought for a right to vote before they were old enough to do so. My father was arrested helping people to register and so I take the right to vote very seriously," Abrams said. "I understand that under Secretary Kemp more people have lost the right to vote in the state of Georgia. They've been purged, they've been suppressed, and they've been scared."
Earlier this month, Abrams' campaign called for Kemp, who is tasked with enforcing voting laws in his official capacity, to resign as secretary of state during the election "so that Georgia voters can have confidence that their secretary of state competently and impartially oversee this election." Another coalition of civil rights groups has sued Kemp over the 53,000 pending registrations.
"When I saw that people were being unlawfully denied the right to vote, I worked to make certain that we held you accountable. And as the next governor of Georgia, I'll continue to do my job to make certain that every legal eligible vote that gets cast, gets counted," Abrams said.