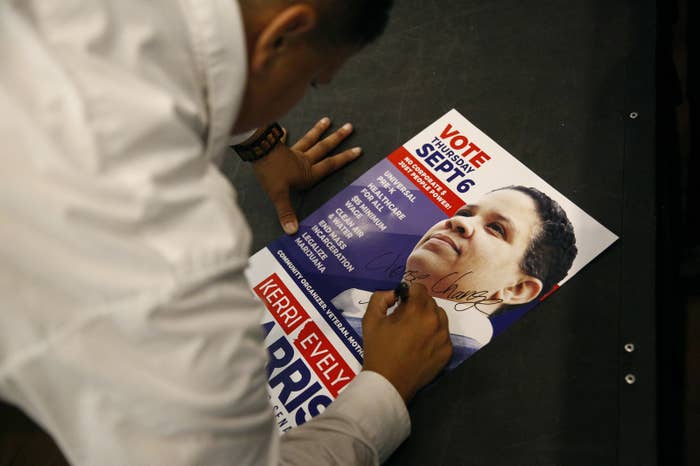 In an unpredictable political moment, at least two things should still be true: A candidate that just lost a primary election by nearly 30 points shouldn't be enthusiastically delivering a concession speech to a crowded lounge full of fired-up supporters, and that candidate sure as hell shouldn't be claiming victory.
But there was Kerri Evelyn Harris standing on top of a chair in the Washington Street Ale House on a muggy Thursday night in Wilmington, Delaware, doing exactly that: declaring that the remnants of her campaign were a part of a larger progressive movement out to change the country and keep the pressure on establishment Democrats.
"We made history because the people of Delaware now know that they have a voice," Harris yelled over a cheering crowd. "The people of Delaware now know that 2018 is just our starting block, and 2020, 2024, going over and over, every election cycle, we're taking over."
Progressive activists have taken this attitude repeatedly during this year's primaries: Yes, they may lose, but they say they've succeeded in changing what Democrats believe is politically feasible. "I like to think that even though I'm not going to get the opportunity to serve, now we've ignited a belief of what's possible in young people," Michigan gubernatorial candidate Abdul El-Sayed told supporters after losing his August primary.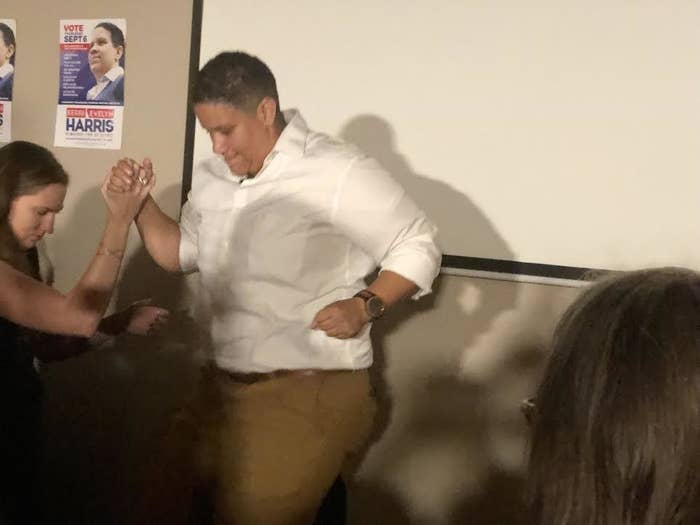 "The establishment might have won tonight, but they ran scared and they know we have awoken, they know that today means that every day we are going to look closer and closer at every elected official's record, and they will have to start working for us," Harris said Thursday.
Harris had been challenging Sen. Tom Carper, a fixture in Delaware politics whose legacy and skillful approach to retail politics made it hard for an insurgent candidate to have a strong shot at unseating him. But Harris, a community activist, who campaigned on a slate of progressive issues like legalizing marijuana, supporting a $15 minimum wage, and getting corporate money out of politics, says she pushed her party further left.
"I want him to know we're watching, and the same way he moved closer to the people because of this primary, we expect him to stay close to the people," Harris said.
Carper began his own victory address Thursday night with a message to "all the young people that got energized" in the primary, including on behalf of Harris. He compared what he's seeing now to his own early activism for a losing progressive candidate in 1968, Democratic presidential contender Eugene McCarthy. "People thought we were foolish and young and so forth, but we weren't — we were right, and ultimately we were successful," he said.
Throughout the primary, Carper took policy stances further to the left and spoke out staunchly against Trump and his nominees. He said he regretted confirming Supreme Court nominee Brett Kavanaugh for a District Circuit Court position; he signed onto legislation backing the dicriminalization of marijuana; and he gave his support to a $15 minimum wage.
Harris's team also celebrated the increased voter turnout across the board Thursday, and the progressive organization they'd built as the base for a progressive coalition in Delaware to continue to front challenges to establishment candidates if their politics don't start to align with what people want from the party.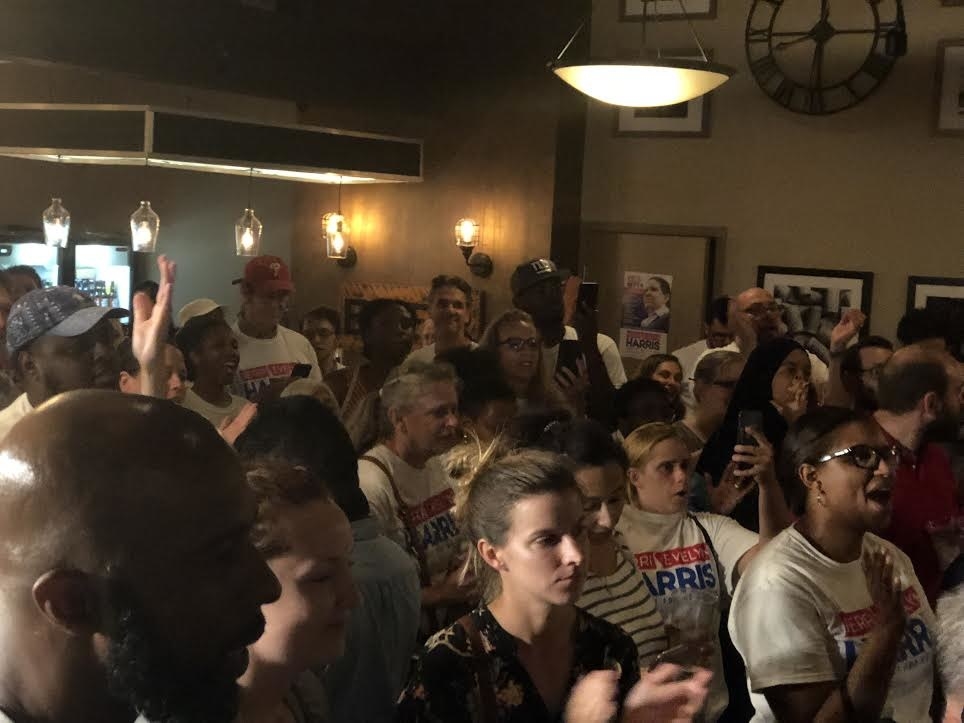 In the lead-up to the election, Harris's campaign expected voter turnout between 40,000 to 50,000, and that she'd need 26,000 votes to win. Harris exceeded that with nearly 29,000 votes, but in an energized primary season that's seen high levels of turnout for Democrats, that left her with 35% of the vote. According to the state's unofficial election results, 25% of Delaware Democrats voted Thursday, just shy of the nearly 30% turnout in 2016's presidential primaries. In 2010's contested Republican Senate primary in the state, Christine O'Donnell won with only 29,884 votes.

"We can't really see this as loss, because we had so many people come out to vote, and it's the first time that it happened in years," Harris's campaign manager, Drew Serres, said in an interview. "People are acknowledging the fact that there needs to be change made, and the water problem in Sussex, and the crime problem in Wilmington, and now that his record is out there and he's committed to all of these things he can't turn back now."
"Tomorrow we fight some more; tomorrow we know that we have just begun," Harris said while wrapping up her speech. "Tomorrow we know that our voices, our thoughts — our win is on the horizon. We are creating a movement that is felt across this nation."