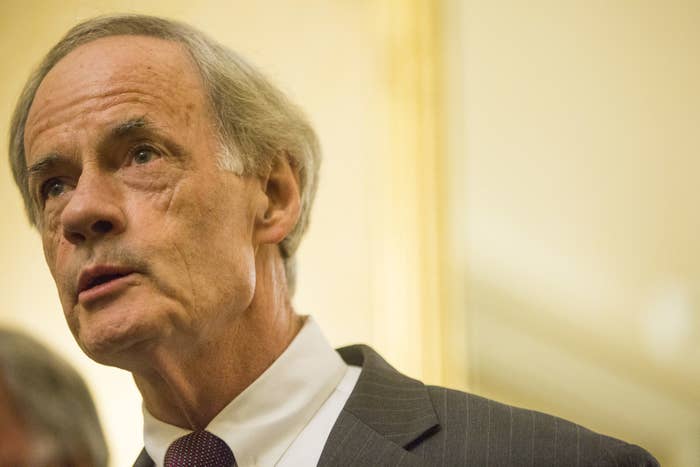 Longtime Delaware Sen. Tom Carper fended off a spirited challenge from the progressive movement in Thursday's primary election.
The 71-year-old senator, seeking a fourth term, faced a primary challenge from Kerri Evelyn Harris, a gay black community activist and Air Force veteran. Harris was backed by a host of progressive groups — including the Working Families Party, Justice Democrats, and Our Revolution — that have sought to put the Democratic establishment on notice and shift the party's politics further left throughout the primary season.
Harris, at her election party Thursday, was upbeat as she conceded. "We made history here tonight," she told a cheering crowd. "The same way [Carper] moved closer to the people during the primary, we want him to stay closer to the people." After finishing her remarks, she briefly returned to rev up the crowd: "Excuse me, we won tonight! This is a party. Get some music going."
Carper has represented the state of Delaware in some capacity since 1976 in a litany of statewide positions, from state treasurer to governor, and he's been in the Senate since 2002. He campaigned on his ability to serve as a check on the Trump administration while still reaching across the aisle to pass legislation. One radio ad from Carper's campaign touts his record of voting against Trump nominees and promises that he'll vote against the president's current Supreme Court nominee, Brett Kavanaugh.
The Working Families Party, which spent significantly in favor of Harris, tried to make Carper's support for Kavanaugh for a DC Circuit Court a wedge issue in the campaign. But Carper appeared to win the primary by a significant margin, and the race was called just an hour after polls closed.
Carper won his election in a season that's seen mixed results for progressive challengers to incumbent Democrats. Democrats have seen progressive candidates topple two incumbent House members, with the victories of Alexandria Ocasio-Cortez in New York and Ayanna Pressley in Massachusetts, who this week defeated progressive incumbent Rep. Mike Capuano.

And during his campaign, Carper took more progressive positions, signing onto Senate Minority Leader Chuck Schumer's bill to federally decriminalize marijuana and announcing his support to index a $15 minimum wage.
In the early days of the primary, Carper consulted Mike Castle, a former Republican representative who lost a 2010 Delaware Senate primary to tea party upstart Christine O'Donnell. Castle told Carper not to take anything for granted in his primary.
"We didn't work for it, we didn't prioritize the primary, and people didn't know there was an election. They got out their vote and we didn't. Don't take anything for granted," Carper recently said Castle advised him. "I wouldn't take anything for granted anyway."
Carper's campaign fought back against the narrative that his Senate primary was similar to that of Rep. Joe Crowley, who was ousted by Ocasio-Cortez in June. Carper has been campaigning aggressively after that upset: rolling out a robocall and endorsement from former vice president Joe Biden and the state Democratic Party, and releasing an ad telling Delawareans that he goes to Washington to fight for them every day.
"I'm not Joe Crowley, and the people that know AOC and Kerri say that, with all due respect, Kerri's not AOC," Carper recently told BuzzFeed news.
Harris, a first-time candidate, positioned the election as a stepping stone for the movement's future.
"We're building movement," Harris recently said. "There are no failures and we've learned how to organize and be more powerful. In 2018, 2020, 2024 — it won't matter if it's a midterm or presidential election because we're building a movement to bring the Democratic Party back to the people."