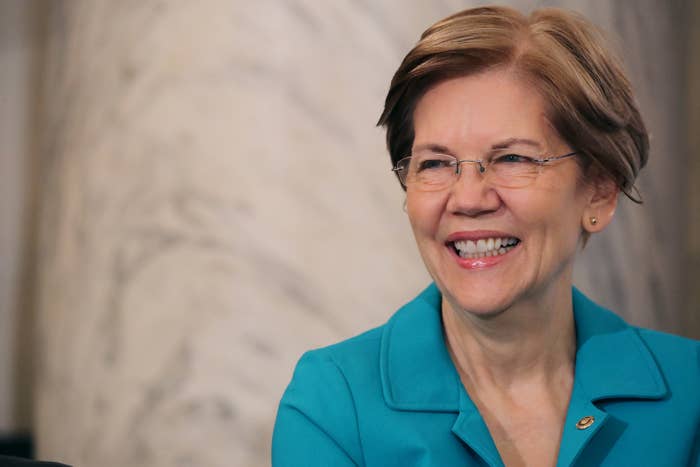 Elizabeth Warren announced Monday that she's forming an exploratory committee ahead of the 2020 presidential election.
The early morning New Year's Eve announcement — 13 months ahead of the Iowa caucuses — makes Warren the first high-profile Democrat to take steps toward launching a presidential run to take on Donald Trump. The launch of the exploratory committee allows her to raise money and fill staff positions ahead of a likely campaign.
Warren, a senator from Massachusetts, became a star of the progressive movement by taking on Wall Street and helping the Obama administration launch the Consumer Financial Protection Board after the 2008 financial crisis. Throughout her career in the Senate and as she's geared up for a presidential run, Warren has leaned heavily on the themes that launched her into prominence.
"I've spent my career getting to the bottom of why America's promise works for some families but others who work just as hard slip through the cracks into disaster, and what I've found is terrifying: These aren't cracks that families are falling into, they're traps. America's middle class is under attack," Warren tells supporters in her announcement. "How did we get here? Billionaires and big corporations decided they wanted more of the pie and they enlisted politicians to cut them a fatter slice."
"But this dark path doesn't have to be our future," Warren says. "We can make our democracy work for all of us. We can make our economy work for all of us."
The race for the 2020 Democratic nomination is likely to be a crowded one. Several of Warren's Senate colleagues, including Bernie Sanders, Cory Booker, Kamala Harris, and Amy Klobuchar, are likely to launch bids themselves.

Warren joins a group of potential candidates who have endorsed policies, like Medicare for All and free college, pushed by progressive groups and Monday's announcement was greeted warmly by activists.
"Elizabeth Warren is the most electable among many potential contenders with progressive positions, and it will be a victory for all progressives as candidates race to the top on issues we've worked for years to push into the mainstream," Progressive Change Campaign Committee cofounders Adam Green and Stephanie Taylor said in a statement. "Elizabeth Warren is the only candidate who would enter the White House with an army of heavy-hitting allies accumulated over a lifetime of fighting powerful interests."
Two other Democrats, John Delaney and Julián Castro, have already announced that they are exploring presidential bids.
Warren still faces hurdles ahead of a likely campaign. In October, she released DNA test results to prove she was Native American — to rebut years of criticism from Donald Trump and others who say she lied about her ancestry. Instead of putting the issue to rest, the move was met with ire from tribal leaders and grassroots groups. Cherokee Nation released a statement calling Warren's decision to release her DNA test "inappropriate and wrong."
"A DNA test is useless to determine tribal citizenship. Current DNA tests do not even distinguish whether a person's ancestors were indigenous to North or South America," Cherokee Nation Secretary of State Chuck Hoskin Jr. said in a statement sent to BuzzFeed News.