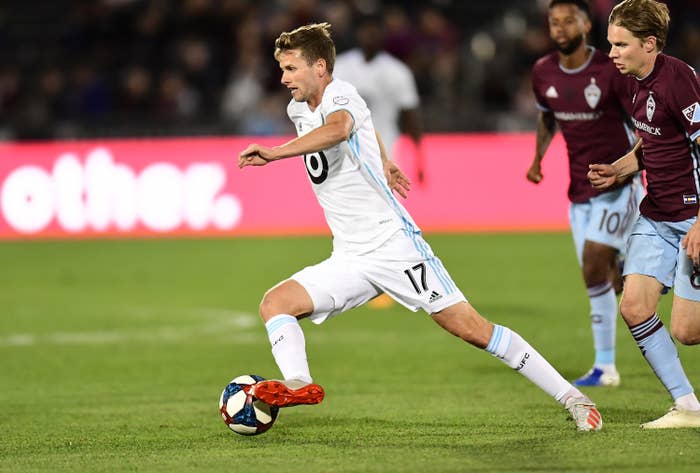 Collin Martin, a major league soccer player and the only openly gay man on a US professional sports team in the five majors, is endorsing Pete Buttigieg's presidential campaign.

"I've been following along with Pete for a bunch of months now, and I've been completely impressed by the guy," Martin told BuzzFeed News over a phone call Tuesday morning. "Obviously, I think we're at a really critical time in our country, not only concerning who's in the presidency now but just with issues like climate and upholding people's basic rights. And I think Pete's the man for the job. I've been completely enamored by him."
Martin pointed to Buttigieg's remarks in April aimed at Vice President Mike Pence, when he said, "If you have a problem with who I am, your problem is not with me. Your quarrel, sir, is with my creator."
As a gay man of faith, Martin said, he thought to himself during that moment, "This guy just really gets it."
Martin, who plays for Minnesota United FC, became the only openly gay man who plays for a professional sports team in the US when he publicly announced that he was gay before his team's Pride Match in June 2018.
"Representation is huge," Martin told the Washington Post at the time. "Having role models in any workplace in any setting in life is important."
"People need to know that it doesn't matter what sexuality you are, how old you are, what race. It doesn't matter," he added. "You're going to be received well on a team as long as you're a good teammate and do your job every day."
Buttigieg, the mayor of South Bend, Indiana, became the second openly gay man to run for president when he announced that he was exploring a presidential run in late January.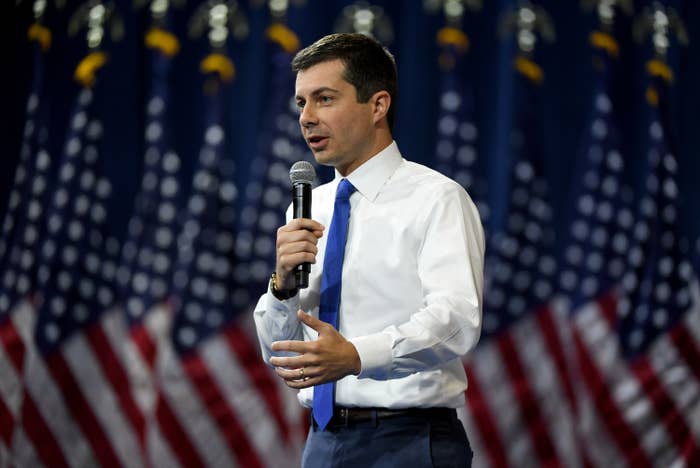 "It's extremely courageous of him to be an out gay man," Martin said. "And I know that growing up as a closeted kid I could've never imagined an openly gay man running for president. It's something that I think all of us gay people could've never imagined."

"For a local student struggling with her sexuality, it might be helpful for an openly gay mayor to send the message that her community will always have a place for her," Buttigieg said when he came out in 2015. "And for a conservative resident from a different generation, whose unease with social change is partly rooted in the impression that he doesn't know anyone gay, perhaps a familiar face can be a reminder that we're all in this together as a community."
Buttigieg's sexuality has not been a cornerstone of his campaign, but it has propelled his candidacy among LGBTQ Democrats and donors as he emerged as one of the top-tier candidates in the spring. In June, Victory Fund, a political action committee committed to electing LGBTQ politicians, made its first endorsement in a presidential race when it endorsed Buttigieg.
"I came back from the deployment and realized that you only get to live one life, and I was not interested in not knowing what it was like to be in love any longer. So I just came out," Buttigieg said, explaining his coming-out story during the last presidential debate. "I had to wonder if just acknowledging who I was was gonna be the ultimate career-ending political setback.
"What I learned was that trust can be reciprocated, and that part of how you can win and deserve to win is to know what's worth more to you than winning."
Buttigieg's campaign picked up steam in the spring after a breakout moment during a CNN town hall that propelled him to the first three presidential debates and qualified him for the October and November debates. The campaign believes that part of the way for Buttigieg to win the party's nomination is to peel supporters away from former vice president Joe Biden's campaign.
Athletes typically don't get involved in presidential primaries, but Martin said he'd love to see more athletes get involved in speaking up for causes or candidates that they believe in. He pointed to the activism from US women's soccer team star player Megan Rapinoe as an example that athletes should follow.
"Whether it's speaking on an issue or sticking up for a candidate on the national stage, I think we can all do something," Martin said. "And I think it's a shame if we don't use our platforms, because there's a lot of people listening."