IOWA FALLS, Iowa — How exactly do you define Pete Buttigieg's politics? That's a question that will be important to voters this winter as they examine the 37-year-old, and it animated the mayor who wants to be president over the weekend in Iowa.
More than a dozen journalists joined him on his giant new bus for what he promised would be hours of freewheeling discussion. The goal of the four-day tour was, in part, to see how he would hold up under prolonged exposure to reporters. "If I couldn't manage that," Buttigieg explained Saturday night, "you would find out."
The early moments were a little awkward, and filled with small talk. "Did you eat the steak that you fried up?" a reporter asked.
Hours earlier, Buttigieg had delivered a strong performance at the Polk County Steak Fry, the kind of event that can elevate Democratic presidential candidates and show off organizational strength in the first caucus state.
"I ate a steak," Buttigieg replied dryly. "It was unlikely it was the steak I fried up."
But Buttigieg had a lot on his mind, particularly with regard to how he's running and how he's being perceived. He believes peeling away support from former vice president Joe Biden — who leads most national polls and was second in a new Iowa poll out Saturday — is part of his path to the nomination. And in a long exchange prompted by a question about how he defines himself politically, Buttigieg rejected most labels and called populism a "slippery" term.
"The one I find the most problematic, actually, is centrist," said of descriptions that have been applied to him. "It says you're about being in the middle, and there are ideological centrists in this race. I don't view myself as part of that ideological framing."
"Pragmatic, on the other hand," Buttigieg added, "I would embrace."
Buttigieg curbed his candor when asked to specify whom he viewed as the ideological centrists. (Biden is the most prominent candidate appealing to that voting bloc.) "I'll let you work that out," Buttigieg said. "I would say the folks who define themselves by saying that the left is too far left, how about that?"
He also took exception to being tagged as an incrementalist, though his approach to health care policy — not Medicare for All, but a public option — is similar to Biden's.
"Incrementalism sounds wrong," Buttigieg said.
Moderate?
"I think moderate is largely about tone," he allowed. "I'm definitely tonally a moderate."
The conversation then shifted: How does Buttigieg see populists, who on the right identify with President Donald Trump and on the left identify with rivals such as Bernie Sanders and Elizabeth Warren?
"I think that's maybe the most slippery term of all," he said. "I think anyone who wants to win an election is trying to be popular. I guess my anxiety with populism is ... I think it misstates the balance between following the people and leading the people."
Later, between stops in Iowa Falls to Waterloo, the discussion came back to labels.
"The label I'm most comfortable wearing," he concluded, "is Democrat."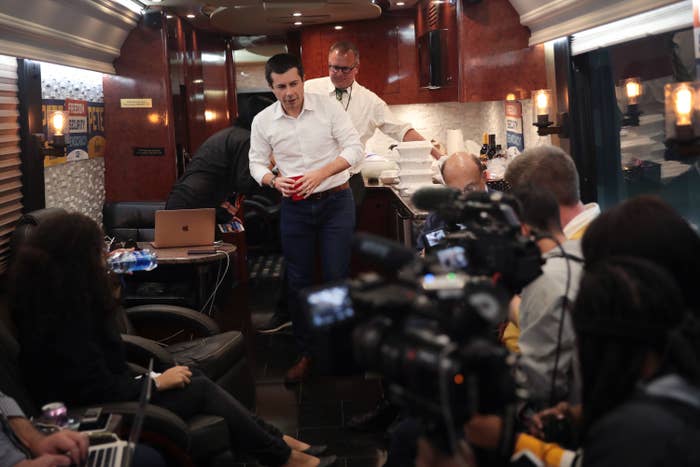 Buttigieg's touring bus — emblazoned with his blue-and-gold Pete 2020 logo, outfitted with smooth marble floors, and stocked with bourbon, craft beer, and seltzer — had previously transported a range of politicians and entertainers, from Biden and Trump to Tom Hanks and Steve Harvey, according to the campaign.
Wearing his trademark white button-down and dark jeans, Buttigieg spent about four hours between stops Sunday in a leather swivel chair, fielding questions from reporters. Lis Smith, Buttigieg's senior communications adviser, and the strategist behind the tour, observed from behind her laptop and sunglasses, occasionally requesting that the bus' television be tuned to an NFL game.
At times the subject matter was light: what sport Buttigieg thinks is most like politics (football), what snacks he enjoys (beef jerky), how many of those white shirts he owns.
"Probably like a baker's dozen," he said on the shirt question, in between bites of a handful of beef jerky that a reporter from CNN passed around the bus.
Other questions cut more personally, giving Buttigieg, the first openly gay candidate to run a major campaign for president, an opportunity to talk about his marriage — he and his husband, Chasten, are considering adoption — or how serving in the Afghanistan War shaped his feelings on guns. "Over time," he said, "I realized having a gun made me feel smaller, not bigger."
Saturday's poll, from the Des Moines Register and CNN, showed Buttigieg at 9% behind Warren, Biden, and Sanders, but with a net favorability rating that only trailed Warren. During several legs of the bus tour, Buttigieg emphasized how many respondents said they could change their minds.
"I think it's really interesting that only 1 out of 5 voters have locked in their decision," he said on the way to a town hall forum Sunday morning in Boone. "It's encouraging."
The crowds at Buttigieg events — and discussions with Iowa activists plugged into what's happening in advance of the February caucuses — suggest he has room to grow.
"I think it'll take a moderate to beat Trump," Lewis Putz, an undecided 35-year-old voter from Des Moines, told BuzzFeed News as he waited to hear Buttigieg speak Saturday in Newton. "I worry that he probably can't win the caucuses because Elizabeth Warren's had a lot of momentum right now."
Putz said he's leaning toward Biden but is open to Buttigieg.
"He's well educated, and he's a veteran," Putz said. "I think he's got a lot to be said in not being a career politician like everyone else."
Shaky Biden voters are a prized target for Buttigieg. Recently Buttigieg has contrasted his health care plan with Warren's, asserting last week on CNN that she has been "extremely evasive" about how she'd pay for her Medicare for All approach that Sanders also champions.
Biden also has dismissed Medicare for All as unrealistic — a play for the more moderate voters who might be antsy about universal health care or leaving a private insurance program or doctor they like.
"I do think that we're competing for a lot of the same folks," Buttigieg said of Biden. "Part of what'll shift that my way is when folks start thinking about electability in a way that's consistent with history, because right now there's still, I think, a sense that the most familiar face is the most electable face. There's actually an almost iron law in elections over the last 50 years that the most familiar face is the least electable, but I'm not sure everybody's processed that."
Buttigieg is thinking about Jimmy Carter, who jumped from obscure Georgia governor to Iowa caucus winner to president, beating many more established Democrats in the process, Bill Clinton, who broke a Democratic losing streak set by northern liberals, and Obama. (During their primaries, Carter and Obama, notably, both defied ideological labels to their success, and some activists' frustration.)
He's also thinking about former vice president Al Gore and Hillary Clinton, who won the popular vote in 2000 and 2016, respectively, but lost the Electoral College — which Buttigieg would like to abolish. Asked Sunday on the way to Boone what he'd be doing now if Gore and Hillary Clinton had won, Buttigieg, the son of Notre Dame professors, cracked a grin: "Probably be happily living as a literary critic at some university. I wouldn't be running for president."
Buttigieg avoided explicit criticism of Biden, though some comments were obvious contrasts.
"There's this desire to carve the world up into good and bad people, and carve the electorate up into good and bad people," Buttigieg said during his extended riff on labels and populism. "Trump has a way of doing it, my party has a way of doing it. And it misses the need for a certain humility about the good and evil we're each capable of. This is also, by the way, one of the reasons I part ways with anybody that says Trump is an aberration."
Biden's candidacy is steeped in the notion that Trump's victory could be an "aberrant" moment.
"To me," Buttigieg said of Trump, "he reflects something that is in all of us, and he appeals to something that is in all of us. And the real question of leadership is not, do we round up all of the good people, hope it's more than 51%, come together, and crush the bad people? It's are we going to bring out what is better in us, versus what is worse in us?"
The freewheeling dialogue had its limits, though.
Asked whom he might support if he weren't running for president, Buttigieg offered a quick reply.
"Pass."