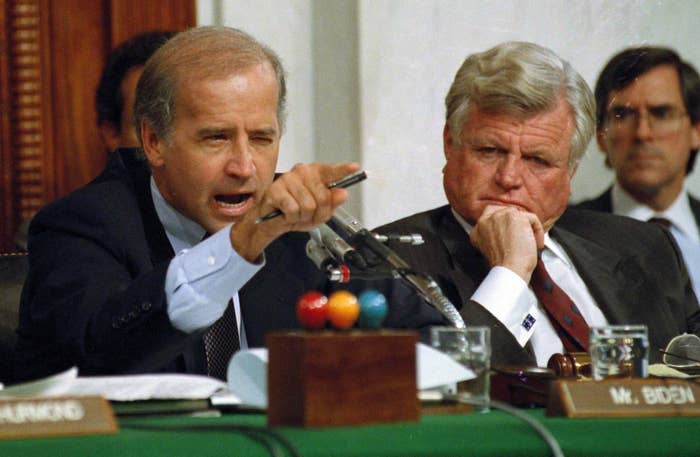 Republicans on the Senate Judiciary Committee repeatedly pushed a quote from former vice president Joe Biden throughout the Brett Kavanaugh and Christine Blasey Ford hearing in an effort to tamp down requests from Democratic senators for an FBI investigation into sexual assault claims against the judge.
Senate Judiciary Committee Chair Chuck Grassley brought up Biden early. Biden served as the chair of the committee in 1991, when Anita Hill testified on her allegations against Clarence Thomas, who was at the time a nominee for the Supreme Court.
"Contrary to what the public has been led to believe, the FBI doesn't perform any credibility assessment or verify the truth of any event in these background investigations," Grassley said prior to Ford's testimony Thursday morning.
Summarizing a quote from Biden during the 1991 hearing, Grassley said: "The next person who refers to an FBI report as being worth anything obviously doesn't understand anything. The FBI explicitly does not in this or any other case reach a conclusion. Period. They say, 'He said,' 'She said,' and 'They said,' period. So when people wave an FBI report before you, understand they do not, they do not, they do not reach conclusions. They do not make recommendations."
Sen. Mike Lee, a Utah Republican, also pointed to the Biden quote during Kavanaugh's questioning.

Throughout Thursday's hearing, Democrats repeatedly decried the fact that the hearing took place without the FBI investigating the claims of Ford and other women who've accused Kavanaugh as sexual assault or harassment, as Republicans pushed back that an FBI report would not be conclusive.
Anita Hill's hearing, and Biden's role in it, has cast a shadow over the Kavanaugh hearing and has been a point of criticism of Biden as he's floated as a potential presidential prospect.
Bill Russo, a spokesperson for Biden, knocked down Republicans' characterization of the quote Thursday evening. "There is clearly an effort on the part of the White House and Senate Republicans to take out of context then-Senator Biden's statements about the role of the FBI in the judicial nomination process to create a smoke-screen for their unprecedented refusal to have the FBI conduct an investigation into credible charges." Russo went on to clarify that Biden made the comments in response to Sen. Orrin Hatch to make the point that FBI does not make a decision as to whether or not something is true, and that decision is left to members of the Senate, not as to whether or not an investigation would be worthwhile.
"Vice President Biden believes that the FBI should have investigated in this case in advance of Dr. Blasey Ford's courageous testimony today, just as they did in 1991," he said.

Biden has continued to defend how he handled the Hill hearing, which has been for years criticized for featuring at times aggressive questions from a committee of all-male senators. Asked by a host on the Today show last week whether Biden "gets it" now, relative to 1991, noting he's been "roundly criticized for not doing more during that hearing," Biden said, "I think I got it in 1991." He went on to point to his work on abuse against women, including writing the Violence Against Women Act.
Democratic Sen. Patrick Leahy — who, like Grassley and Hatch, was also on the committee during the Hill hearing — said during Ford's testimony that the Senate "failed" Hill.
"Chairman, you and I were both here 27 years ago. At that time, the Senate failed Anita Hill," Leahy said.
CORRECTION
Sen. Orrin Hatch's name was misspelled in an earlier version of this post.