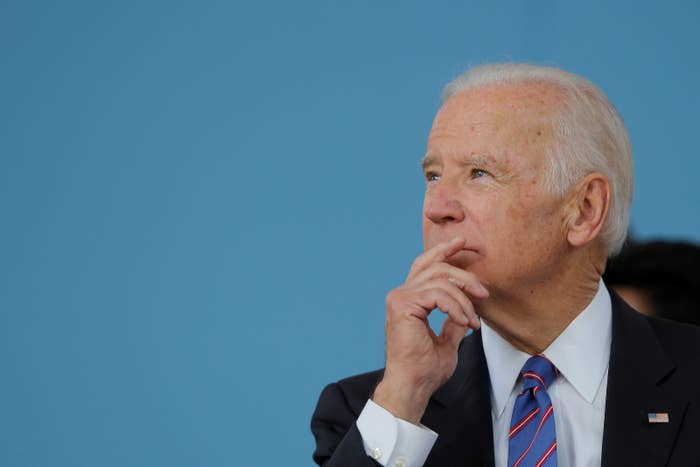 Former vice president Joe Biden defended his handling of the Anita Hill sexual harassment hearings in an interview Friday morning with the Today show, addressing an episode that has hung over him as another Supreme Court nominee faces accusations and Biden himself considers a run for president.
"It sounds like you get it now, as opposed to in 1991," said interviewer Craig Melvin, who noted Biden had been "roundly criticized for not doing more during that hearing" in his role as committee chair.
"I think I got it in 1991," Biden quickly replied. "I don't think — people have their own opinions. But that's why I wrote the Violence Against Women Act."
The prospect of a hearing next week over the sexual assault allegation made against Judge Brett Kavanaugh, Donald Trump's nominee for the Supreme Court, has raised parallels to the 1991 accusations by Hill against Clarence Thomas, then a Supreme Court nominee.
The specter of those hearings has hung over Biden for decades, even as he became a crusader on the issue of violence against women and sexual assault as a senator and during his vice presidency.
Hill, who said Thomas had repeatedly and vulgarly sexually harassed her while he supervised her at work, endured hours of graphic and at times accusatory questioning by an all-male panel of senators, including questions like, "Are you a scorned woman?"
"Anita Hill was vilified when she came forward by a lot of my colleagues...I wish I could have done more to prevent those questions and the way they asked them," Biden told Today. "She was victimized again during the process" of the hearings.
During the Thomas hearings, Biden himself pressed Hill to repeat graphic specifics of allegations, including some she had already testified to. Shortly after Hill had described an incident where Thomas had asked her who had placed a pubic hair on his can of Coke, Biden said, "Can you describe it, once again, for me please?" Hill sighed heavily.
At another point in the hearings, Biden asked Hill, "Did he just say, 'I have great physical attributes,' or was he more graphic?"
Hill replied, "He was much more graphic."
"Can you tell us what he said?" Biden asked Hill.
Biden has also been criticized for failing to call witnesses during the hearings who said they could corroborate Hill's story, including a woman who said that Thomas had repeatedly pressured her to date him. In a December 2017 interview with Teen Vogue, Biden said that, given another chance, he would subpoena the women.
Biden also told Teen Vogue that he owed Hill an apology for failing to do more to "tone down" the questioning of Hill by his colleagues.
Asked by Melvin how he would apologize to Anita Hill today, Biden said, "I'm sorry I couldn't have stopped the kind of attacks that came to you. But I never attacked her, I supported her. I believed her from the beginning and I voted against Clarence Thomas."
Hill, in an interview published this week with Elle, said the idea of Biden showing up at her house to apologize has "become sort of a running joke" in her home. But asked if she's waiting on an apology now, she said, "There are more important things to me now than hearing an apology from Joe Biden. I'm okay with where I am."
Biden said he believed that Kavanaugh's accuser, Christine Blasey Ford, "Should not have to go through what Anita Hill went through — some of the questions she was asked, and the way the right went after her on national TV."