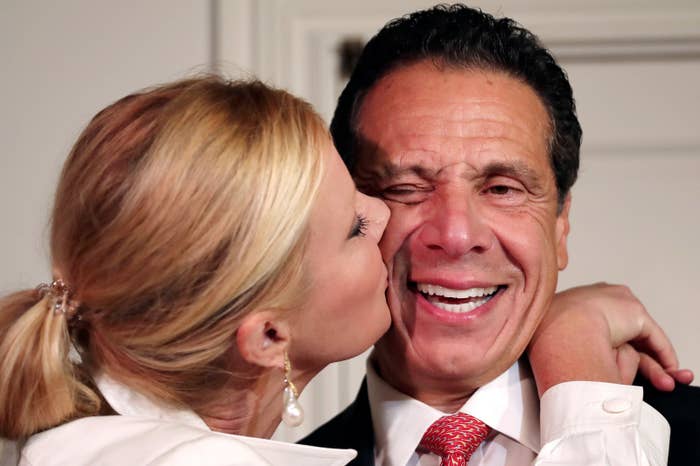 Gov. Andrew Cuomo overcame one of the last progressive primary challenges of this election season on Thursday, beating Cynthia Nixon in New York's Democratic gubernatorial primary election.
Nixon, a longtime education activist and actor, has been at the center of a contentious primary season that's seen progressives present strong challenges to establishment Democrats across the country.
But Cuomo was able pull through in a climate that has been difficult for entrenched incumbents in progressive states. It's the second time he has beaten a challenge from the left, after running up a big margin against Zephyr Teachout in 2014. Cuomo — who has been rumored as a potential 2020 presidential candidate, despite recent protestations — is now favored to enter a third term as governor with a track record of taking on and defeating potentially challenging Democratic opponents.
Nixon, on a night that saw several down-ballot progressive primary challengers in New York come away victorious, tried to put a more optimistic spin on her loss.
"I'm not discouraged, I'm inspired, and I hope you are too," she said at her election night party in Brooklyn. "Before a single vote was cast, we already won."

Despite public polling that consistently showed the governor with a large lead, Cuomo's campaign didn't take Nixon's challenge lightly. His campaign spent nearly the same amount per day that the Nixon campaign had raised in total, and rolled out endorsements from former vice president Joe Biden, Hillary Clinton, and DNC chair Tom Perez.
Cuomo, who reportedly did not attend an election night party after his win, will now face Republican Marc Molinaro in November. He did not have a statement in the immediate hours after winning his race.
Nixon's campaign was primarily backed by the Working Families Party, a small but influential third party of unions and progressive activists that spurned the governor by endorsing her campaign. She was also endorsed by a litany of other progressive organizations that have backed new progressive candidates, including the Democratic Socialists of America, Our Revolution, and Democracy for America.
Throughout her campaign Nixon championed issues like Medicare for All, fixing New York's crumbling subway system, and legalizing marijuana. She was also among the first Democratic candidates running for office this year to call for the abolishment of ICE, and her campaign was centered at the nexus of racial and economic justice.
Cuomo won his primary in the midst of a progressive uprising in New York state. This primary season alone saw Alexandria Ocasio-Cortez, a democratic socialist, topple Rep. Joe Crowley in the 14th Congressional District and a host of candidates challenging former members of the Independent Democratic Conference, a now-defunct group of Democratic state senators who caucused with Republicans.
Several former IDC members were defeated in their own primaries Thursday night, including former IDC leader state Sen. Jeff Klein.

"Whatever happens, tomorrow is a completely new day in Albany," Working Families Party national director Maurice Mitchell said at Nixon's election night party. "Cuomo no longer has allies in the state Senate to advance his right-wing agenda; he's alone in many ways. He has no more excuses and nobody in Albany has any more excuses. They now understand if they govern like Republicans and if they govern aligned with the corporate lobby, they'll have serious consequences on Election Day."

Nixon, in her concession speech, said that while the primary is over, "the fight for the soul of the Democratic Party is just beginning."
Cuomo's supported candidate for state attorney general, New York City Public Advocate Letitia James, also won her primary race Thursday night. Should she win in November, she would become the state's first black attorney general. The office has been a frequent antagonist to Donald Trump's administration since he became president.
Lt. Gov. Kathy Hochul, who ran with Cuomo, also won her primary against challenger Jumaane Williams, a New York City Council member who ran with Nixon.
Throughout the primary, Nixon and the Working Families Party pointed to Cuomo's record as not being progressive enough to represent the state of New York. "We don't need to a kinder, gentler version of the Republican Party," Nixon often said of centrist Democrats on the campaign trail. She and New York Working Families Party officials often pointed to Cuomo's tolerance of the IDC as shifting the balance of power away from a Democratic majority that activists hoped would have pushed through more progressive policies.

"Cuomo represents a wing of the Democratic Party that is out of touch with what voters want right now and that people are veering away from," New York Working Families Party state director Bill Lipton and New York Communities for Change director Jonathan Westin told BuzzFeed News in a phone call during the primary.
Cuomo's campaign, though, trumpeted some progressive accomplishments from his time as governor, like passing a $15 minimum wage and leading the charge to legalize same-sex marriage in the state.
In a memo to Working Families Party members sent prior to the primary, party leaders told supporters that "by the time the dust settles tomorrow, New York will never be the same," touting the #TheCynthiaEffect and the dissolution of the IDC.
In the early days of the primary, Nixon's campaign appeared to have some impact on Cuomo's agenda. Cuomo tacked left to shore up support from progressives: proposing a ban on plastic bags, announcing that he'd use his pardoning power to restore voting rights to felons, and requesting a study on legalizing marijuana after calling it a "gateway drug." He also oversaw the negotiations that effectively ended the IDC. And he took a harder focus on attacking Donald Trump during the primary, after largely avoiding saying his name during Trump's first months in office. Cuomo's campaign pitched the governor as the best leader to fight back against the president.