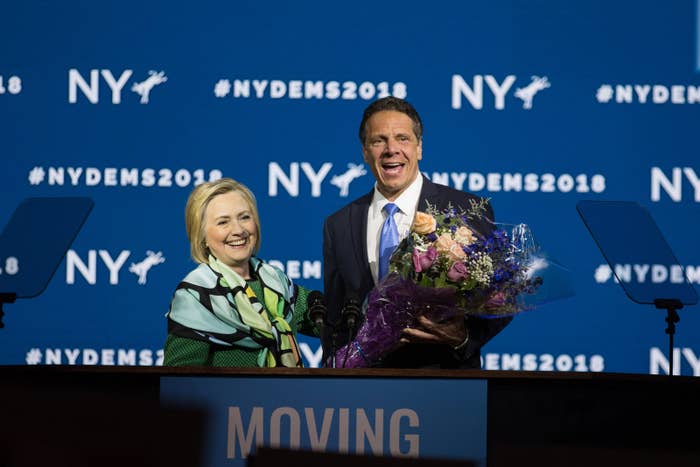 Over two days, sessions of the New York State Democratic Convention kicked off with prayers that felt more like stump speeches for Gov. Andrew Cuomo's reelection than devotions.

The invocations touched on two themes that were on prominent display this week on Long Island: reaffirming Cuomo's progressive values and his record.
Some of the most prominent Democrats in the US — Hillary Clinton and the chair of the Democratic National Committee, Tom Perez — lavished praise on Cuomo under gleaming cerulean signs reading "MOVING FORWARD" and "FIGHTING BACK."
"We often have debates about what wing of the Democratic Party we belong to," said Perez, declaring that he is from the "accomplishments wing" of the party.
"Now more than ever we've got to stand up for those that stand up for progressive values," offered Clinton, whom Cuomo presented with flowers at the end of her remarks in a state she won decisively several times over.
The state party's vice chair, Christine Quinn, rattled off a bevy of the party's progressive accomplishments under Cuomo, from a $15 minimum wage (it takes effect at the end of next year) to marriage equality, each followed by applause from a body of Democrats firmly behind the governor.
The two-day convention on Long Island served as a show of force from a state party content under the leadership of the governor — facing a formidable challenge from the left — to those questioning governor's progressive bona fides.
"And by the way, Andrew Cuomo has never backed away from his progressive principles," Joe Biden told the crowd in a lengthy endorsement speech. "Not one single time."
Cuomo easily secured the party's nomination with over 95% of convention delegates supporting his bid for reelection. (Cynthia Nixon still plans to petition her way onto the ballot ahead of the primary in September.)
"There's a struggle between the left and center of the party happening all over and people want to see progressives embraced," New York Democratic strategist Hank Sheinkopf told BuzzFeed News. "And it's reached New York."
The gubernatorial primary has become the latest battleground in an arduous struggle between the newer, progressive wing of the Democratic Party who want to push Democrats as ideologically leftward as they can and the old-guard, establishment wing of the party supporting candidates — sometimes centrist, sometimes quite liberal — who they believe are more viable in general elections.
"The reality is that the Democratic Party and the Working Families Party used to have a really great relationship. They've disagreed on down-ballot races, but this year with the governor's race has broken that relationship completely," Sheinkopf said.
Last week, at the Working Families Party convention in Harlem, you'd be hard pressed to find a member who thought Cuomo was a real progressive.
State party members painted Cuomo as the antithesis of the progressive movement they're at the forefront of, a movement that he's "trying to divide." Later, they led members in a call and response: "When Andrew Cuomo tries to divide us, what do we do?" "Stand up! Fight back!"
"Cuomo represents a wing of the Democratic Party that is out of touch with what voters want right now and that people are veering away from," New York Working Families Party state director Bill Lipton and New York Communities for Change director Jonathan Westin told BuzzFeed News in a phone call. They rattled off points about Cuomo working with the Independent Democratic Conference — a group in the New York state Senate that, until recently, caucused with Republican members, effectively shifting the balance of power toward the center — and about working with Republicans in the New York House. "For eight years, he's claimed that he's been getting things done and enacting progressive policies but for eight years he's done nothing that he promised."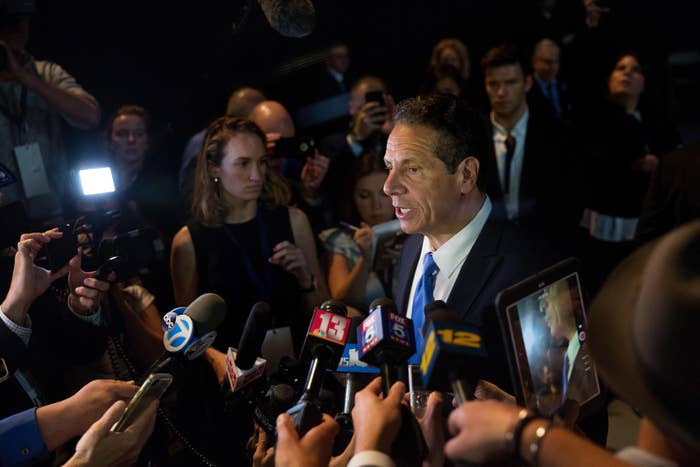 The race for governor has all of the key players in the fight: The Working Families Party, Our Revolution, and Democracy for America — all Bernie Sanders-aligned groups — have endorsed Nixon, while Cuomo has spurred public reminders of the support he holds within the Democratic Party. The splits are ones the Democratic Party has been trying to mend after the 2016 presidential primary and ahead of what many are hoping will be a wave election. (Even within the DNC, though, this has not gone smoothly: After Perez's endorsement Thursday, vice chair Rep. Keith Ellison told Politico that "the Democratic Party should not intervene in the primary process. It is our role to be fair to all contestants and let the voters decide.")
Cuomo has dominated in early polling, and most Democrats in the state think Nixon's bid is a true long shot, especially if she doesn't win over the black voters in New York City, who play a significant role in Democratic primaries but have long been resistant to the economic politics of white progressives. Still, the presence of so many prominent Democrats provides Nixon with a ready-made narrative about the establishment.
"I'm attending the convention today," she told reporters outside the Hempstead Long Island Rail Road station before it opened, "because New York Democrats deserve to have at least one actual Democrat running for governor at their state convention." She added that she was going to show Cuomo and Democrats that "this is our party, too."
Some convention attendees expressed confusion and frustration at Nixon's campaign decision to paint Cuomo as a Republican and herself as the "real progressive" in the race, pointing to his accomplishments like marriage equality in interviews with BuzzFeed News.
In an impromptu gaggle of reporters following Clinton's endorsement of his campaign, Cuomo, too, seemed at a loss.
What did Nixon mean, Cuomo was asked, when she said, "This is our party, too" and that the real progressives in New York would support her campaign?
Cuomo furrowed his brows and responded simply, "I don't know."