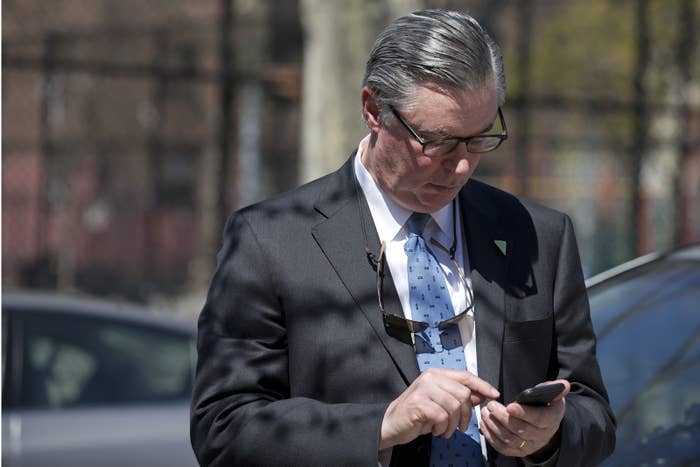 Tad Devine, a political operative who served at the highest levels of the Bernie Sanders campaign, will testify as a government witness in the special counsel office's prosecution of Paul Manafort, President Donald Trump's former campaign chair, according to a statement from his firm.
"The Special Counsel has asked Tad Devine to appear and testify about media consulting work on past political campaigns in Ukraine," reads a statement provided on Thursday evening by Julian Mulvey, a partner at Devine's political firm, Devine Mulvey Longabaugh.
"Tad will be testifying on behalf of the government," he said. "We have been assured by the Special Counsel's Office that we have no legal exposure, did not act unlawfully, and that Tad is testifying as a fact witness."
The news follows a week of developments in court filings: According to court documents filed by the special counsel office on Friday afternoon, Devine was named as a potential witness, among 34 others.
His role in the investigation — first indicated last week by a court filing that included documents from Devine — nevertheless entangles the Sanders orbit in an expansive government inquiry that has probed questions surrounding Russia's interference in the US election, Trump's potential obstruction of justice, and the insider world of lobbying and influence in Washington.

Manafort and his former associate Rick Gates, who also served as Trump's deputy campaign chair, worked on behalf of Viktor Yanukovych, the former pro-Russia president of Ukraine beginning in the mid-2000s until the mid-2010s after Yanukovych left office. Gates was originally charged as Manafort's codefendant but has since pleaded guilty and agreed to cooperate with Mueller's office.
Devine also worked in Ukraine with Manafort on Yanukovych's behalf, a detail of his career that has been public for years.

The court filing last week showed that emails and documents from Devine and his consulting firm, Devine Mulvey Longabaugh, could be presented to the jury as evidence in the case against Manafort.
On Thursday, however, lawyers for Manafort filed court papers asking a federal judge in Virginia to exclude more than 50 items from that list. The filing includes copies of those exhibits. The documents made public include emails to and from Devine, items like speech drafts, talking points, strategy memos, the draft for a television ad, and a discussion of compensation, which offers an inside glimpse at the kind of lucrative work Devine and others did in Ukraine.
In a statement on Thursday, Mulvey said that Devine was assisting Mueller's investigation. "When the Special Counsel sought assistance from us in its ongoing investigation, we readily provided it."
In one of the first exhibits that appears in the Thursday filing, for instance, Devine emails Manafort to share a draft of Yanukovych's victory speech in 2010 — which includes the attached text.
In another, Gates and Devine discuss a potential trip that Devine might take to Kiev, Ukraine, and, after Gates suggests a daily rate for compensation, Devine responds that his "rate for something like this would be $10,000/day, including travel days."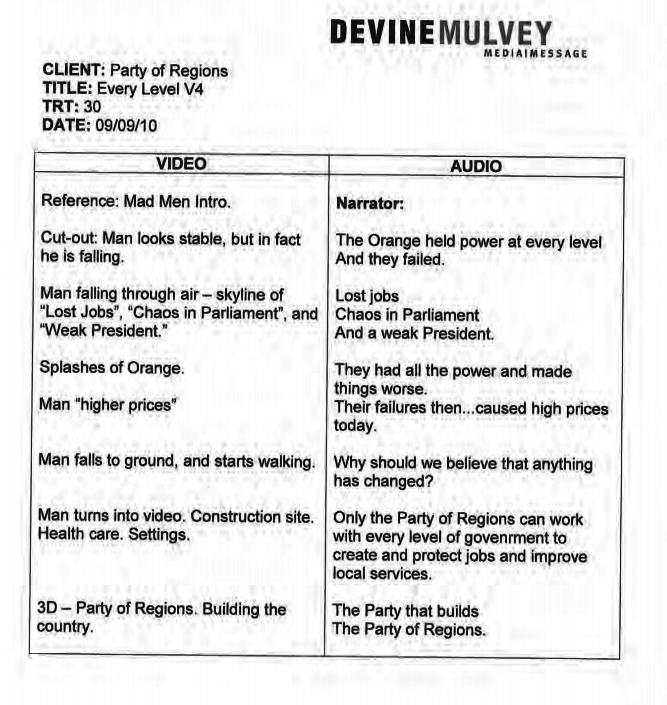 Last year, the New York Times reported that Devine quit his work in Ukraine by 2012. The documents referenced date from 2006 to 2014, but the 2014 documents begin in March of that year, after Yanukovych was ousted and left the country.
In the statement on Thursday evening, Mulvey said, "After the administration of the presidential candidate we had worked for arrested his political opponent, we quit. We then declined additional offers to work on his later campaigns."

Prosecutors filed the initial exhibits document — a list of more than 400 items — in the US District Court for the Eastern District of Virginia, where Manafort faces charges of failing to report foreign bank accounts, filing false tax returns, and bank fraud. The trial is scheduled to start July 25.

In addition to the charges filed in Virginia, Mueller's office has also charged Manafort in the US District Court for the District of Columbia with unregistered lobbying in the United States on behalf of a foreign client — the European Centre for a Modern Ukraine, which was linked to Yanukovych's political party. His trial in DC is set for September.