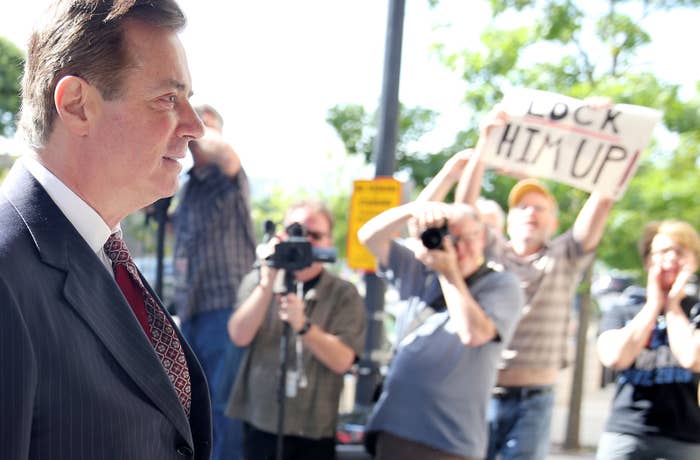 Lawyers for former Trump campaign chair Paul Manafort filed court papers Thursday asking a federal judge in Virginia to exclude more than 50 pieces of evidence the government has said it may introduce at trial related to Manafort's previous work in Ukraine. But the filing includes copies of all the exhibits Manafort doesn't want a jury to see.
The cache of documents largely includes emails and memos about campaign strategy and activities on behalf of former Ukrainian president Viktor Yanukovych, Manafort's former client. It also includes photos of Yanukovych that special counsel Robert Mueller's office said were taken at Manafort's direction, draft political speeches, and memos about US–Ukraine relations.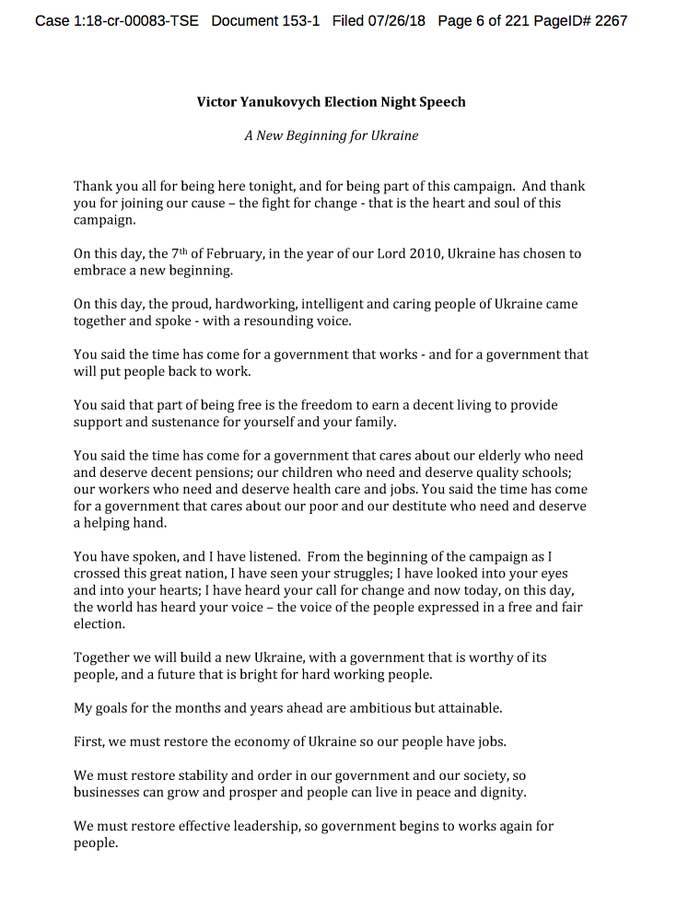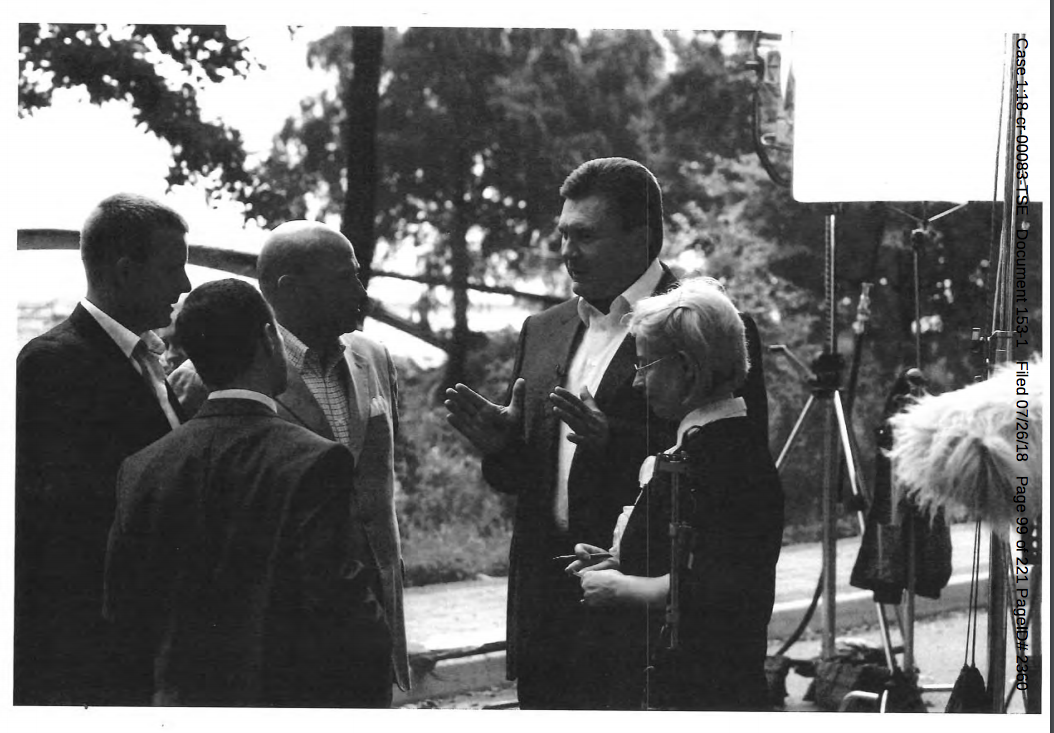 Tad Devine, a senior adviser to Bernie Sanders in 2016 and a longtime Democratic aide, worked in Ukraine with Manafort and Manafort's former associate Rick Gates and appears in a series of exhibits that provide rich detail about the work the Americans were doing there. Gates was originally charged with Manafort, but has since pleaded guilty and agreed to cooperate with Mueller's office.

On Thursday evening, Devine's political consulting firm, Devine Mulvey Longabaugh, put out a statement that Devine is assisting the special counsel's office in the Manafort prosecution.
The exhibits Manafort is seeking to exclude from being introduced contain detail, and casual conversation, about the political work the consultants did abroad, as much as a decade before the 2016 election. Manafort's case seems likely to explore in depth the lucrative, insider world of Washington influence, and which cuts against the outsider image of Donald Trump, whose campaign Manafort chaired — and that of Bernie Sanders, the democratic socialist whose campaign Devine produced ads for.
"Gents," Gates emailed a handful of political consultants on April 2, 2012, according to Exhibit G. "I hope everyone is well. We have once again reached the point in time where we should cast aside all US political work in favor of everyone's most beloved country — Ukraine."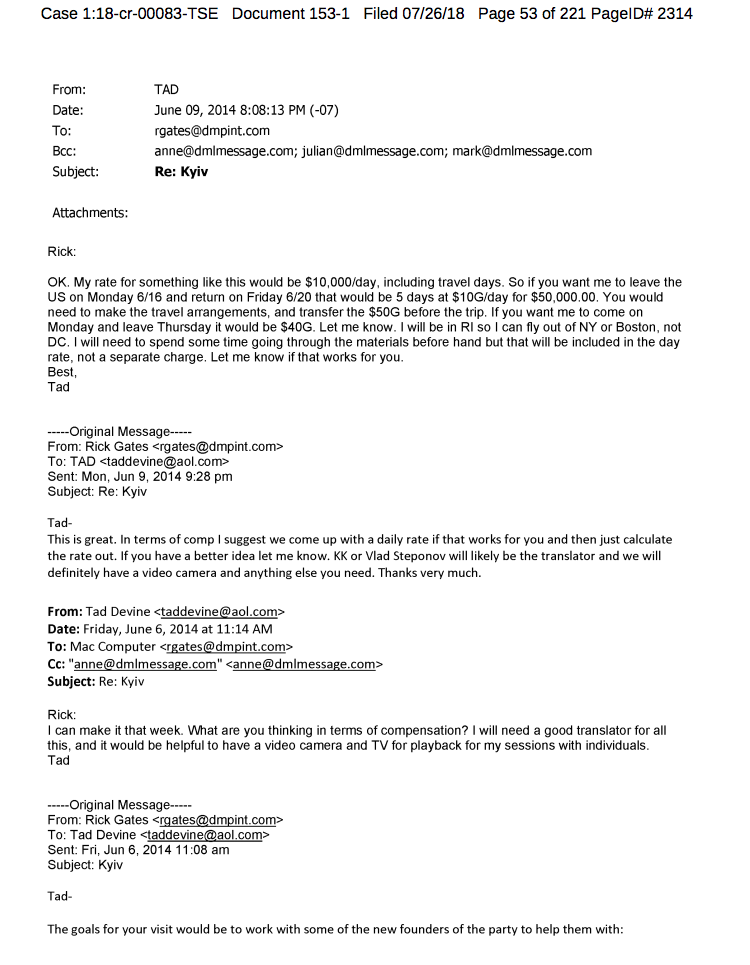 The documents contain everything from the draft text of a speech for Yanukovych's victory night (sent by Devine to Manafort on Feb. 3, 2010) to talking points Devine wrote for Yanukovych in August 2010, to polling and drafts of ads. On June 6, 2014, according to one exhibit, Gates emailed Devine with "goals" for a visit to Kiev ("Messing on the new party," "media training," and "speech") with proposed dates. In the course of the email thread, Gates proposes a "daily rate" for comp; Devine responds that his "rate for something like this would be $10,000/day, including travel days."
Another exhibit is a draft script for a television ad for Yanukovych's Party of Regions.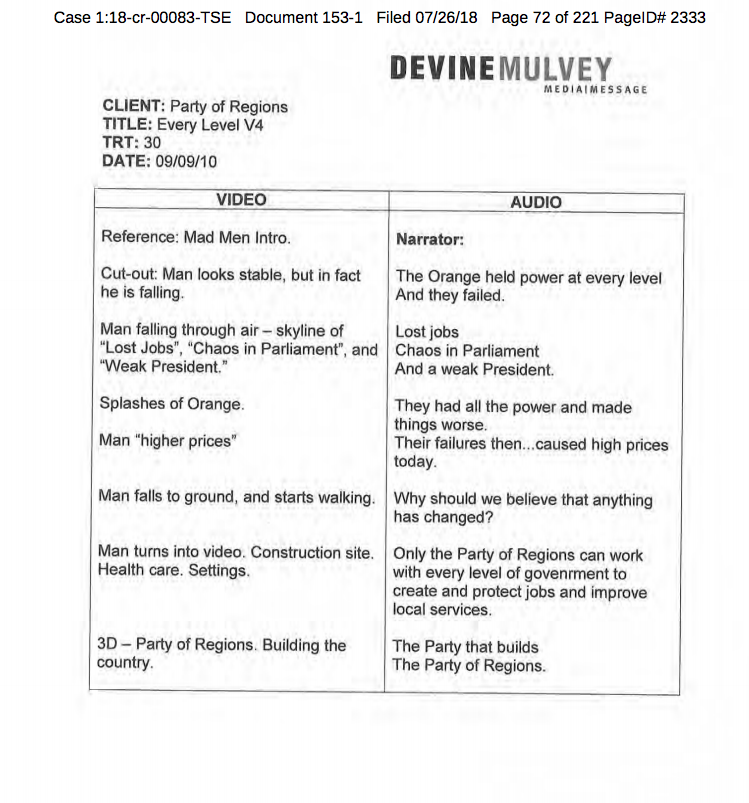 In another set of documents, Manafort in a series of February 2013 memos (Exhibits NN, OO, and PP) provides Yanukovych with updates regarding "US Government Activity," providing a "US Government Update," and providing a "Hapsburg — Update" that includes US government-related plans. Mueller's office has alleged that Manafort used European officials to lobby on Ukraine's behalf — offering favorable opinions about Ukraine's actions as if they were independent observers, when in fact they were being paid to do so.
In the second memo, Manafort referenced "our Hapsburg friends" coming to Washington and emphasized that "the team is fully engaged and active in the [Obama] Administration and the [US] Congress." In the third memo, he wrote that because of the Hapsburg group's "success" in Europe, "they will also include the US where they can add important credibility to the dialogue that is occurring in the US government." In a later bullet point in the memo, Manafort wrote that the Hapsburg group would be doing "a series of events between March and May" 2013 in Washington, plans were to include a "private meetings with senior US officials including Secretary of State John Kerry, and other members of the Administration."
The memos provide the first evidence of Manafort discussing the Hapsburg group's US plans, which would be relevant to the obstruction of justice charges Manafort faces in his case in the US District Court for the District of Columbia. (A previously released 2012 memo that was sent to Manafort by a person working for him referenced the Hapsburg group's formation, but not any US plans.)
In the DC case, Mueller's office has alleged that Manafort corruptly intended to "influence, delay, and prevent the testimony" of two individuals who have knowledge of the Hapsburg group's work. In one message earlier this year submitted in court by Mueller's office, Manafort wrote, "We should talk. I have made clear that they worked in Europe." Konstantin Kilimnik, a longtime colleague of Manafort's who now faces obstruction charges along with Manafort, wrote in a message to the other individual, "Basically P[aul Manafort] wants to give him a quick summary that he says to everybody (which is true) that our friends never lobbied in the US, and the purpose of the program was EU."
At a hearing Monday in the Virginia case, Manafort's lawyers argued that the evidence was unrelated to the charges Manafort is facing there — he's accused of filing false tax returns, failing to report foreign bank accounts, and bank fraud — and would only serve to prejudice the jury. They said the fact that Manafort was paid for overseas lobbying work wasn't in dispute, and they argued that jurors could get "sidetracked by Mr. Yanukovych's controversial tenure as Ukraine's president."
Special counsel prosecutor Greg Andres argued that how much money Manafort earned from his overseas work, how exactly he earned it, and who paid him was contested, and the documents detailing the extent of his work in Ukraine were all directly relevant to the case.
US District Judge T.S. Ellis III said Monday that he needed to see the specific exhibits that Manafort wanted excluded from trial before ruling. Jury selection will begin July 31; it was supposed to start this week, but Ellis agreed to a short delay after Manafort's lawyers said they needed more time to review late productions of evidence by the government.
Below, read the exhibits Manafort wants excluded from trial:
Katherine Miller contributed to this report.