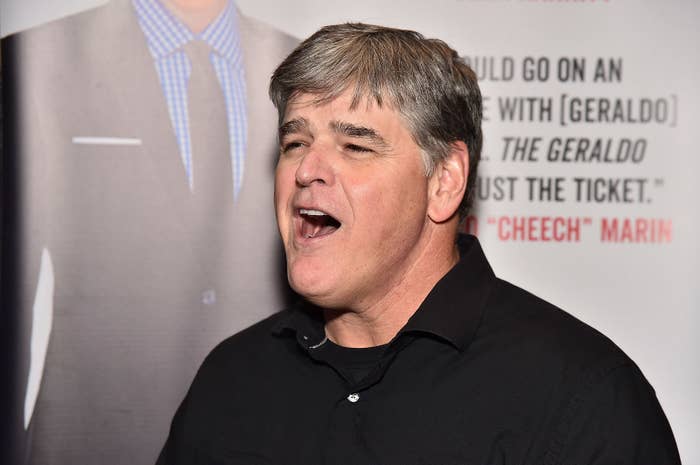 Extensive text messages between someone appearing to be Fox News host Sean Hannity and former Trump campaign chair Paul Manafort were unsealed by a federal judge on Friday, showing a close rapport between the two men.
Though Hannity isn't identified in the texts, which date from 2017 and 2018, Manafort repeatedly calls him "Sean" and both refer to his show. Fox News is also referenced. They show the two men commiserating over what both agreed was harsh treatment of Manafort — who was ultimately found guilty in August 2018 on tax and bank fraud charges and pleaded guilty the following month to additional charges — and expressing mutual admiration. In the texts, Hannity repeatedly tried to get Manafort to come on his show, blasted the investigators, offered a shoulder for Manafort to lean on, and repeatedly asked Manafort if he'd watched that night's show (he often had).
But one of the most striking aspects of the texts, apart from the rapport between the interlocutors, is the extent to which they reflect Hannity's public posture. Hannity's viewers and listeners won't find his attitude toward former special counsel Robert Mueller's investigation, as displayed in the texts, particularly surprising.
"If you just ever want to talk, grab dinner, vent, strategize-- whatever, I am here," Hannity wrote on Aug. 9, 2017. "I know this is very hard. Stand tall and strong."
Two days later, Hannity told Manafort, "Look. U call me if u get down. Need a friend. If I can help. Anytime day/night. I'm praying for u and u family. U stay strong."
Manafort had similarly warm feelings toward Hannity. "In a fair world you would get a Pulitzer for your incredible reporting," he told the host on Jan. 24, 2018 (to which Hannity responded, "Lol. I'll take these assholes going to jail"). Earlier that month, after Hannity asked if he was watching the show, Manafort affirmed that he was, and added, "I love you."
Hannity tweeted Friday night, seemingly referencing the newly revealed documents and saying his views had always been clear.
Hannity wasn't just offering support, but had a goal in mind: to get Manafort to come on his show, something he had repeatedly offered, though Manafort was placed under a gag order by the court.

"I'm sick of these lies," Hannity wrote on Oct. 25, 2017. "COME ON WITH ME WITH YOUR ATTY BEFORE THEY TRY AND ATTACK U MORE."
Though Manafort never went on the show, the texts reference a conversation between his lawyer and Hannity. On Jan. 24, 2018, Manafort texted Hannity to tell him that his lawyer Kevin Downing would call Hannity the following day. After Manafort followed up to ask how the call went, Hannity said, "Good. I asked him to feed me everyday."
At one point, Manafort asked Hannity to tweet a link to a GoFundMe defense fund, but Hannity said it might be "problematic" with Fox and he would have to check.
Hannity's attitude in the texts toward the supposed "deep state," the Mueller team, Hillary Clinton, and other Trump antagonists is similar to the way he has covered these issues on his shows.
"HRC. E-mails. Obstruction. Destroying emails, bleach bit, devices no sim cards. Uranium one. Ukraine interference. Intel Leaks Unmasking Potus conversations leaked. My God. Shredding the constitution. A 2 tiered justice system. Look at Muellers team. All Clinton Obama dem donors. No R's," Hannity wrote.
Manafort has been sentenced to a total of seven and a half years in prison between his sentencing for conspiring to defraud the federal government and tamper with witnesses and his sentencing on tax and bank fraud charges. After a stint in federal prison, he was recently moved to a facility in Manhattan; he is reportedly expected to be arraigned soon on state charges in New York.
Reached for comment, a Fox News spokesperson referred to Hannity's tweet.