The White Helmet Who Saved A Baby Girl In Syria From Rubble Has Been Shot And Killed
Abu Kifah, 28, was one of seven White Helmets — a Syrian search and rescue organization — shot and killed in Idlib province over the weekend.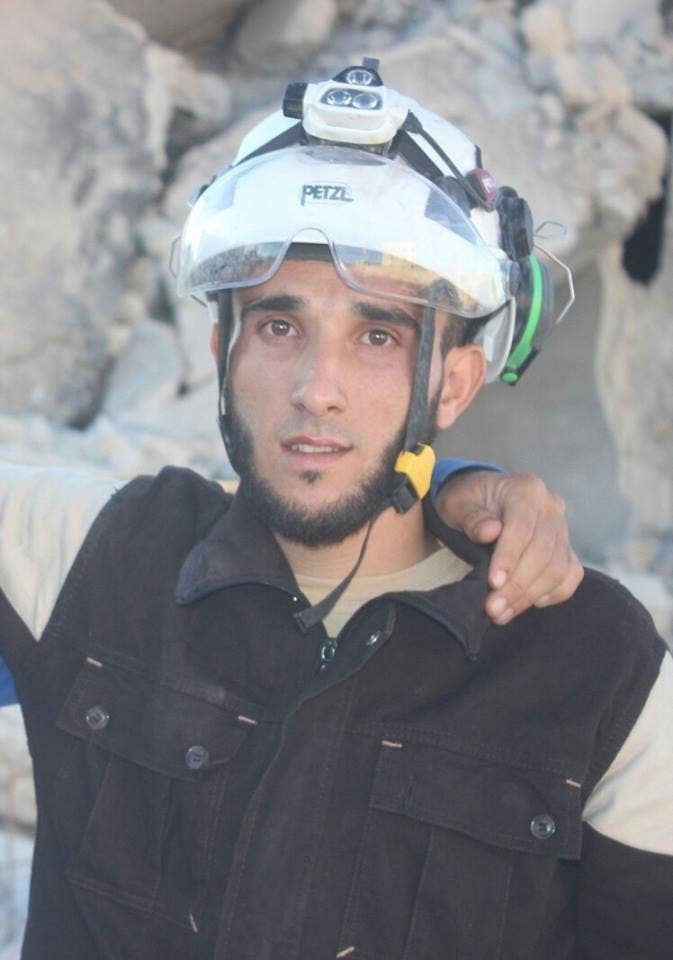 The man who dramatically saved a baby girl from Aleppo's rubble last year has been shot dead in an attack on a White Helmets base in Syria.
Abu Kifah, 28, was among seven White Helmet colleagues who were shot and killed in their offices in Sarmeen, in northwestern Syria, early on Saturday morning.
The Civil Defense Force, better known as the White Helmets, is a rescue force operating in rebel-held areas. Over the course of the Syrian civil war, the group has been responsible for saving thousands of people.
In September, footage emerged of Abu Kifah overcome with emotion after he dug a 1-month-old girl out from the fourth-floor wreckage of a tower block in Aleppo.

Abo Mohammad, who lives in the countryside outside Aleppo, said Abu Kifah had been like a brother to him. "When he was killed, we wept and were so sad."

"He was a very good person," Mohammad, 24, told BuzzFeed News — with a "very good heart", who had loved "to help people." He added that "all the people of the city love him."
He had known and worked with Abu Kifah, who was a tailor in the city before the outbreak of war, and confirmed to BuzzFeed News that Kifah leaves behind a wife, whom he married in 2015.
Six other White Helmets were killed in the early hours of the morning. Graphic photographs shared on social media and in an activists' WhatsApp group showed a bloody scene inside the base.

Jihad Idris lost two of his relatives: Hamza, 25, and Obeida, 19. The day of the attack, Idris woke up to his father telling him the news. "I did not understand what had happened and tried to absorb the news, I heard the voice of my mother crying and she says, 'My little boy died.'"
He told BuzzFeed News that 25-year-old Hamza was married and expecting a daughter with his eight-month pregnant wife. The day before the attack, Idris said, Hamza had just bought clothes for his new daughter: "He was very excited to meet her."
Idris recovered his relatives' bodies from the ruined center, and buried them himself in the countryside of Idlib.

"I believe that these crimes are systematic and organized to intimidate civilians," he said. "It is a clear message to the Syrians that it will pursue all those who expose its crimes and those who help to save its victims from under rubble."

The Syrian Observatory for Human Rights, based in the UK, told the Associated Press that all of the volunteers had been shot in the head. Afterward, the assailants stole the vehicles used to transport the wounded to hospitals, before abandoning them in a field.
No one has claimed responsibility for the attack, although it comes in an area in which the extremely conservative, al-Qaeda-linked Hay'at Tahrir al-Sham — formerly known as the Nusra Front — recently said it was aware of ISIS sleeper cells planning an attack. HTS is now reportedly investigating the assault.
In the day following the attack, the White Helmets protested it, with supporters inside and outside Syria sharing the hashtag #SaveWhiteHelmets. BuzzFeed News also learned, via a WhatsApp messaging group, that another two attacks on Civil Defense operations had been conducted since the attack in Idlib.
The Syrian White Helmets have lost more than 159 members to government and pro-Assad forces since the group emerged in 2012. Last year they were widely favored to win a Nobel Peace Prize for their rescue work, and were the subject of an Oscar-winning Netflix documentary.