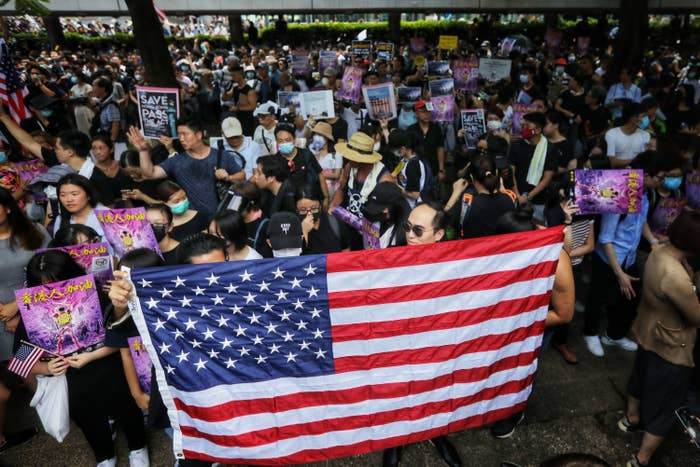 HONG KONG — With protests in Hong Kong in their 15th week, and violent clashes becoming almost routine, some used the latest rally as an appeal to the international community to intervene and break the stalemate between pro-democracy protesters and the Hong Kong government.
Many of the people taking part Sunday held umbrellas while they walked, shielding themselves from the afternoon sun, while others also waved United States flags as they marched through the streets. Several protesters told BuzzFeed News that they were carrying a foreign country's flag because they wanted to look beyond their own government as the situation becomes more and more intractable.
"I don't think the Hong Kong government can do any more because they have to obey the Chinese Communist Party," said Candice Wong, a protester in her forties, who held a large American flag as she stood outside Chater Garden.
Wong said she was waving the flag both as an appeal to the US government, showing her support for the Hong Kong Human Rights and Democracy Act that is currently in the US Senate, and to represent the values that she too hopes Hong Kong can ultimately fulfill. She and several other protesters who spoke with BuzzFeed News cited the Senate bill by name when talking about their hopes for US intervention.
Last weekend, protesters marched to the US Consulate with a similar appeal, with at least one banner calling on President Donald Trump to "liberate Hong Kong."
The bipartisan bill, which was introduced in June by Marco Rubio, a Republican from Florida with seven cosponsors, would sanction Hong Kong and Chinese officials who have been found to be complicit in suppressing basic freedoms in Hong Kong. Over the past week, more Senators have signed on to the bill, including Kirsten Gillibrand, a Democrat from New York, and Susan Collins, a Republican from Maine.
Rubio recently published an op-ed in the Washington Post criticizing China's encroachment on Hong Kong's freedoms and calling for the US to not stand idly by. "The United States and the international community must make clear to Chinese leaders and power brokers that their aggression toward Hong Kong risks swift, severe and lasting consequences," Rubio wrote.
Since the protests kicked off in June over an extradition bill that would allow people to be sent to mainland China to face trial, protesters have had five demands, including withdrawing the bill, investigating police violence, and universal suffrage.
China first responded by censoring the protests in the mainland, and since has blamed "foreign interference" for the unrest. A recent China Daily editorial cited the presence of US flags at the protests as further evidence that the protests were still continuing only because of outside forces. Beijing has also warned the US not to get involved in Hong Kong in direct statements from the Foreign Ministry.
As the crowd made its way from Causeway Bay to Central, a main shopping and business hub of the city, Kyle Tsang, another protester dressed in all black, waved a US flag atop a bus shelter to cheers from the crowd, as they chanted "five demands, not one less."
The chant has become a common refrain in the protests after Carrie Lam recently said she would withdraw the controversial bill. But protesters have said it's no longer enough to resolve the situation.

"The Hong Kong people are in a critical situation right now," Wong said, mentioning recent clashes with riot police that spurred her to come out Sunday.
"We need international countries and cities to pay attention to what's happening in Hong Kong," Tsang told BuzzFeed News when he climbed down from the bus shelter. He too said he hopes the US will pass the bill.
Joshua Wong, a leader of the Umbrella Movement protests in 2014, has been making direct appeals to international leaders for their help, including calling for making the situation in Hong Kong part of trade talks between China and the US.
The US could squeeze Hong Kong economically by revoking its special status, which makes trade and investing easier in the international financial hub. Protesters, similarly, have also targeted the airport along with major shopping and tourism areas — a strategy that has proven effective as arrivals to the city have fallen 40%, recent data shows. But it's unclear if ultimately that pressure will be enough to make China budge on how many freedoms it will offer the semiautonomous region. And given Trump's shifting statements that have ranged from support for Xi Jinping's handling of the situation to a call for Xi to meet directly with protesters, the US upping its support for the protesters isn't a guarantee.

Sunday's march, which was not approved by police, devolved from a peaceful afternoon into more skirmishes in a matter of hours, as a group of protesters began throwing rocks, bricks, and dozens of Molotov cocktails over plastic barriers outside the Legislative Council building.
Small fires erupted on both sides of the barriers. Police fired tear gas, which did little to disperse the well-prepared protesters, who crouched behind barriers and tossed the canisters back at police. Police eventually cleared the area by deploying first water cannons, then eventually riot police.

The front line of the protests moved east after that — first to Wan Chai, and then Causeway Bay, and later North Point. And while the familiar skirmishes play out for another week in Hong Kong after months of unrest, others said they hoped for a resolution.

"We cannot just put pressure on the government ourselves, we need other governments to support us," said James Chan, a 25-year-old protester who also carried a United States flag on Sunday afternoon.
When asked if he thought the bill would improve the situation in Hong Kong, Chan shrugged: "It's better than nothing."