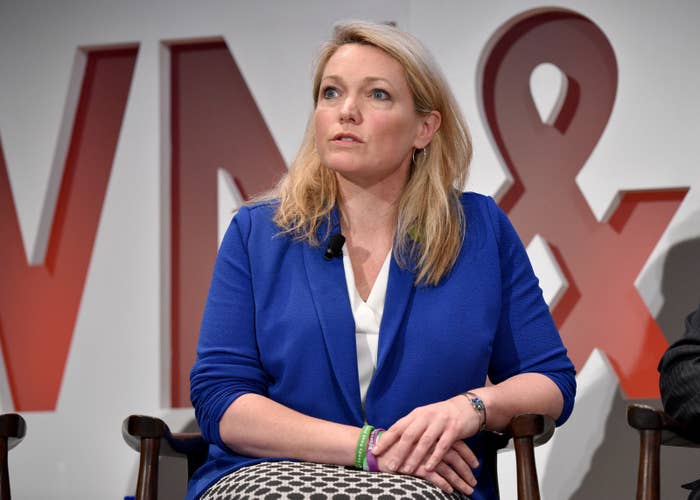 Nicole Hockley, the mother of 6-year-old Dylan Hockley, who was killed in the Sandy Hook Elementary School massacre, said that she endures such regular harassment on Twitter that she doesn't even report the accounts anymore, she just blocks them.
"I have probably blocked more people than I follow now, because of the trolling, because of the attacks," Hockley said in an interview with BuzzFeed News on Friday. "I used to report every single one. I don't even bother anymore, I just block."

Much of that harassment comes from followers of Infowars and its host, conspiracy theorist Alex Jones, who claims the 2012 shooting that left 20 children and 6 adults dead is a hoax put on by actors.
"I know what it feels like to be harassed. I know what it feels like to receive threats and I know that some of these come directly from followers of Alex Jones because of what he has said on Infowars," Hockley said.
Jack Dorsey, the CEO of Twitter, decided this week to not remove Jones and Infowars from the platform, making it an outlier among other tech behemoths.
Apple kicked Jones and Infowars off its podcast app earlier this week, and after that, YouTube and Facebook banned him. But on Tuesday Dorsey defended keeping Jones on Twitter and Periscope.
"We didn't suspend Alex Jones or Infowars yesterday," Dorsey said. "We know that's hard for many but the reason is simple: he hasn't violated our rules."

CNN found repeated examples in which the Jones appeared to blatantly violate Twitter's rules, including the conspiracy theorist's attacks on survivors of the massacre at Marjory Stoneman Douglas High School.

The day after Dorsey's tweet, Hockley took Dorsey to task on Twitter, calling his decision "disappointing."
Along with other parents who lost children in the massacre, the mom is suing Alex Jones for defamation over his repeated claims that the massacred children were really crisis actors. Hockley said that she saw the best in Jones for "far too long."
"I gave Alex Jones the benefit of the doubt for far too long, when you really get down to it," Hockley told BuzzFeed News.
Hockley said that she has no plans yet to take legal action against Twitter, but also said that the company should know there are "consequences" for "inactions."

"If there are clear threatening actions and harassment that continues from Jones and Infowars, and then Twitter doesn't take action, well yeah, people need to understand that there are consequences for actions as well as inactions," she said.

"All accounts must follow the Twitter rules," a company spokesperson said in a statement to BuzzFeed News.
"At this time, we've found two InfoWars Tweets to be in violation of our rules prohibiting harassment and required them to delete the tweets before they could continue to Twitter."
"We review all reports in accordance with the twitter rules, and reports provide our team with valuable context on the conversations on Twitter," the statement read.
Hockley, speaking as a representative of Sandy Hook Promise, also expects more than 1,600 people to attend an event for March for Our Lives' upcoming visit to her area.

March for Our Lives is concluding its cross-country tour to register voters and bring gun violence activists together in Newtown, Connecticut, on Sunday.

"What I've always said at Sandy Hook Promise is that this a two-generational issue and that it's really going to take the younger generation to make the changes happen," she said.

She said that the student activists "have breathed a new life, a new energy into the movement."