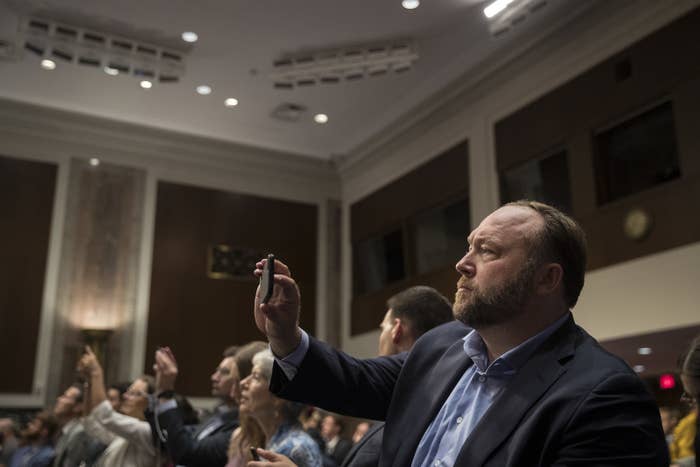 Conspiracy theorist Alex Jones on Wednesday had a spat with Sen. Marco Rubio outside a Senate hearing where Facebook Chief Operating Officer Sheryl Sandberg and Twitter CEO Jack Dorsey fielded questions from lawmakers.

Jones, the host of Infowars who was kicked off of multiple tech platforms in August, heckled Rubio as he attempted to answer questions from reporters.

"I just don't know who you are, man," Rubio told Jones, saying that he doesn't visit his website.
Jones then went on to call the senator a "snake" and a "frat boy."
"That's why you didn't get elected. You're snakelike," Jones told the senator. "Marco Rubio the snake. A little frat boy here."
The senator once again responded by saying he has no idea who the conspiracy theorist is.
"Who is this guy?" Rubio said. "I swear to God, I don't know who you are, man."
Jones also patted Rubio on his shoulder, prompting this response from the senator: "Don't touch me again, man. I'm asking you not to touch me again."
Jones then claimed that Rubio wanted him to get arrested.
"You're not going to get arrested, man. You're not going to get arrested," Rubio said. "I'll take care of it myself."
As Rubio stepped away to leave, he told the group of reporters, "You guys can talk to this clown."

"Go back to your bathhouse!" Jones yelled to Rubio as he walked away. "There goes Rubio…little punk."
Apple took down the entire library of five of the six Infowars podcasts from its iTunes and Podcasts apps in early August. Facebook and YouTube soon followed with their own bans.
Twitter, however, announced that it would not be removing Jones, despite him apparently repeatedly violating the platform's rules, including attacking survivors of the mass shooting at Marjory Stoneman Douglas High School in Parkland, Florida, and calling the Sandy Hook Elementary massacre in 2012 a hoax.
Twitter did take some action against Jones later in August by imposing a seven-day suspension on the conspiracy theorist and his show, Infowars.