My arrival in Selma, Alabama, on April 4, 2017, was less a choice than a matter of self-preservation. Following years of unarmed shootings, bombings, hate crimes, gentrification, voter suppression tactics, pay gaps, school segregation, dwindling reproductive freedoms, refugee bans, jeopardized health care access, and all of the indignities of life in America as a visible Other, I traveled to Selma because the fury in me had nowhere left to grow.
On Feb. 9, 2017, 20 days after President Donald Trump's inauguration, Alabama Sen. Jeff Sessions was sworn in by Vice President Mike Pence as attorney general. The travesty of that sentence, the sinister potential of it more than a year later, fuels my anxiety still. It is the reason why, mere months after returning from the Appalachian Trail, I emailed my father on Feb. 22, 2017, to see if he might be interested in meeting me in Alabama for a thru-hike of sorts. I wanted to walk from Selma to Montgomery — following in the footsteps of the civil rights marchers who had come before me — to protest Jeff Sessions' entire political career, specifically his most recent and wildly dangerous appointment as the head of the Department of Justice. It had been five days since Scott Pruitt was confirmed by the Senate to lead the Environmental Protection Agency. A week later, Ryan Zinke and the literal horse he rode in on would seize control of the Department of the Interior. Within a year, both Zinke and Pruitt would be responsible for shrinking national monuments sacred to indigenous communities, forcing the entire National Park Service board to resign, removing pages "detailing the risks of climate change" from online resources, perpetuating environmental racism, and implementing so many other disastrous policies — while squandering financial resources — that the rest of this essay could consist of them alone.
I often think of this day, Feb. 22, 2017, when people ask me how it feels to be a black outdoorswoman, what it means to never shrug the reality of my identity from my shoulders in exchange for a backpack and freedom. While the white hikers I'd shared the Appalachian Trail with from Georgia to Maine were busy planning their next adventures, each day in America under the new administration served as a reminder of the myriad ways I'd never be one of them. My feet were bound tighter and tighter by the dual diseases of vanishing civil rights and threatened public lands. The best I could do most days was stand in the pooling blood. I traveled to Selma, Alabama, because I had to, because no other walk on Earth made sense to me, or my rage, at a time when walking was the only activity for which my despair made a small hollow. And fam, let's be clear — I did it for us.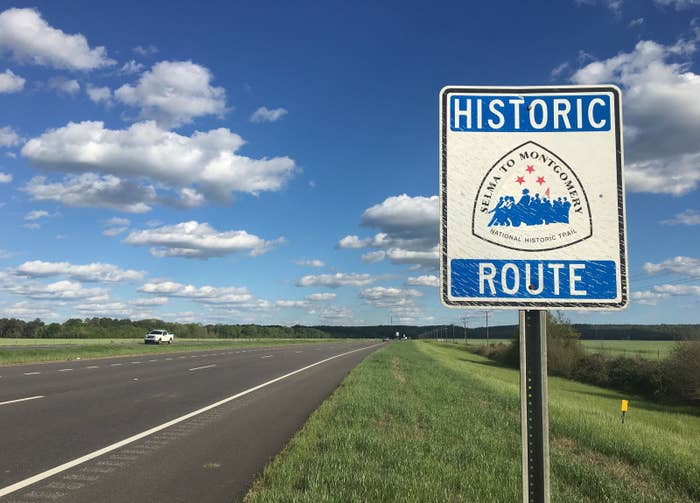 Today, Selma, Alabama, hosts an annual Bridge Crossing Jubilee that sees thousands descend upon the city to commemorate "Bloody Sunday" and reflect on the work ahead. Rep. John Lewis and Martin Luther King III were among the many to walk across the Edmund Pettus Bridge earlier this March in tribute to the Americans, mostly black, who risked their lives for the right to vote. Every five years, a full reenactment of the walk takes place, with Jubilee participants continuing all the way to Montgomery.
At 54 miles, the Selma to Montgomery National Historic Trail is the shortest of America's 19 National Historic Trails, the majority of which (including this one) are meant to be driven, not hiked. At present, no designated safe path exists for pedestrians hoping to walk between the two cities along the dangerous truck route; the road shoulders repeatedly switch sides or disappear altogether, though perhaps this may change someday.
Regardless, my hope was to walk alone on the margins of US Route 80, also known as the Jefferson Davis Highway, for approximately 10–12 miles a day — a leisurely pace for a recent thru-hiker that would allow plenty of time for exploration. My father would then pick me up before sunset and drop me back off in the same spot the next morning. We would stay in Selma for two nights as I walked the first 20 miles, followed by Montgomery for two nights as I walked the middle 20–25. After I completed the final 10 miles and climbed the steps of the Alabama State Capitol, my father and I would drive back to Atlanta, where we'd flown into initially, he from Miami, and I from New York City.
But a sketch of a plan, no matter how well-intentioned, is only that — a sketch. And I can credit much of my walk's success to the work of an accomplished Japanese American thru-hiker named Liz Thomas (trail name "Snorkel") who walked the Selma to Montgomery NHT in 2015 and has hiked over 15,000 miles around the United States. Hers was the first website I found when researching what a solo walk of this nature would entail, and her blog posts provided me with a treasure trove of data, including a list of mile markers and notes about places to refill water bottles, grab a snack, or duck behind a shed to pee. Granted, a day with Google Maps might have revealed some of these opportunities. But there is no world in which I could have convinced my father to let me walk on the side of a busy highway for five days had I not been able to point to another hiker's similar desire and subsequent success. It helped greatly that she'd created a trail guide with recognizable landmarks he could see and understand. Thomas's foresight to document and share the logistics of her journey for those seeking to walk the same path someday is the kind of outdoor allyship a person like me dreams about and rarely gets to experience.
"There's something profound about walking a trail that was not created because people wanted to have fun and highlight cool natural features — a trail that people walked because they had to," writes Thomas on her website. The two of us spoke on the phone recently about the aspects of her walk that have stuck with her most over the years. "Walking is a political action," said Thomas. "Many people want to treat hiking or walking like they're getting away from politics, and I think — especially for people like me who are pretty good at walking — there's a privilege that comes with hiking in natural areas, but there's also a statement that can be made walking in the places we choose to walk."
"Walking is a political action."

As with most conversations about trails, Thomas and I discussed our shoes and foot pain on the Selma to Montgomery NHT at length. Roadwalking might not offer the same challenges as traversing a scree field or ascending slick granite, but it is far from comfortable over long distances. The hardness of the ground tires feet more rapidly than a natural surface like a forest trail would, while the sun bears down on the asphalt relentlessly, adding to the already substantial heat. That said, roadwalking on most highways beats navigating the grass beyond the shoulder, which can slant even more than the canted asphalt in anticipation of rain. This results in walkers extending one leg farther down than the other, approximating a limp that sacrifices stability and strains the opposite leg.
It might surprise some to learn that roadwalks play a significant role in connecting many sections of America's famous long trails. Between 200–300 miles of the Florida Trail's 1,100 miles consist of pavement. The Eastern Continental Trail, which spans 5,400 miles from Key West, Florida, to Newfoundland, Canada, and includes the Florida Trail and the Appalachian Trail, involves a section simply called "the Alabama Roadwalk."
The wrong footwear can quickly lead to agony. Before arriving in Selma, Thomas accidentally selected a pair of Altra Olympus trail runners that were light but too small for her feet. By the time she reached Montgomery, most of her toenails had turned black in protest after 50 miles of slamming into the front of her shoe. I, on the other hand, chose a pair of low-cut Oboz Sawtooth hiking boots for my walk — overkill for the road, and twice as heavy as the trail runners I should have brought instead. "Still," emphasized Thomas toward the end of our conversation, "I wore shoes that were actually made for walking long distances. To think of the people who marched from Selma to Montgomery in their Sunday best, in fancy [footwear] — it just blew my mind. To have grandmothers and people of all ages doing that."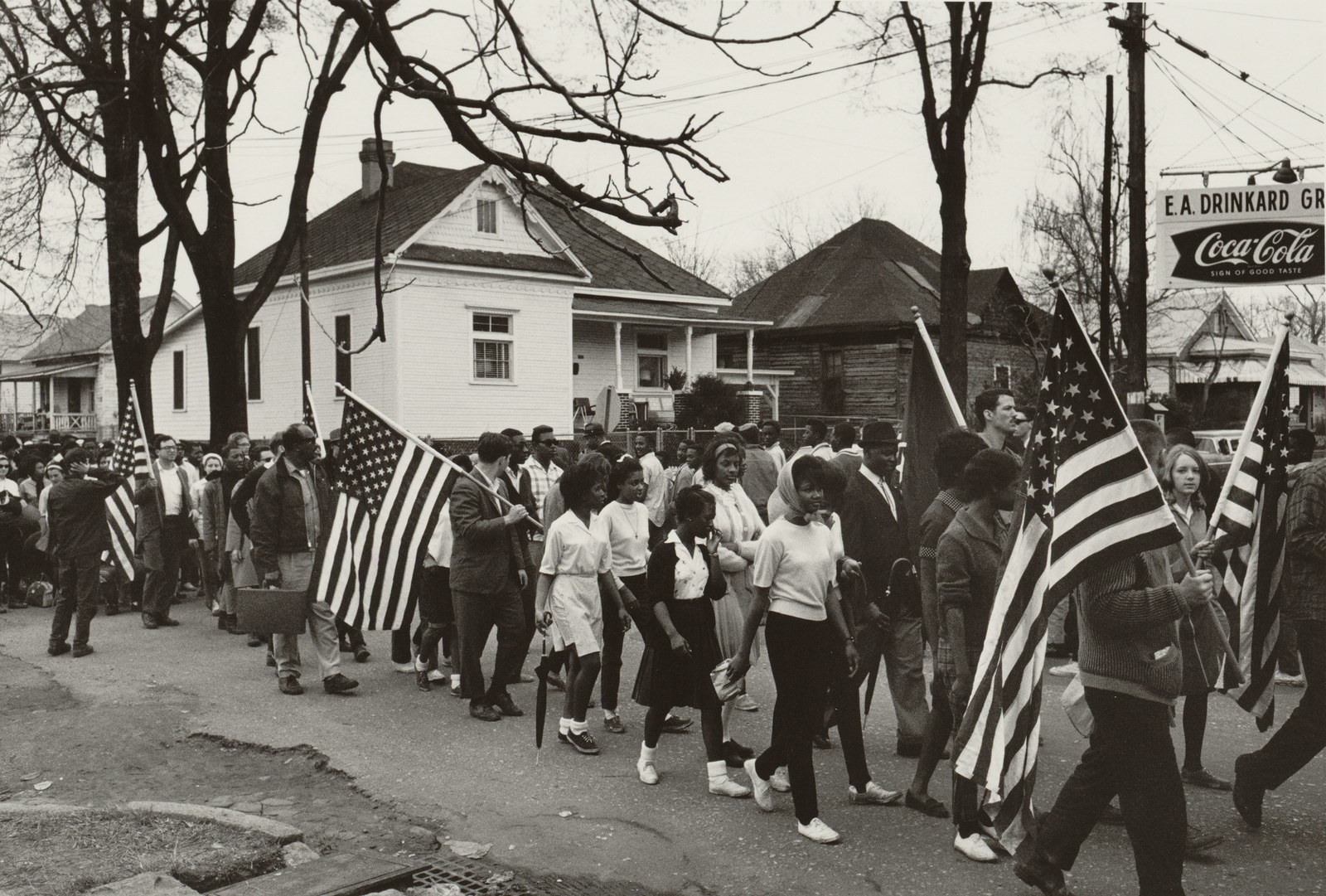 Thomas wasn't wrong. I had the privilege of dressing comfortably on my first day on the road, in an airy, navy blue cotton T-shirt with a fake pocket on the left breast and a pair of khaki-colored convertible hiking pants zipped into shorts, the same ones I'd worn on the Appalachian Trail. A few snacks, some sunscreen, and a tube of ChapStick were stashed into one hip-belt pocket of my pack, a knife and a small coil of Leukotape (in case of blisters) were tucked away in the other. A rain jacket and a liter of water rounded out the remaining contents of my bag, while a lemon-lime Gatorade dangled from a shoulder strap's bungee cord positioned over my chest for easy access.
I cannot begin to imagine what drivers must have made of me during my five days along US 80, as I repeatedly stopped to sob on the shoulder of the highway to the songs on a playlist my friend, the music critic Chris O'Leary, compiled for me. Many of the usual suspects for a walk from Selma to Montgomery were present. Mahalia. Odetta. Nina. But it was Dorothy Love Coates's "Ninety-Nine And A Half" that brought me to my knees less than 7 miles in.
Earlier that day, I'd stopped at the Selma Interpretive Center after visiting Brown Chapel AME, where the final march to Montgomery began in 1965. I spoke briefly with the National Park Service employees at the center, snagged a "Selma to Montgomery" patch to sew onto my pack after completing the trail, and stepped outside, bracing myself for the humidity. A tornado warning had been in effect less than an hour before, and the high for the day was 86 degrees Fahrenheit. I was nervous enough to forget not to smile when my father photographed me on the Edmund Pettus Bridge. Despite my late start at 3 p.m., I wanted to make it to the campground where the marchers stayed on their first night. Today, camping is not permitted, and a large sign marking the historic occasion stands in what is essentially the front yard of someone's private property.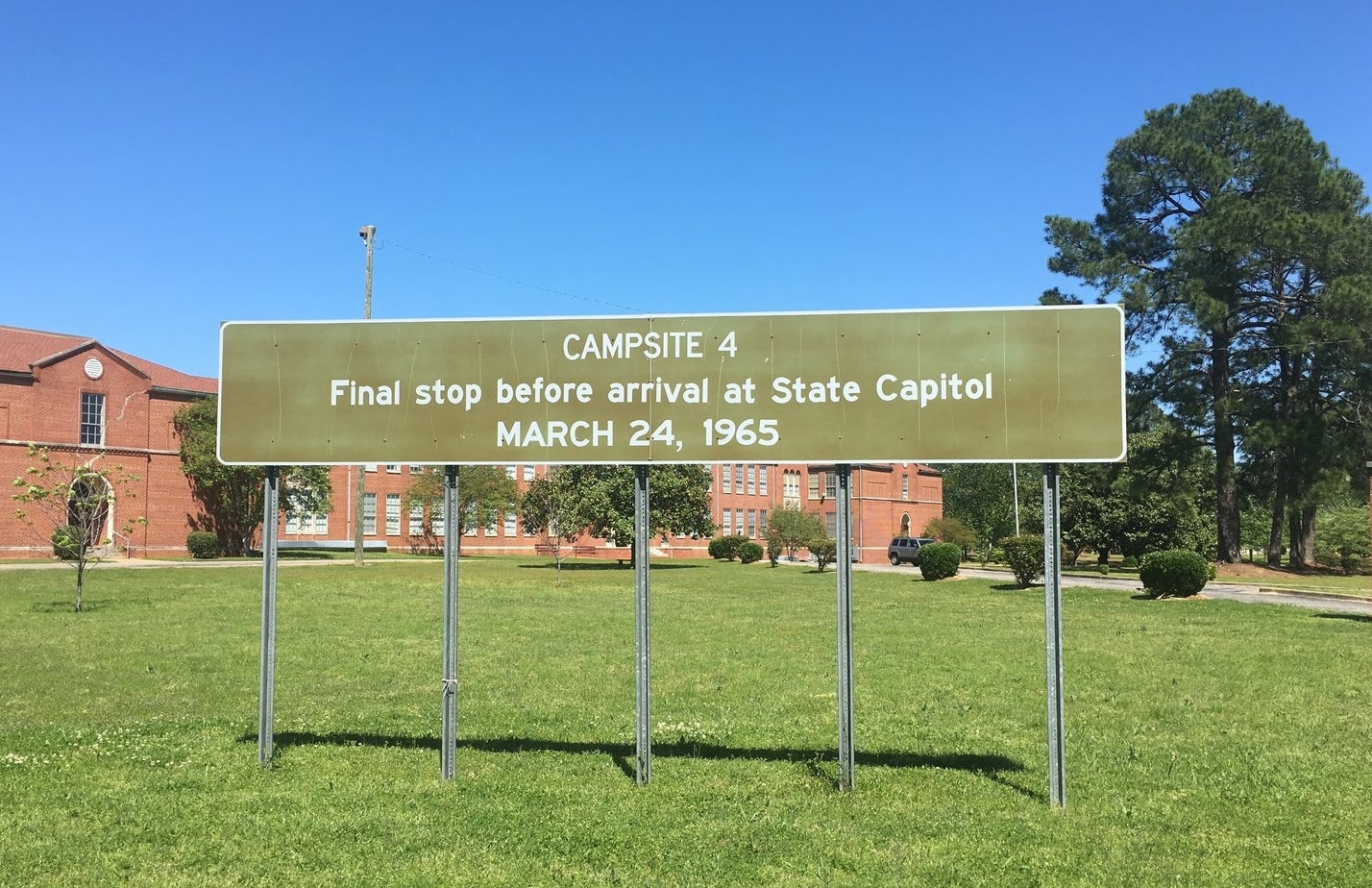 It is difficult for those who have not walked across the Edmund Pettus Bridge to fully understand just how high it sits above the Alabama River. Looking down into the distant, muddy waters brings a devastating, visceral understanding of the marchers' vulnerability on that expanse of concrete and steel — what they were willing to risk to reach the other side of freedom.

Shortly after crossing, I spotted four monuments arranged in a row, dedicated to heroes of the march. One honoring Rep. John Lewis, his likeness floating above the words "GET IN THE WAY"; another dedicated to Amelia Boynton Robinson and Marie Foster, "MOTHERS OF THE CIVIL RIGHTS MOVEMENT BEFORE AND BEYOND THE BRIDGE." These monuments and others like them, presented by the Evelyn Gibson Lowery Heritage Tour and SCLC/WOMEN, Inc., would serve as some of the high points of my 54-mile walk, the majority of which felt like a testament to infrastructure's power to — at times literally — cement racism into the lives of black communities, regardless of evolving legislation.
Looking down into the muddy waters brings a devastating, visceral understanding of the marchers' vulnerability — what they were willing to risk to reach the other side of freedom.

In some ways, the subsequent three days of walking were similar to the first. Guzzling water for miles before running into any building, school, or gas station that would let me use its bathroom. Wrapping my pylon-print bandana around my nose and mouth while walking through endless clouds of gnats. I'd treated my shoes and socks with permethrin, an effective tick, chigger, and mosquito repellent, in order to minimize my risk of infection while shuffling through stretches of tall grass. I quickly fell into a rhythm during the non-paved sections, scanning the sloping green footpath ahead of me as best I could for snakes, ant mounds, and freshly rotting carcasses. In the beginning, I shut my eyes every time a semitruck seemed as though it was seconds away from plowing into me. By Montgomery, I barely blinked at terror.
The Viola Liuzzo Memorial sits just 5 miles east of the Lowndes County Interpretive Center, in what is one of the poorest districts in America. The Interpretive Center, to its credit, does not mince words, spelling out what many of the black tenant farmers in the South lost after the Voting Rights Act was signed into law. White landowners punished their newly liberated occupants by rendering them homeless, resulting in the rise of tent cities that would house black families for years at a time.
I found that the ritual of walking gave me an opportunity to move meaningfully in the present through a place whose importance was so deeply tied to its past. At my pace, I had time to discover how the Selma to Montgomery NHT continues to be shaped by those whose lives run along its borders. In contrast, many careless drivers treat the highway as their garbage dump, and much of the roadside is littered with the detritus of those hurtling through the state at 60-plus miles per hour. A discarded construction glove, an oil canister, several diapers, a peeling bootleg Yo Gotti CD, Heart's greatest hits, a blue ice cube tray, one decapitated broom. More bottles and cans of beer than I consume in a year, with Budweiser empties the most common offenders.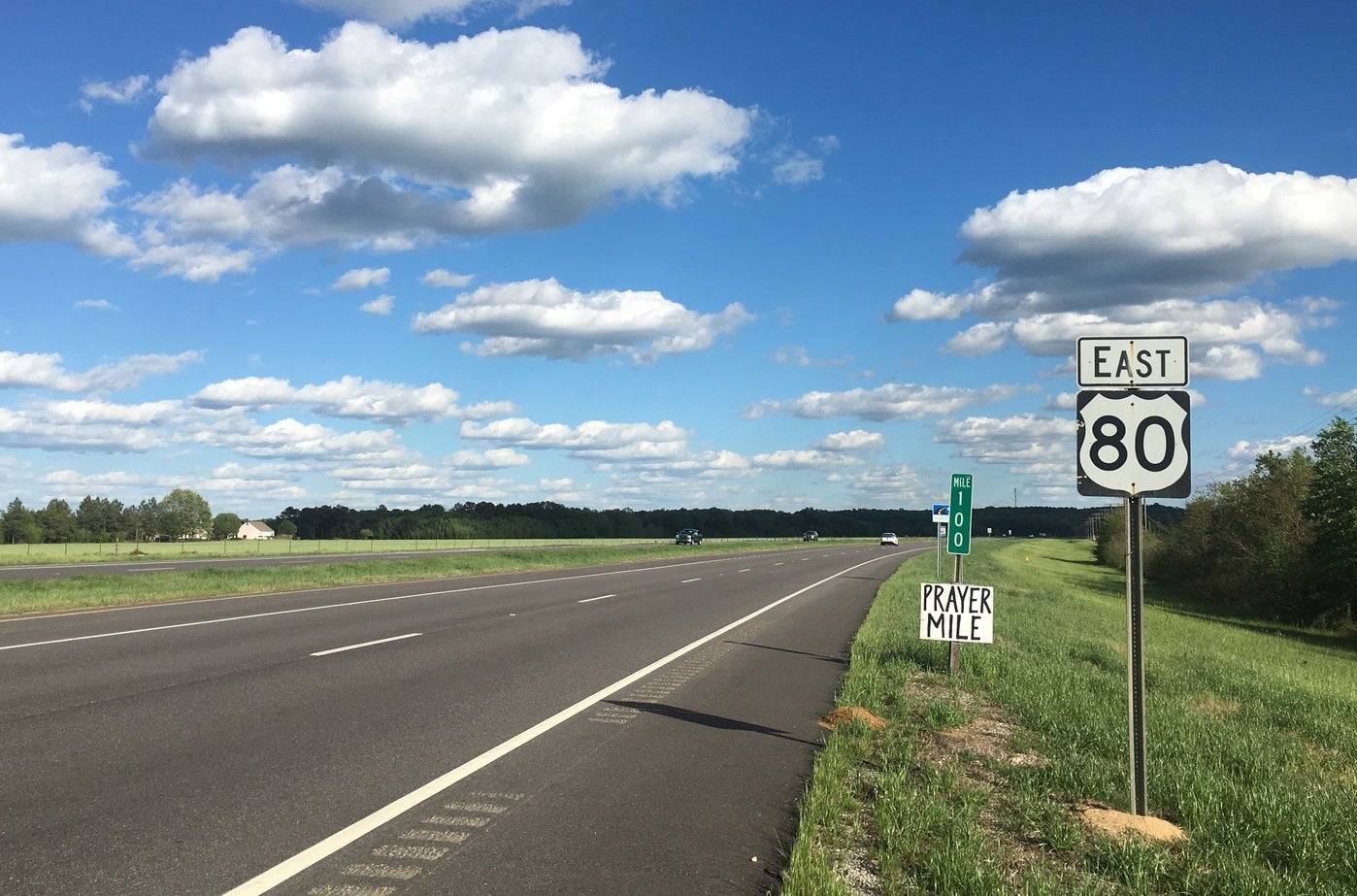 I repeatedly ran into signs on or near the road that offered no explanation as to their meaning but clearly signified something to locals. A green mile marker sported a white rectangle beneath it that read "Prayer Mile." And in the patch of grass opposite the designator for campsite number three, a large sign with a dramatic orange arrow above it stated: "ANNIE MAE'S PLACE. BLACK LIVES MATTER. BLACK HISTORY MATTERS. STOP RACISM AND SEXISM." My father and I followed the arrow in search of Annie Mae's Place, to no avail, down a grid of black excellence. A turn onto Frederick Douglass Road. Another onto Langston Hughes Drive. Some backtracking and another turn onto Harriet Tubman Road. A sharp right onto Ida Wells Way. We would later discover we'd driven right past it. A heatwave in 2000 had killed most of the crops grown in nearby residents' gardens, except for okra, so neighbors Alice Stewart and Barbara Evans started an annual Okra Festival for the community. Evans named the small house containing the art she'd collected from around the country "Annie Mae's Place." Many of the works highlight the struggle for civil rights, and the Okra Festival still takes place today.
My last day on the Selma to Montgomery NHT would also be my hardest. If you think walking a highway for 50 miles is difficult, try walking against traffic onto an on-ramp for that highway on the day of an airshow. I shook for 10 minutes in the chips aisle of a gas station afterward and tried to remind myself of how close I was to completing my walk. I'd left the smell of cow dung from the farms along US 80 behind and properly entered the outskirts of Montgomery, Alabama. An egret in Catoma Creek watched as I ran screaming across the last bridge I'd brave without a walkway.
Less than a mile from the City of St. Jude, the fourth of the marchers' campsites, I approached a tall, gray slab on the sidewalk that resembled a headstone. The monument read: "ENTRANCE TO CRADLE OF THE CONFEDERACY. PLACED BY SOPHIA BIBB CHAPTER U.D.C. 1928." Its location next to a local bus stop — the normalcy of it all — left me shaking with anger. Months later, as Confederate monuments were removed in New Orleans and North Carolina, this ominous slab was the one my mind drifted to. Even in 2017, the Selma to Montgomery National Historic Trail still had to put up with this shit.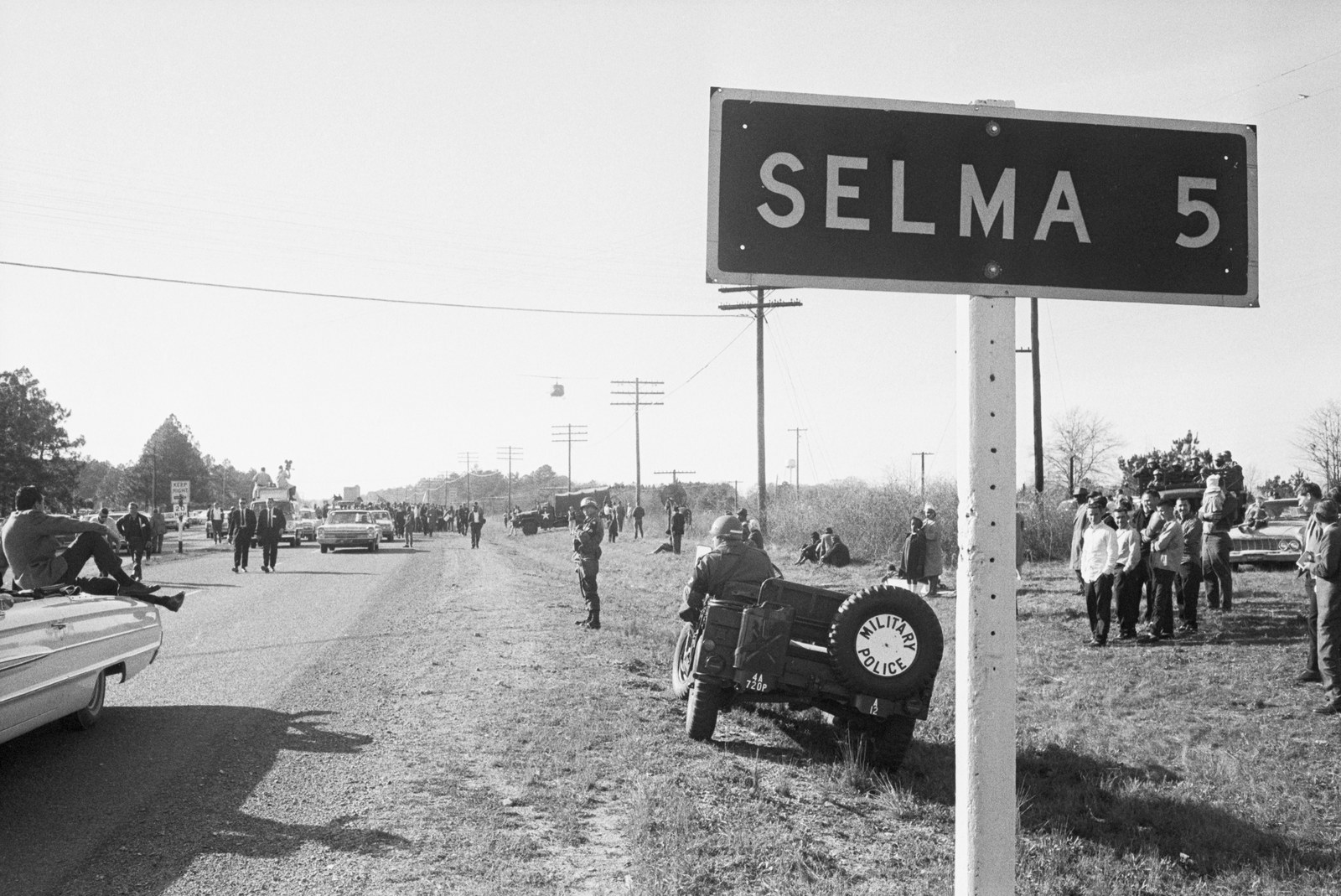 Interpretive signs placed by the city of Montgomery lead walkers along the remaining miles toward the state capitol. One sign describes how highway construction destroyed historic black neighborhoods in the area, as it did black communities around the country. The intersection of Mildred and Moore Street, one of Montgomery's former black business hubs, stood deserted. In a walk predicated on all that the civil rights marchers had gained, everything black communities had lost in the years afterward lay equally apparent.
The Rosa Parks Museum was closed when I walked past. One block separated it from the Jefferson Davis Apartments, a low-income housing complex for seniors in a city that is more than 55% black. Black footsteps had been painted upon the wide, gray crosswalk facing the Alabama State Capitol to honor those who walked from Selma over 50 years ago. Sitting opposite the crosswalk was another monument, built in 1942 and paid for by the Sophie Bibb Chapter of the United Daughters of the Confederacy. It commemorated Jefferson Davis's inauguration as president of the Confederacy. All around me, the distant past fought the near past for dominance. A reckoning was nowhere to be found.
In a walk predicated on all that the civil rights marchers had gained, everything black communities had lost in the years afterward lay equally apparent.

I climbed the steps of the Alabama State Capitol on April 9, 2017, the day Robert E. Lee surrendered to Ulysses S. Grant in 1865 — roughly 100 years before Martin Luther King Jr. asked, "How long? Not long" — and blinked back tears. Walking, even when challenging, had been the easy part: I had no idea how we'd endure the rest of the year.
Ultimately, the line between hiking and walking is thinner than most would imagine. Both activities can empower, but only one is accessible to the majority of the American population. We walk to protest. We walk to remember. We walk to demand better. Despite what outdoor magazine covers emphasize, our intentions always matter more than the nature of the terrain that carries them.
When I first told friends of my plan to walk from Selma to Montgomery, most thought I'd lost my mind. It made less sense to them than my desire to thru-hike the Appalachian Trail. A roadwalk along a highway in rural Alabama months into our fresh hell — why? When several of them asked if I was afraid, I did my best to explain the fear was the point. That their fear for me was the fear I lived with every day.
I did not tell anyone that maybe I needed to walk into oncoming traffic for 54 miles — those 54 miles — to see people choosing not to kill me each day. That perhaps I could walk my way to reclaiming enough of an illusion of safety to survive the next four years in this country. And that it would have to be enough for now. ●
Rahawa Haile is an Eritrean American writer. Her work has appeared in the New York Times Magazine, the Atlantic, the New Yorker, Outside Magazine, and Pacific Standard. In Open Country, her memoir about thru-hiking the Appalachian Trail, explores what it means to move through America and the world as a black woman and is forthcoming from Harper.