Update — 1:52 p.m. ET:
Jay McKeen, the spokesman for the Atlantic County Prosecutor's office, refused to comment on the video yesterday. In an email to BuzzFeed News he said, "The Office does not release details of what is, or is not, part of the investigatory record in a criminal prosecution, except in its proper venue."
Updated — Sept. 9, 2014 10:45 a.m. ET
DeMaurice Smith, the executive director of the NFL Players Association told Sports Illustrated, that the video was "disturbing" and that domestic violence was unacceptable.
He said, "As a father, as a husband -- when you see something like that, it's jarring. It's disturbing. For our union and for our players, it's one of those things where you at least try to look at something positive. And that is the reminder how unacceptable any kind of violence, especially domestic violence, should be. It has no place in our lives, and certainly in our community. And that's where we are right now."
The White House released a statement Monday night calling domestic violence unacceptable. "All of us have a responsibility to put a stop to it."

Head Coach John Harbaugh said Monday evening that the Baltimore Ravens decided to terminate Ray Rice's contract after seeing the video for the first time Monday morning.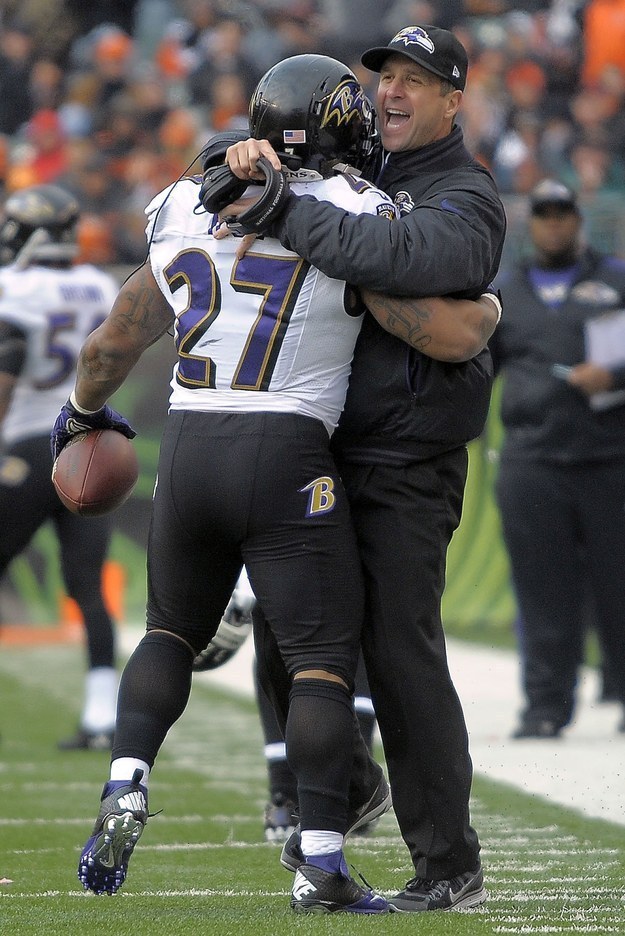 Baltimore Ravens running back Ray Rice has been "suspended indefinitely" by NFL Commissioner Roger Goodell based on the new video evidence, NFL spokesman Greg Aiello said.
Twenty minutes before the suspension was announced, the official Ravens Twitter account tweeted that Ray Rice's contract had been terminated.
He will also not receive his 2014 salary.
The Canadian Football League also said Rice would not play professionally.
All of the Dick's Sporting Goods around Baltimore have pulled Rice's jerseys, The Wire reports, with one store saying customers came in to return their jerseys.
This morning, TMZ released video of the violence that previously earned Rice a two-game suspension. In it, he viciously punches his then-fiancée (now wife), Janay Palmer, so hard she's knocked out.
An employee of the hotel told TMZ the NFL saw the elevator footage before imposing the suspension, which an NFL spokesperson denied to BuzzFeed News.
"We requested from law enforcement any and all information about the incident, including the video from inside the elevator. That video was not made available to us and no one in our office has seen it until today," spokesman Brian McCarthy said in an email.
In the video, filmed on Feb. 15 at the now-shuttered Revel Hotel and Casino in Atlantic City, it appears that the two are arguing, and Palmer lunges toward him.
Rice punches her hard in the face, and she hits the elevator handrail on the way down, knocked out cold.
He drags her out of the elevator, takes off her shoes, and attempts to get her to sit up, but she flops back down. Someone comes by to talk to him.
Eventually, she comes to. She and Rice were married a month later.
Sports Illustrated's Peter King had written on July 29 that the "NFL and some Ravens officials" had seen the video from inside the elevator, but King issued a statement today saying he could not refute the league's denial, despite getting the information from a trusted source.
The Atlantic City prosecutor's office, who BuzzFeed News was referred to by Atlantic City Police, said they had no further comment than what was contained in their press release from May. Rice's aggravated assault charge was dismissed after the prosecutor's office approved his Pre-Trial Intervention (PTI) application, in which first-time offenders of third- or fourth-degree crimes avoid incarceration by meeting certain conditions.
The Atlantic City Police Department had initially charged both Palmer and Rice with simple assault. In a press release the police said that after reviewing surveillance footage, "it appeared both parties were involved in a physical altercation." The charges against Palmer were later dismissed.
New Jersey prosecutors refused to release the video to the Baltimore Sun in February, reporter Justin George tweeted.
After his suspension, Rice did not elaborate on what happened in the elevator, but called his actions "totally inexcusable" at a press conference in May.
In a letter sent to all NFL owners on Aug. 28, NFL Commissioner Roger Goodell apologized about Ray's easy penalty, saying, "I didn't get it right."
In the letter, Goodell said, "domestic violence and sexual assault are wrong. They are illegal. They have no place in the NFL and are unacceptable in any way, under any circumstances. That has been and remains our policy."
He also outlined a tougher domestic violence policy that called for a six-game suspension for the first offense and "banishment from the NFL" for the second.
He emphasized that "even one case of domestic violence or sexual assault is unacceptable."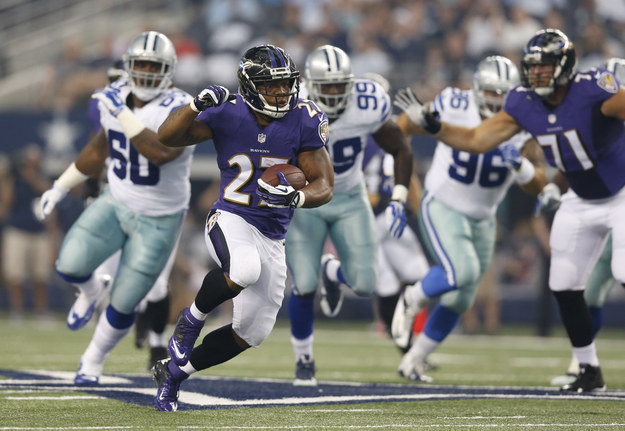 People on social media were rageful about the short suspension, pointing out that the Browns' Josh Gordon was suspended for a full year for smoking weed.
ESPN's Jane McManus tweeted that she was told the NFL "had access to same evidence the police did when evaluating a 2-game suspension."
CBS reporter Jason La Canfora tweeted that Ravens officials had not seen the video prior to today, but Rice described his actions in detail, and they were visually in line with what the video displayed.
Others chimed in as well:
Some former and current NFL players also spoke out against Rice and the NFL.
In May's press conference, Palmer said she regretted her role in the incident.
People were also outraged with how the NFL and the Ravens dealt with Palmer as a victim of domestic violence. Goodell was criticized for his decision to interview Rice while Palmer was in the room.