WhatsApp, the instant messaging app owned by Meta and used by more than 2 billion people around the world, yesterday announced a big new update. It will now let people bring multiple WhatsApp groups under a single umbrella group called a "Community." WhatsApp groups are lifelines for millions of people around the world, allowing them to talk to each other and congregate around shared interests.
Letting people combine multiple groups into a single Community makes WhatsApp function more like Slack or Discord. A workplace, for instance, can have its own Community containing multiple groups for employees. A school can have its own Community with multiple groups for parents.

Each WhatsApp Community can have up to 50 groups in it. WhatsApp doesn't let the owner of a Community blast a message across all 50 groups at the same time. Instead, admins can drop messages in an "Announcement" group where they will be visible to members of individual groups in the Community.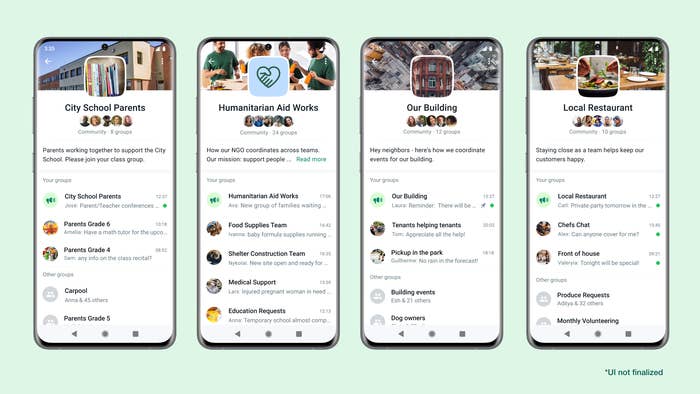 In a video announcing the launch, Meta CEO Mark Zuckerberg called Communities "a major evolution for WhatsApp."

But when it comes to WhatsApp's largest markets — countries such as Brazil and India, where the platform is the default way of communication for hundreds of millions of people and a vector for political misinformation and hoaxes — critics are concerned about the introduction of a feature that makes structuring WhatsApp groups easier.
"Communities is a great feature with good intentions," said David Nemer, professor of media studies at the University of Virginia and visiting scholar at Harvard University's Institute for Rebooting Social Media. "But it doesn't come with the right tools in place to contain misinformation. It makes it easy for people to organize different WhatsApp groups and share good information between them. But the downside is that it also makes it really easy to spread misinformation and propaganda at scale."
In countries like Brazil and India, where political parties use elaborate networks of WhatsApp groups to spread narratives and propaganda, Communities will make organizing on the platform significantly easier. WhatsApp groups are the primary channels that all political communication in these countries is organized around.
"We have 3.2 million people in our WhatsApp groups," said Amit Shah, India's minister of home affairs and Prime Minister Narendra Modi's right-hand man, in a 2018 speech ahead of major national elections in the country. "That is how we make things go viral. We can spread any message we want, whether it is true or false."
Misinformation spreading via WhatsApp groups has caused real-world harm in India for years. In 2018, more than a dozen people were lynched across the country as a result of hoaxes spread through WhatsApp. In 2013, a viral video that purportedly showed two young men being killed in Muzaffarnagar, India, incited violent communal riots between Hindu and Muslim communities in which dozens of people died. A police investigation later found that the video wasn't even shot in India and was more than two years old.
In Brazil, the spread of political propaganda through WhatsApp has been linked to the rise of Jair Bolsonaro, the country's recently defeated president whose supporters used the app to systematically spread false narratives and go after critics.
Communities, Nemer fears, will make it easy for the people at the top to manage these misinformation networks.
"It works like a pyramid," said Nemer, whose research focuses on Bolsonarism, misinformation, and social media, and the "human infrastructure" behind political misinformation that spreads through WhatsApp. "At the top, you have people who produce misinformation. In the middle, you have Bolsonaro supporters who work like a swarm of bees to spread misinformation on the platform. At the bottom, it's average Brazilians who are in groups where this misinformation ends up, and they, in turn, spread it to other groups they are in."

Communities, Nemer fears, will make it easy for the people at the top to manage these misinformation networks.
Experts like Nemer are right to be concerned. When WhatsApp announced in April that it wouldn't launch the feature until later in the year, Bolsonaro was reportedly angry that the company wasn't launching it immediately. In July, Brazil's federal prosecutors reportedly asked the company to delay its launch until after the country's October elections to avoid the spread of fake news and misinformation.
WhatsApp ultimately rolled out the feature four days after Bolsonaro's defeat. When BuzzFeed News asked if Meta had waited after the election to launch Communities, a WhatsApp spokesperson simply replied, "No."
After this story was published, a WhatsApp spokesperson told BuzzFeed News that the feature wasn't available in Brazil yet and wouldn't be until January.

Over the years, WhatsApp has put guardrails in place to slow down the spread of misinformation on its platform, such as clearly labeling forwarded messages, a major source of misinformation, and restricting forwarding messages to only five groups at a time. Now, the company is putting in an additional limitation: People can only forward messages that are forwarded to them to just one group at a time, instead of five.
"We believe this will meaningfully reduce the spread of potentially harmful misinformation in community groups," a WhatsApp spokesperson told BuzzFeed News.
Still, Nemer is skeptical. "The idea — having a group of groups — is great," he said. "But what is the point of forwarding limits when you can now post something to a single Announcement group and still reach way more people than if you were to send a single forward to a single group?"
UPDATE
This story was updated with an additional comment from a WhatsApp spokesperson.