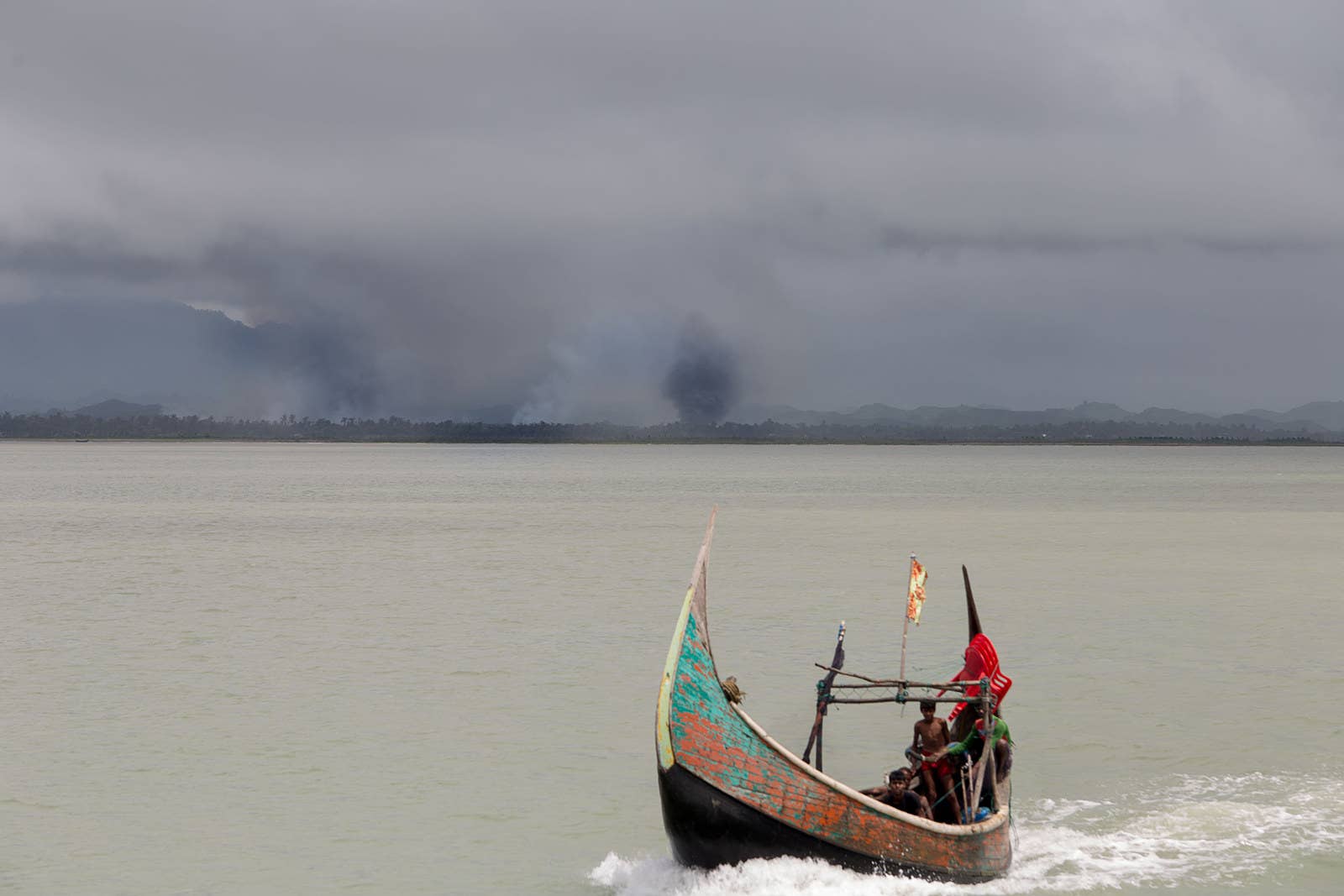 COX'S BAZAAR, Bangladesh — Rohingya Muslims fleeing violence in Myanmar to seek refuge in Bangladesh are being charged huge sums by smugglers to ferry them across the border, with some held captive until their debts are repaid.
Bangladeshi fishermen turned smugglers are demanding amounts beyond the means of most of the refugees, forcing many to hand over jewelry and threatening others for unpaid dues, Rohingyas who have made it to Bangladesh told BuzzFeed News.
As a result, some refugees have been forced to beg on the streets outside the port city of Cox's Bazaar, desperate to feed their families but also to pay off their debts out of fear of retribution from the smugglers.
Last week, Reyhana Begum, a 25-year-old Rohingya woman, was among thousands of refugees on the shores of the Naf river on the border with Bangladesh. She was exhausted and bleeding after walking for three days with her toddler, Enam, and a newborn, Mohammed. Burmese soldiers set fire to her village, Nu Ru La, she said, and residents ran with whatever they could grab.
When Begum went into labor in the forest along the way, her mother-in-law had to cut the umbilical cord with a razor. Days later, Begum was still bleeding from the aftermath of the traumatic birth.
By the time she got to the banks of the river, she had little choice but to pay a smuggler. "There were so many people who died on the journey when they were hit by bullets," she said, describing how their bodies lay where they fell. "There was no one to bury them."
The Bangladeshi smugglers demanded a payment of 4,000 taka, the equivalent of $50 — a huge sum for Begum, whose husband worked as a farmer and fisherman. Other refugees said they have paid fees as large as 10,000 taka, more than $120. Begum said she begged for a ride in exchange for a promise to pay them later.
Now the smugglers are calling in that debt.
"The boatman came yesterday and he also came today," Begum said from an empty building in the fishing village of Shamlapur, a short drive from the port city of Cox's Bazaar, where she has been taking shelter. When asked if she was frightened, she nodded silently.
Both her children had fallen sick. They were feverish and had diarrhea, she said. Beside her, on a mat, Enam lay on his back and stared listlessly at the ceiling, his chest rising and falling with a painful effort. Mohammed lolled in his mother's lap, delirious, eyes rolling into the back of his head. "He's going to die," said Begum, gazing blankly ahead.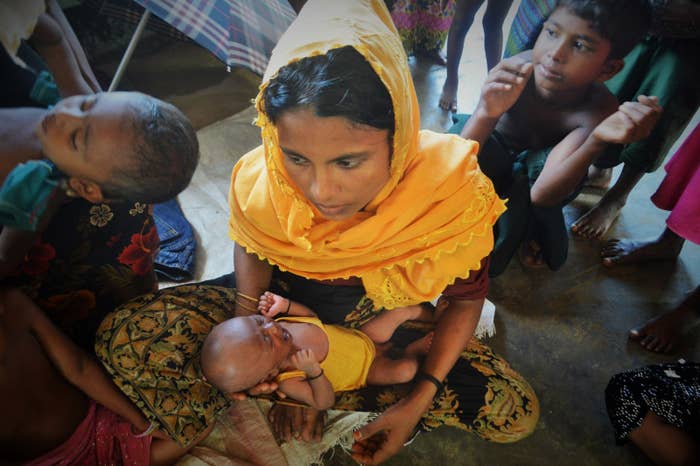 Violence erupted in Rakhine last month when Rohingya militants who call themselves the Arakan Rohingya Salvation Army launched coordinated attacks on dozens of border posts. During the ensuing army crackdown, Burmese soldiers have been accused of joining forces with local Buddhists to raze and pillage Rohingya villages, many of which have been burned to the ground, which Amnesty International has described as a "scorched earth campaign." Last week, the United Nations' human rights chief called the assault on Rohingyas a "textbook example of ethnic cleansing."
At least 400,000 people have made the hazardous journey to Bangladesh since then — nearly half the estimated Rohingya population of Myanmar — with many relying on the fishermen who have been ferrying people out of the conflict zone.
Bangladeshi border police have condemned the fishermen as traffickers, and burned some of their boats, arresting a number of them who have been accused by the Rohingyas of abducting people. But the fishermen say they are helping to save lives — and many Rohingyas agree, seeing the overcrowded wooden boats as their only lifeline, even if it comes at a cost.
Myanmar has continued to block humanitarian access to the area, meaning aid workers have been unable to reach the many Rohingyas still stranded inside the country.
The bare room where Begum stayed was crammed with families indebted to the smugglers. Among them was 35-year-old Jinara, also from Nu Ru La, who breastfed a baby as she recounted how she also begged the men to let her on board with her six children before they agreed she could pay later. "I know many people who crossed the border by paying 10,000 taka, so I really thanked the boatman," she said.
"We were wealthy in Maungdaw," she said, describing their wooden house with a garden back in Myanmar. "We had many animals and paddy fields."
On the boat, she collapsed with exhaustion. "People tried to help me, but I said to them, 'I want to die. Let me die,'" she recalled.
Now Jinara is forced to beg for money so she can pay back the boatman. "He is near here and he knows that we are here," she said, referring to the fisherman who helped her cross the river.
"As they had no money, they gave jewelry to the boatmen."
In the chaos of hasty getaways from villages besieged by soldiers, few Rohingyas carried many of their belongings. Many of the women confronted with boatmen demanding a fee were forced to give up their jewelry. Among the new arrivals on Bangladeshi shores are many women and young girls whose nose piercings have been visibly plucked of the studs and rings worn by many.
Last week, a dozen Rohingyas who had just arrived from Rathedaung township were camped on the side of the road, meters from the beach they had been dropped off a day earlier. The smugglers they hired had initially demanded 10,000 taka but accepted about 2,000 taka (about $25) per passenger in their party, said Rohi Mullah, the middle-aged Rohingya man leading the group.
He was limping from what he said was a bullet wound in his right foot. Their village, Koe Tan Tauk, had been blockaded by soldiers and Rakhine Buddhists and they spent several days hiding in the forest before managing to sneak past the military one night to reach the water, he said.
The women had all surrendered their nose studs to the smugglers, he added. "As they had no money, they gave jewelry to the boatmen," he said.
Despite the high price and dangers of the journey, many Rohingyas are grateful to the Bangladeshi boatmen. Without the smugglers, they would likely still be stuck on the other side of the border, between the army and the water.
"When I arrived here in Bangladesh I was happy, because I thought my life had been saved," Jinara, who crossed into Bangladesh with her six children, said.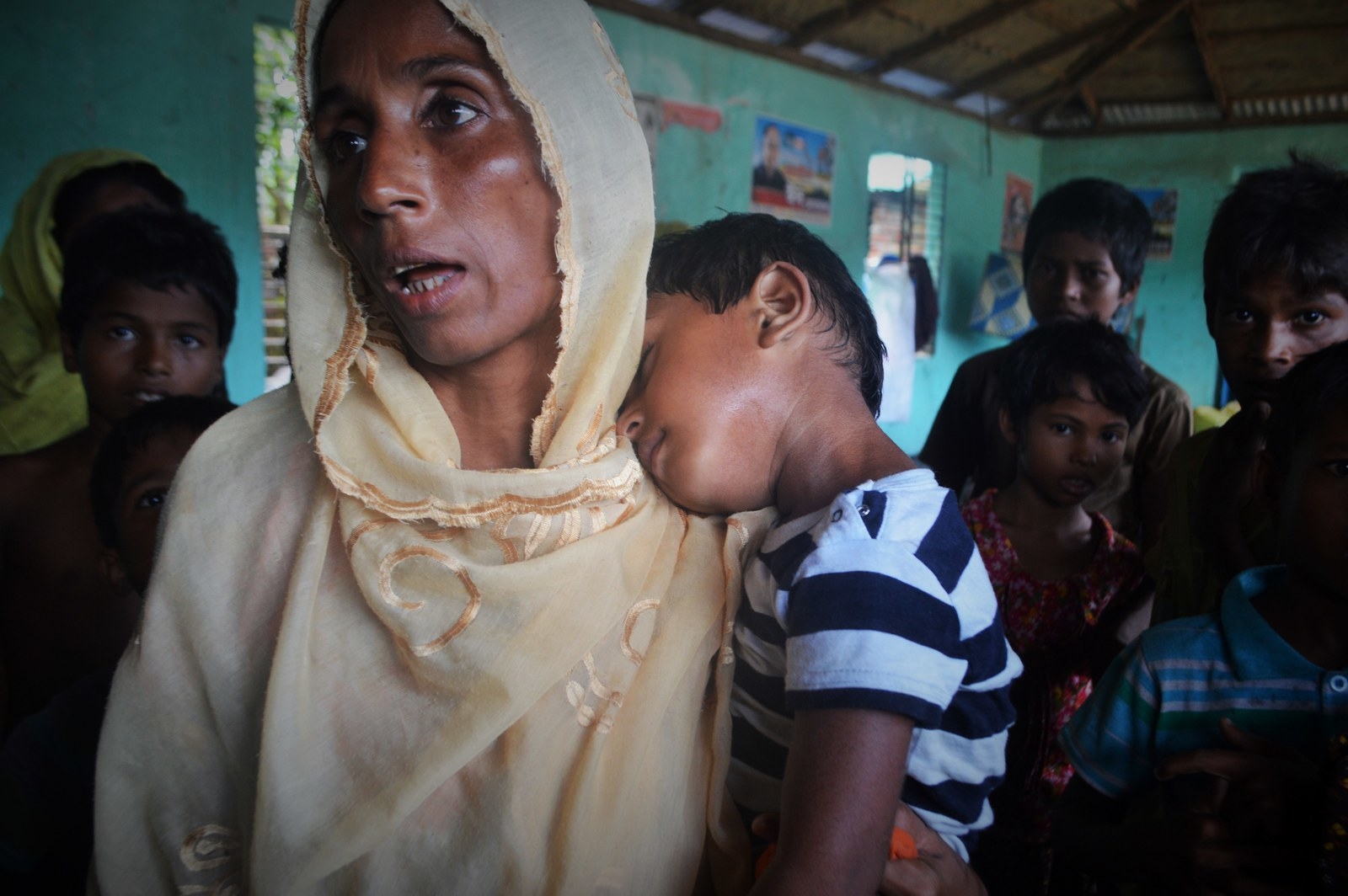 Crossing the Naf can be perilous — at least five children died after three of the vessels capsized and sank in early September. Many Rohingyas, including the vast majority of women, can't swim.
Her eyes red raw from tears, 35-year-old Du Na, also from Nu Ru La, recounted how both her parents drowned when their boat sank. Only she and her three children survived.
The sinking compounded the family's sorrows. Du Na said her uncle had been snatched from their home and asked to dig his own grave by Burmese soldiers and local Buddhists. She believes he has been killed. "We have been crying for days," she said. "My aunt is thinking about how will she feed her daughters."
In a corner of the room in Shamlapur, her aunt Robida sat beside her 10 daughters, several of whom stared ahead in silence. "I can't pay the boatmen yet but sometimes they ask for money," Robida said. "But they're helpful, sometimes they give us food."
The fishermen who smuggle Rohingyas from the Burmese shores frame their profiteering as a humanitarian act. On Shamlapur beach, groups of Bangladeshi men milled around on the sand.
"To save a life we have to help others," said one of the fishermen, 21-year-old Hamid. "We feel happy as this is about humanity."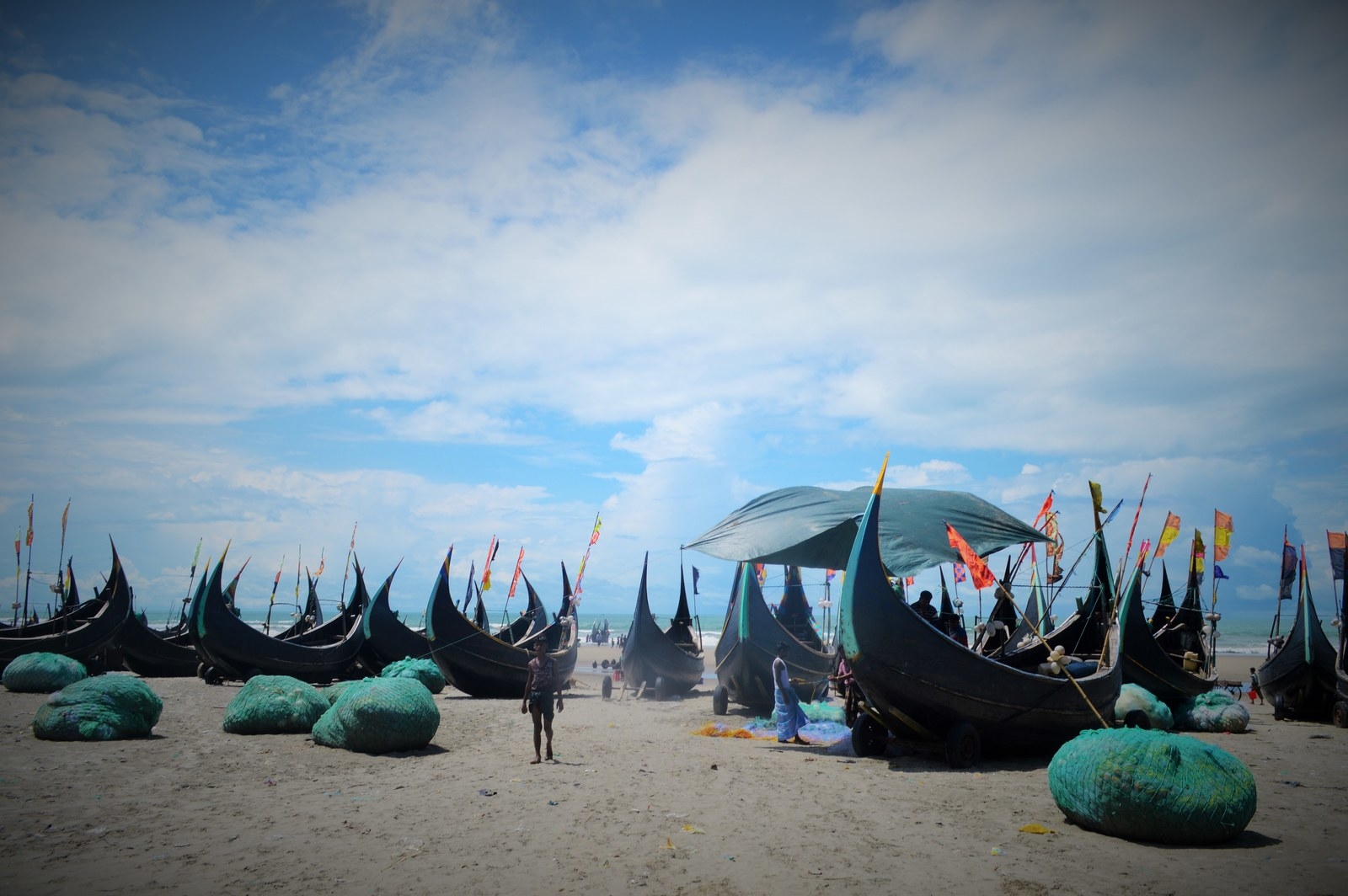 The men initially told BuzzFeed News they were providing refugees with free rides. But when asked about accusations that they had charged the Rohingyas, some of them angrily defended themselves. "We have to spend money to go there and carry them [back]," said Hamid.
He admitted to charging Rohingyas but only those who were able to pay, he said, and then criticized the border police for stopping them and burning at least 10 boats last week.
Bangladeshi authorities told BuzzFeed News they have tried to crack down on fishermen who are threatening people into paying them to get them across the river. Khaled Mahmud, Cox's Bazaar assistant district magistrate, said the city had convicted 170 people for causing "public nuisance" in connection with smuggling activities since August. Of those, he said, 165 people have been jailed for between three and six months, and five others had been fined.
Tirana Hassan, the crisis response director at Amnesty International, said there is a pattern of refugees fleeing the conflict in Myanmar who are being driven into the hands of smugglers.
"By opening up safe and legal routes for refugees, the Bangladeshi government and international community could avoid further loss of life putting refugees at the mercy of smugglers," she said in an email.
As thousands continued to cross the border this past weekend, the UN said many more could be waiting to flee Myanmar.
"We are getting reports from refugees who have already crossed that there are large numbers, could be between 80,000 to 100,000 who have already left their villages and are waiting for an opportunity to cross the Naf river," Robert Watkins, the UN resident coordinator for Bangladesh, said in a text message to BuzzFeed News. "We are very concerned that even this number may be underestimating the total which could potentially cross the border as we understand there are still military operations in northern Rakhine state."
Watkins said the UN has been unable to help Rohingyas who are dependent on smugglers because its workers do not have access to northern Rakhine state. "If we could get access," he said, "we could be providing humanitarian assistance in situ and people would not have to flee and make the dangerous crossing over the border into Bangladesh."
Meanwhile, the Rohingyas in Shamlapur scramble for money, not only to pay their debts but also to feed their families or buy medicines.
For Begum, it's a choice between paying the boatmen and taking Mohammed and Enam for life-saving treatment at the hospital.
"I thought that if my children grew up they would be educated," she said, recounting once again how the family had enough food for themselves in Myanmar, and never had to be dependent on others. "I am requesting the world to give me my country back."
Muktadir Rashid contributed reporting from Dhaka.