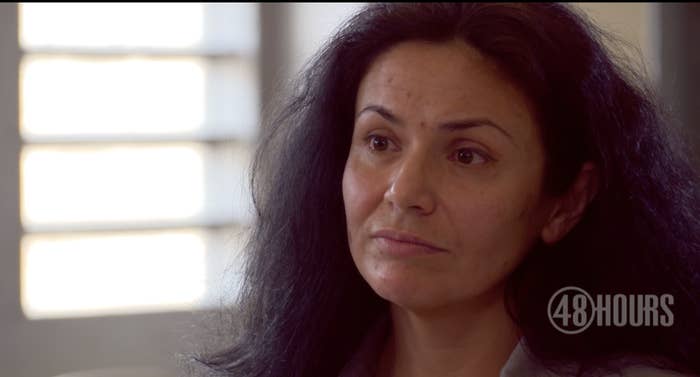 A woman created a "cold and calculated plan" to kill her lookalike friend with a slice of poisoned cheesecake and then steal her identity in order to avoid a criminal investigation in her home country of Russia, prosecutors said.
The trial of Viktoria Nasyrova, 47, began with opening statements in New York on Monday. Prosecutors said she left evidence behind that would prove she tried to poison her friend Olga Tsvyk with a laced cheesecake in 2016. Nasyrova was arrested in 2017 and indicted on charges including attempted murder and grand larceny.
"In 2016, you'll learn that this woman concocted a cold and calculated plan to isolate Olga Tsvyk, to get her alone in a room, to poison her, to try to kill her, and to take her identity, along with other valuables as well," Assistant District Attorney Konstantinos Litourgis said.
Nasyrova has pleaded not guilty, and her defense attorney disputed prosecutors' account of what happened.
Prosecutors said that Nasyrova went to Tsvyk's home in Queens under the guise of urgently requesting her services as an eyelash technician. She arrived at Tsvyk's home with slices of cheesecake and insisted that the woman eat it.
According to prosecutors, the cheesecake that Tsvyk ate was laced with a Russian tranquilizer called phenazepam. Litourgis told the jury that Tsvyk immediately became sick after eating the dessert and was "violently vomiting."
"This woman was floating in and out of consciousness, she was dizzy, she was disoriented, she didn't know where she was, and she was terrified that there was something seriously wrong with her," Litourgis said.
Prosecutors said that Tsvyk's friends found her the next day, weak on her bed with pills scattered around her — which Nasyrova is accused of staging to make it seem as if she attempted to kill herself.
According to Litourgis, Nasyrova was going after Tsvyk's identity. Among valuables missing from the home after the poisoning were Tsvyk's passport and employment authorization card, which showed proof of her legal status in the US.
Litourgis said that Nasyrova had fled Russia between 2014 and 2015 in order to distance herself from a criminal investigation. She was motivated to steal Tsvyk's identity in order to further evade officials and not return to Russia, he said.
According to CBS's 48 Hours, Nasyrova was being investigated by Russian police in connection with the murder of Alla Alekseenko.
"I am not a killer. … I'm woman. Only woman," Nasyrova told CBS in a 2018 jailhouse interview.
At trial this week, Litourgis said Tsvyk shared many similarities with Nasyrova, including age, background, and accent, making her the "perfect target."
Among the witnesses that prosecutors plan to call to testify is a man who was allegedly drugged and robbed by Nasyrova after they met on a dating site in 2016.
In his opening statement on Monday, Nasyrova's defense attorney Christopher Hoyt said that the case wasn't as "open and shut" as prosecutors described, calling their version of events a trailer for a disappointing movie.
"We've all had that experience where the movie did not live up to the hype," Hoyt said.