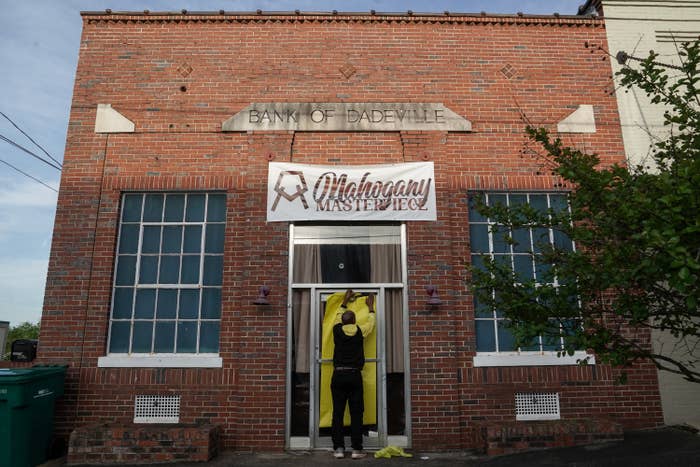 An Auburn man and two Tuskegee teenagers were arrested on Tuesday in connection to a shooting that killed four people at a Sweet 16 party in Dadeville, Alabama, on April 15.
Ty Reik McCullough, 17, and Travis McCullough, 16, were taken into custody on Tuesday night and both charged as adults with four counts of reckless murder, Sgt. Jeremy J. Burkett of the Alabama Law Enforcement Agency announced at a news conference Wednesday morning. It was not immediately clear if either teen had legal representation.
Later on Tuesday, police announced the arrest of Wilson LaMar Hill Jr., 20, of Auburn, who was formally charged with four counts of reckless murder in the shooting which ocurred Saturday night.
The shooting took place around 10:30 p.m. on Saturday at the Mahogany Masterpiece dance studio in Dadeville, where a birthday party was being held for Alexis Dowdell. Those killed included: Dowdell's brother Philstavious Dowdell, 18; Shaunkivia Nicole Smith, 17; Marsiah Emmanuel Collins, 19; and Corbin Dahmontrey Holston, 23. Thirty-two others were injured.
Philstavious Dowdell and Smith were both high school seniors a week away from graduating.
At the press conference, Burkett said four of those injured in the shooting remain in the hospital in critical condition. Officials released few other details at the news conference and did not comment on a possible motive.
"We can't get into a motive right now, because that would be part of an ongoing investigation," Burkett said. "We can't share that."
Burkett did say that more charges are expected.
Speaking at the news conference, Tallapoosa District Attorney Mike Segrest promised to deliver justice to the victims and planned to convene a grand jury to bring an indictment.
"We're going to make sure all those victims have justice, not just the deceased," Segrest said.
Gun violence in the US is a public health crisis, according to the American Public Health Association. It is a leading cause of premature death in the country, responsible for more than 38,000 deaths annually. As of April 19, at least 5,414 people have died from gun violence this year, and another 7,194 have died by suicide, according to data from the Gun Violence Archive.
According to gun safety advocacy group Everytown For Gun Safety, Alabama has the fifth highest rate of gun violence in the country. An average of 1,149 people in the state die by gun violence yearly.