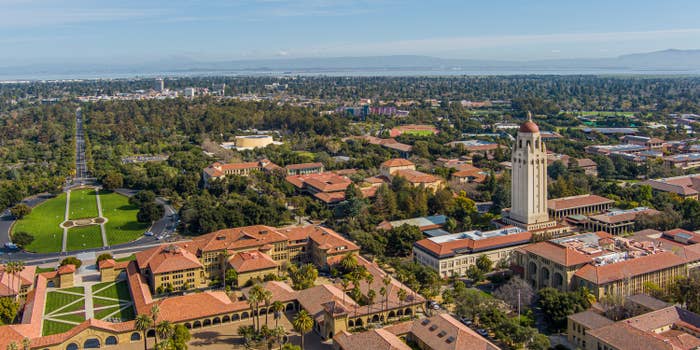 A Stanford University employee was arrested Wednesday for allegedly lying under oath about being sexually assaulted twice by a Black man on campus who matched the description of a coworker, authorities said.
Jennifer Ann Gries, 25, is charged with two felony counts of perjury and two misdemeanor counts of making a false crime report after prosecutors said she made false reports at hospitals, applied for victims compensation money, and prompted a public safety alert on campus.
"This is a rare and deeply destructive crime," Santa Clara County District Attorney Jeff Rosen said in a statement. "Our hearts go out to the falsely accused. Our hearts go out to students who had to look over their shoulders on their way to class. Our hearts go out to legitimate sexual assault victims who wonder if they will be believed."
According to the district attorney's office, Gries first reported an allegedly false sexual assault on Aug. 9, 2022, when she told forensic nurses at Valley Medical Center in San Jose that she was attacked in the restroom of a campus garage. She described the suspect as a Black man in his late 20s.
Gries reported being sexually assaulted again two months later on Oct. 7. She told forensic nurses at Stanford Hospital that she was grabbed by her arm and dragged to the basement into a storage closet where she was assaulted. She again described being attacked by a Black man in his late 20s, who was 6 feet tall and slender.
Gries claimed she became pregnant with twins from the alleged assault, but had a miscarriage.
Prosecutors said that after both reports, sexual assault examination kits were rushed for priority testing to protect the public from a potential sex offender. But forensic examinations found the tests were not consistent with what she told nurses had happened and that she was not pregnant, prosecutors said.
Her reports also prompted campus police to issue an alert, resulting in local news coverage and many students saying they felt unsafe.
Stanford's Department of Public Safety continued to investigate the sexual assaults and found that Gries had made a sexual harassment complaint against a coworker, prosecutors said. The man's appearance fit the description of her alleged attacker.
In January, Gries allegedly admitted to a district attorney's office investigator that she had lied about being sexually assaulted and wrote an apology letter to her coworker.
According to the National Sexual Violence Resource Center, false reports make up between 2% and 10% of sexual assault reports, and 81% of women in the US experience some form of sexual harassment and/or assault in their lifetime.
In a statement, Stanford leaders said they will be reviewing Gries's employment, and she has been placed on a leave of absence. According to LinkedIn, she is a supervisor in the university's Housing Service Center.
"These false reports are damaging, both for true survivors of sexual assault and for the members of our community who experienced fear and alarm from the reports," said the joint statement from Patrick Dunkley, vice provost for Institutional Equity, Access and Community, and Laura Wilson, director of the Department of Public Safety. "We also want to emphasize that both false reports and outcomes such as this one are extremely rare in sexual assault cases."
According to the National Registry of Exonerations, Black people are almost eight times more likely than white people to be falsely convicted of sexual assault.