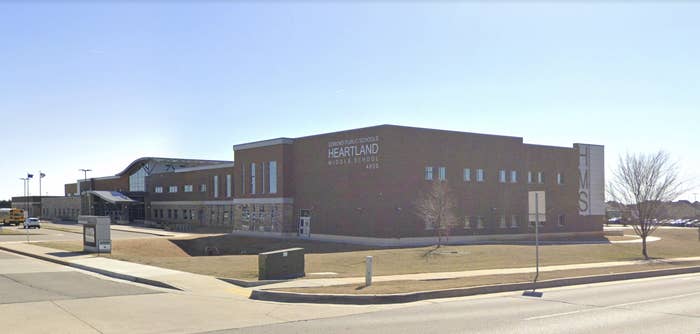 A mother is suing her daughter's middle school after she said the principal made the then-14-year-old pull up her shirt, exposing her bra, while searching her for a nicotine vape.
The lawsuit, filed on March 3, alleges that the girl was "improperly and unreasonably" subjected to a strip search while a student at Heartland Middle School in Edmond, Oklahoma, by the principal, Veronica Johnson.
The lawsuit names the Edmond Public School District, Johnson, and Heartland Middle School, accusing them of intentional infliction of emotional distress, negligence, sexual assault, and violating the Fourth Amendment's protection against unreasonable searches as well as school policy.
The Edmond School District did not respond to BuzzFeed News' request for comment.
According to the lawsuit, the alleged search was conducted on May 10, 2021, in a room with a "clear view to general access areas of the school."
Johnson told the student to spin around after telling her to lift her shirt up, exposing her stomach and the top of her boxers, according to the lawsuit. Johnson then allegedly asked what underwear the student was wearing under her pants, then told her to lift her shirt high enough to expose the student's bra.
Shelby Shelton, the attorney representing the student's family, told BuzzFeed News that they obtained body camera footage from a school officer who was present during the incident through a public records request after the school initially refused to provide it.
According to both Oklahoma state law and the Edmond School District student search and seizure policy, staffers are permitted to search students under reasonable suspicion. However, they are not permitted to strip-search the students, Shelton said.
"In no event shall a strip search of a student be allowed. No student's clothing, except cold weather outerwear, shall be removed prior to or during the conduct of any warrantless search," the school district's policy says.
According to the lawsuit, no vape was found during the search. The family is now seeking a minimum of $25,000 in damages.
Shelton said the girl had already been searched with a metal detector wand and was clearly not a threat.
"There's no guns or knives or anything dangerous, let alone, even if they had a vape pen, which they didn't, there's no immediate threat to anyone's safety," Shelton said. "And they did all of this without contacting anybody's parents."
The experience was humiliating for the girl, and her family removed her from the district into an online school after the incident, he added. They're now looking to sell their home to move into another school district.
"Our goal is for people to understand that your rights don't end at the door to a school," he said. "I mean, we're all Americans. We all have constitutional rights, and those don't end at the front door of a school. It's not a prison."