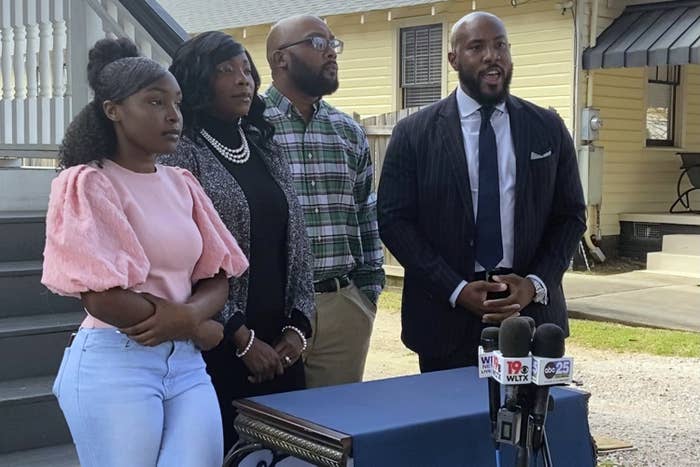 The family of a South Carolina ninth-grader is suing her school after they said a teacher pushed the 15-year-old into a wall because she refused to recite the Pledge of Allegiance.
The lawsuit, filed Feb. 13, alleges that Marissa Barnwell, who attends River Bluff High School in Lexington, was on her way to class on Nov. 29, 2022, when special education teacher Nicole Livingston confronted her in the hall as the pledge was playing over the school's loudspeaker. The teacher allegedly demanded that she stop walking and recite the pledge.
The lawsuit names the South Carolina Department of Education, Lexington County School District One, Livingston, and Principal Jacob Smith, accusing them of negligence and violating Barnwell's civil rights.
Speaking at a press conference Thursday, Barnwell said that she was "completely and utterly disrespected," and no one should ever have gone through what she experienced.
"I have never seen this lady a day in my life, so when she approached me so angry and so upset, I had not known what to react to her," Barnwell said. "So she approached me, she grabbed me, she pushed me up against the wall, and I was not prepared for that."
She said she stopped participating in the Pledge of Allegiance in third grade because she believes that the message of "liberty and justice for all" does not apply to everyone in the US.
"In those pledges, you say, 'liberty and justice for all,' but is America really liberty and justice for all?" she said.
Barnwell added that she has continued attending the school, but she's been upset that Livingston didn't face any kind of consequence. The school district and the state Department of Education did not immediately return BuzzFeed News' request for a comment.
"No one has apologized, no one has acknowledged my hurt; the fact that the school is defending that kind of behavior is unimaginable," Barnwell said.
According to the lawsuit, Livingston took an "upset and emotionally disturbed" Barnwell to the principal's office after the alleged assault. Smith, the principal, then allegedly told Barnwell he would review the security footage and sent her back to class.
Surveillance video provided to BuzzFeed News shows the teacher confronting Barnwell as other students and adults also walk through the hall. Shavell Barnwell, her father, questioned why she was singled out.
"Why would the teacher single out my daughter when you could clearly see that other students are walking in this video, but that particular day she zoomed in on my daughter, and when she grabbed her, you could see the grab was a forceful grab, and you could see she was holding on to her with aggression," he said at the press conference.
Marissa Barnwell said she believes it was because she was the only Black girl in the hallway.
"The fact that I was exercising my right to freedom of protest, freedom of speech, I feel like because of the stigma behind not stopping or standing there in the moment of silence, I feel like she targeted me because I was Black and that she knew that this was something political," Barnwell said.
According to South Carolina state code, while the Pledge of Allegiance is required in schools, students are not required to participate.
"Any person not wishing to say the 'Pledge of Allegiance' or otherwise participate in saying the 'Pledge of Allegiance' is exempt from participation and may not be penalized for failing to participate," the code states. "A person who does not wish to participate may leave the classroom, may remain in his seat, or may express his nonparticipation in any form which does not materially infringe upon the rights of other persons or disrupt school activities."
In a statement, the family's attorney, Tyler Bailey, called Barnwell brave.
"The beautiful thing about America is that we have the constitutional right to freedom of speech. It cannot be argued that students or teachers shed their constitutional rights to freedom of speech or expression at the schoolhouse gates," Bailey said. "Our constitutional rights are sacred, and the violation of those by people placed in authority to teach our kids is unacceptable."