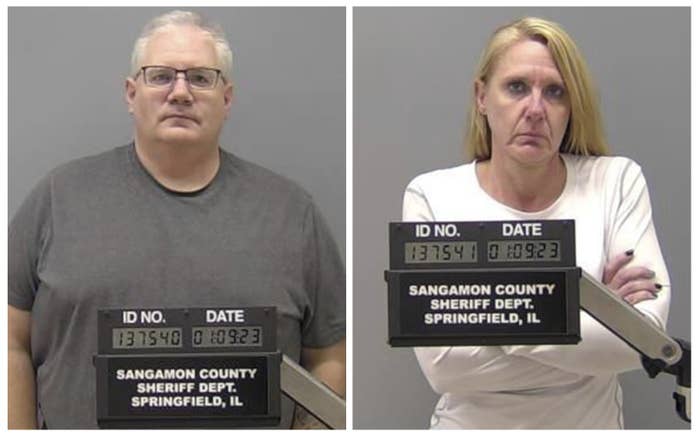 Two paramedics in Illinois who were shown on video footage strapping a Black patient facedown on a stretcher, leading to his death, are facing first-degree murder charges.
Peggy Jill Finley, 44, and Peter J. Cadigan, 50, who are white, were charged last week after they strapped 35-year-old Earl L. Moore Jr. in the prone position of a stretcher, after which he died from "compressional and positional asphyxia," authorities in Springfield said.
At a news conference last week, Sangamon County State's Attorney Dan Wright said police responded to a call on Dec. 18 about Moore suffering hallucinations caused by alcohol withdrawal.
Officers requested an ambulance after "quickly" realizing that Moore needed medical attention, and police bodycam footage shows first responders arriving at the scene about 15 minutes later.
Footage shows a woman paramedic, who was later identified by prosecutors as Finely, frustrated and repeatedly shouting at Moore to get up and walk to the ambulance.
"You're going to have to walk because we ain't carrying you," Finley can be heard telling Moore. "Because I am seriously not in the mood for this dumb shit."
According to the footage, Finely watched as police attempted to lift Moore up from the ground to walk. Officers were able to carry Moore outside and place him on a stretcher. The second paramedic, Cadigan, then forcefully strapped him facedown on his stomach.
Moore's family will be represented by civil rights attorney Benjamin Crump, who is best known for representing the families of George Floyd, Breonna Taylor, and Andre Hill.
"The men and women of the Springfield Police Department join the Springfield community in grieving the unnecessary loss of life and pledge to work with the medical care providers in our area to ensure the citizens of Springfield receive the utmost care and consideration in their time of need," police said in a statement.
The Springfield branch of Black Lives Matter also issued a statement calling the incident an example of the "constant bias and racism" that the Black community faces even when seeking medical treatment.
"This is exacerbated for those with co-occurring mental and substance use disorders," the group added. "Unfortunately, this incident shines a light on how dangerous it can be for the Black community to seek treatment and receive medical care."