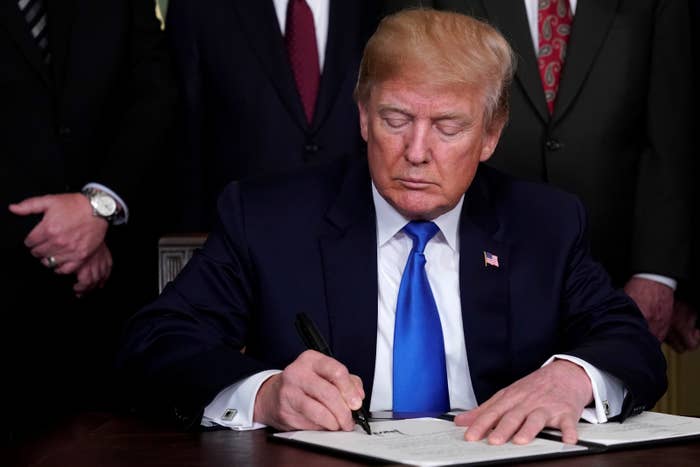 Congress's main response to the Parkland, Florida, school shooting was to strengthen the national background check registry, but a bill passed last year prevents tens of thousands of people with serious mental illnesses from being added to the registry.

The result is that the only two significant pieces of gun control legislation signed into law by President Trump seem to pull in different directions — one requires federal agencies to report data to the registry, while the other bans the Social Security Administration from reporting certain people with serious mental illnesses to the same registry.
Last week Congress passed the "Fix NICS" bill as part of a massive spending package, and after briefly threatening to block it, Trump signed it into law. Fix NICS is intended to put pressure on federal agencies to contribute data to the National Instant Criminal Background Check System, known as NICS.
But the Social Security Administration is exempted from this law, and is not able to report its list of about 75,000 people with mental disorders who were deemed by a court to be dangerous or in need of a legal guardian to handle their affairs.
Former president Obama directed SSA to share this list with the background check registry in 2016.
This would have provided information on Social Security recipients who were deemed by a court or other authority to be "a danger to himself or others, or who lacks the mental capacity to contract or manage his or her own affairs." Once entered into NICS under these grounds, a person would not be able to purchase a gun — at least not from a federally registered retailer. But an individual could then petition to be taken off of the registry.
The directive came in response to the Newtown, Connecticut, shooting where a 20-year-old man with a variety of mental impairments shot and killed his mother, then drove to Sandy Hook Elementary and killed 20 young children and six staff members.
It was a controversial move that was opposed by groups across the spectrum. The National Rifle Association argued it infringed on the Second Amendment rights of innocent people, while the ACLU called it part of a "disturbing trend" that would stigmatize people with mental illnesses while doing little to stem gun violence.
Early last year, congressional Republicans took advantage of a rarely used tool to undo that directive before it could take effect.
The Congressional Review Act allowed Republicans to repeal orders issued in the last several months of the Obama presidency through majority votes in Congress. Though it had been used only once before in history, Republicans used this power to strike down 15 Obama regulations. These included a resolution banning mining companies from dumping toxins in nearby streams, and a limit on when states could require drug testing for laid-off workers seeking unemployment insurance.
Trump signed the bill striking down the background check rule on Feb. 28, 2017. It was one of the most controversial rules struck down then.
Democratic Sen. Chris Murphy said Tuesday that Republicans' decision to overturn the background check rule significantly undermines Fix NICS. "Taking the two measures together, arguably it's a wash," said Murphy.
"Republicans talk all the time about wanting to make sure that seriously mentally ill people don't get guns. Then in one piece of legislation they allowed 70,000 people in this country who aren't well enough to even deposit a check to be able to go into a gun store and purchase an assault weapon."
Republican Sen. Chuck Grassley was the sponsor of last year's repeal bill and was a cosponsor of Fix NICS. He argues there is no conflict between the two rules because the SSA reporting was flawed.
"[The Obama rule] did not require the agency to find individuals to be mentally ill or dangerous before reporting them to NICS. It also did not include due process protections for individuals before reporting them to NICS, thus putting the burden of proof on the citizen to restore a constitutional right after it was revoked," said Grassley.
Federally regulated gun retailers must run new gun purchases through the Fix NICS registry. Certain online retailers, sales to friends and family, and sales at gun shows are still exempted from this obligation.
Fix NICS appears to be the last piece of gun legislation Congress will take up before the midterm elections this fall. Despite President Trump calling for significant new reforms, including expanding background checks, Senate leadership declined to put any gun control bill to the floor for debate.