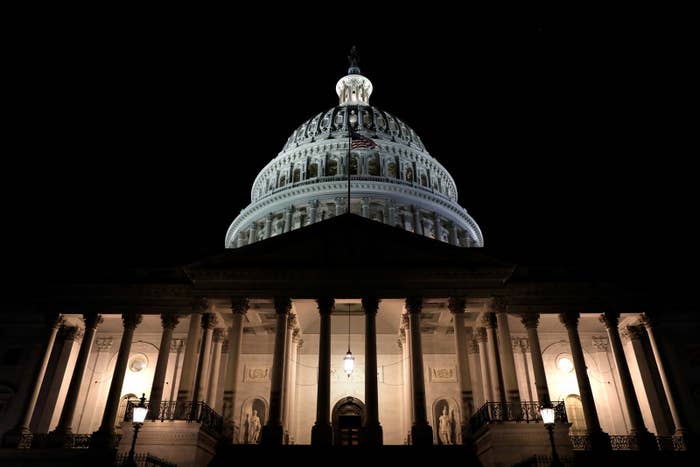 Congress just failed to stop a government shutdown.
The Senate stalled out on a bill that would have kept the government open for the next month at midnight Saturday morning, missing the deadline to avoid a shutdown. Members were still on the floor after the clock struck out, apparently trying to come to some sort of deal after holding open a vote to prevent a shutdown for more than an hour.
The government shutdown will continue through at least Saturday and Congress will be in session over the weekend, while members try to find a solution. The Senate is scheduled to try again some time after noon Saturday.
The House had voted Thursday evening to keep the government open until Feb. 16, but Democrats and some Republicans in the Senate rejected the plan on a key procedural vote, 50–49, just after midnight Saturday, leaving them with no plan to move forward. Republicans have 51 seats in the Senate and needed 60 votes to move forward with the bill. Only five Democrats joined them in voting yes.

President Donald Trump expressed his frustration over the ordeal in a tweet posted just after 6 a.m. on Saturday, accusing Democrats of playing "shutdown politics" when they could have "easily made a deal."
In a follow-up tweet he wrote #DemocratShutdown, an alternative to the #TrumpShutdown that became the top trending hashtag worldwide on Friday.
White House press secretary Sarah Huckabee Sanders placed the blame on Democrats, calling the funding gap the "Schumer Shutdown" in a statement released just before midnight. "We will not negotiate the status of unlawful immigrants while Democrats hold our lawful citizens hostage over their reckless demands," Sanders said. "This is the behavior of obstructionist losers, not serious legislators."

Members could give themselves more time for negotiations by passing an extremely short funding bill — potentially a stopgap of three or four days. Any deal would still have to be approved by the House and Trump will need to sign it.
Absent an agreement, nonessential parts of the government will cease operation and hundreds of thousands of federal workers will stay at home without being paid. Other essential workers, such as military personnel, will be expected to show up for work but will not be paid during the shutdown. In the past, Congress has passed measures to ensure every federal employee gets back pay, and while that is likely to happen again, workers will have no guarantee.
During the 16-day shutdown in 2013, a peak of 850,000 employees were furloughed, which cost the government an estimated $2 billion in lost productivity. The Obama administration reported significant economic turmoil and a wide array of delayed government services as a result.
But the Trump administration is vowing to keep more government services open and more federal employees at work than during the last shutdown. National Parks will remain open, but with far less staff and no bathrooms for visitors. And the open-air memorials on the National Mall in Washington, DC, will also stay open to the public. The Environmental Protection Agency also has sufficient funds to continue operating as normal until at least Jan. 26, as administrator Scott Pruitt told employees in a memo sent Friday afternoon. And the federal judiciary will also function normally, with all employees reporting to work, until at least Feb. 9, according to a memo sent to staff this week.
Republican Sen. Bob Corker told reporters late Friday night that he believed the Senate would agree to a short-term solution in time to avoid a shutdown. "We're down to a difference of literally three or four days now," Corker said.
Asked why he was confident the government wouldn't shut down, Corker added: "I can't believe we would shut down the government over three or four days and no other substance."
Sen. Orrin Hatch, the longest-serving Republican in the chamber, told reporters on his way onto the Senate floor Friday night that this kind of pressure forces Congress to act. "This is what makes Congress work," Hatch said. "Sooner or later they get tired of it and then they'll say let's quit playing around and get something done."
The shutdown began in the middle of a procedural vote in the Senate to keep the government open that was well on its way to failing. While the House passed the bill to prevent a shutdown on Thursday, it ultimately fell 10 votes short in the Senate just after midnight.
Senate Democrats had refused to back the plan because it did not include a fix for DACA, the Obama-era program set to expire in early March that allows almost 700,000 children of undocumented immigrants to stay in the country. If the program expires, those people would face deportation.
Several Republicans had also indicated before Friday's vote that they could not support a short-term spending bill and Sen. John McCain, who is at his home in Arizona undergoing treatment for cancer, was absent.
Ultimately, five Democrats broke with their party to vote for the bill, including Sens. Joe Donnelly, Heidi Heitkamp, Joe Manchin, and Claire McCaskill — all of whom are up for reelection next year in states Trump won — as well as newly elected Sen. Doug Jones of Alabama. Four Republicans voted against the funding bill: Sens. Jeff Flake, Lindsey Graham, Rand Paul and Mike Lee. (McConnell ultimately voted no as a procedural move to bring up another bill to reopen the government).
After the Senate recessed for the night, Louisiana Sen. John Kennedy told BuzzFeed News he was "disappointed."
"I honestly didn't believe that the Democrats would do it. We'll come back in tomorrow and try to convince our friends to open the government back up. I mean, I'm new, but I really am surprised that the Democrats would take a step like this. I mean, this is very serious," Kennedy said. "I'm going to go home and try to get a little sleep."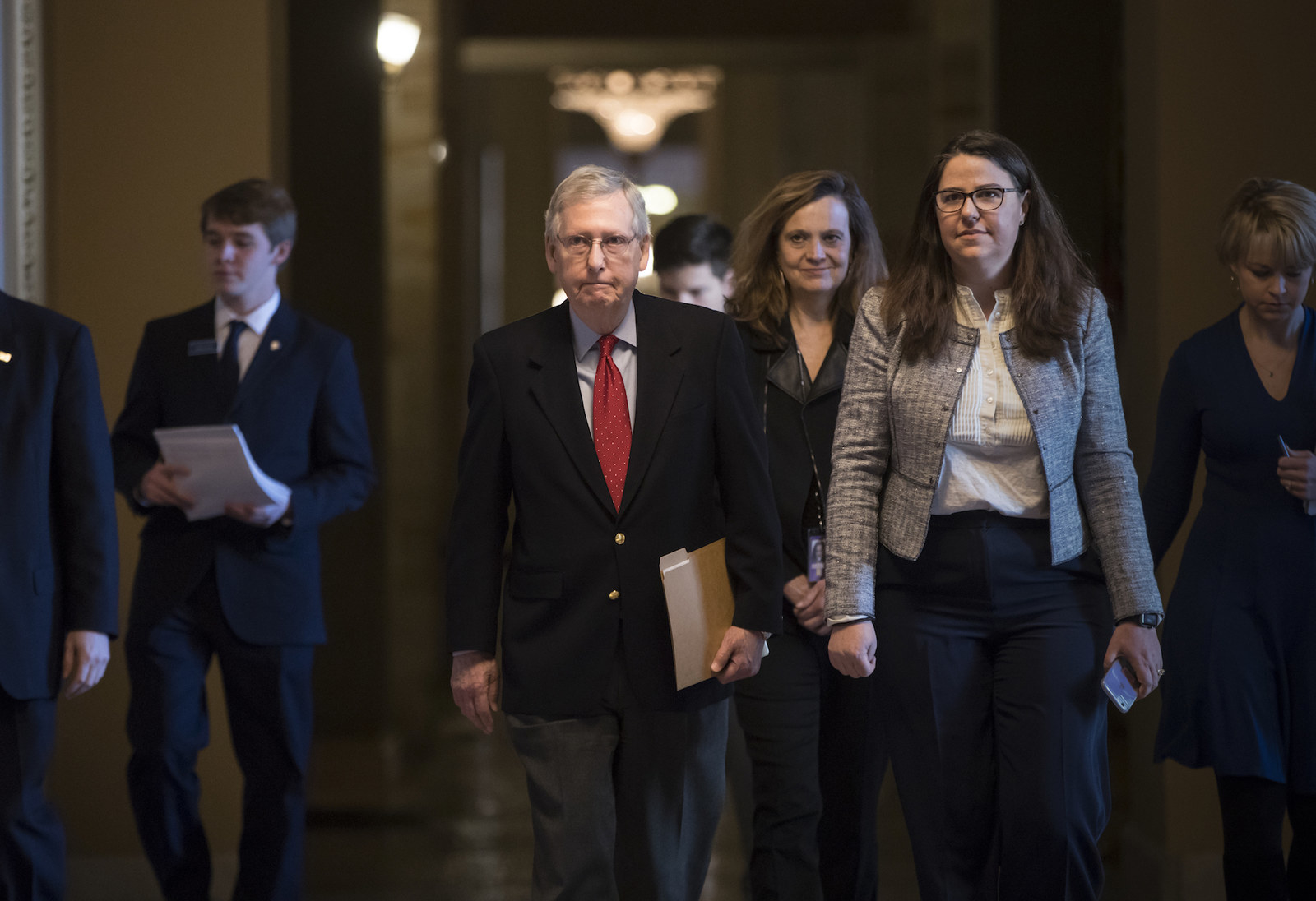 After the vote, Senate Democrats blamed House Speaker Paul Ryan for killing an 11th-hour deal to avoid a shutdown.
Multiple Democrat and Republican senators said they were close to a last-minute deal that would have funded the government through Feb. 8 just before midnight. Both sides said talks fell apart over a commitment from Republicans to attach DACA to the must-pass spending bill then. Democrats went further, saying that they received assurances from McConnell that they would get a vote on a DACA deal attached to the spending bill, regardless of whether Trump said he would support it. But, they said, Ryan refused to commit to putting a bill that joined the two issues together to a vote in the House.

Democrats ultimately walked away.
"We were not party to any negotiations, and our only message to the Senate tonight was pass our bill to keep the government open," a Ryan spokesperson said. "The government shut down because Senate Democrats decided to hold the entire federal government and children's health insurance hostage. It's pretty straightforward."

Just under an hour before the vote began, Trump tweeted that prospects for the bill were not looking good, warning that a shutdown could pose problems for the military.
Schumer went to the White House Friday to meet with Trump personally to try to find a compromise, but returned to the Capitol saying that they "made some progress, but we still have a good number of disagreements," adding that "the discussions will continue."
Republicans had put heavy pressure on the Democrats to pass the spending bill by tying it to a provision that would fund the Children's Health Insurance Program, or CHIP, for six years. The program, which expired in September, provides health insurance to millions of children from low-income families. Although Congress passed short-term funding to keep CHIP going at the end of last year, Democrats have been pushing for a more permanent fix.
Republicans attempted to frame the vote as Democrats stripping children of health insurance and cutting funding from the military. Democrats, meanwhile, have said that Republicans control both Congress and the White House and would take blame for a shutdown. So far, most Democrats have refused to blink and continue to insist on a spending bill that includes both CHIP and DACA to keep the government open.
Democrats and many Republicans say they support allowing DACA recipients, known as DREAMers, to stay in the country and have a path to citizenship. But talks broke down over related issues. Republicans insisted that a DACA deal must come hand-in-hand with funding for border security and an end to "chain migration," the cycle of immigrants becoming citizens and then sponsoring family members to in turn become citizens.
Chances of a DACA deal being reached by the end of the day Friday were astronomically long. The only bipartisan DACA bill in the Senate was tossed aside by Republican leadership earlier in the week.
The bipartisan deal would have provided almost $3 billion in new border security funding and contained a compromise on chain migration. But the Trump administration came out against the deal and leadership later declared it was a nonstarter, calling on the White House to first tell Congress what they will accept.
In her statement on the shutdown, Sanders said, "When Democrats start paying our armed forces and first responders we will reopen negotiations on immigration reform."
Hazel Shearing contributed to this report.
CORRECTION
Five House Democrats voted in favor of the government funding bill on Thursday night. An earlier version of this story misstated the number.