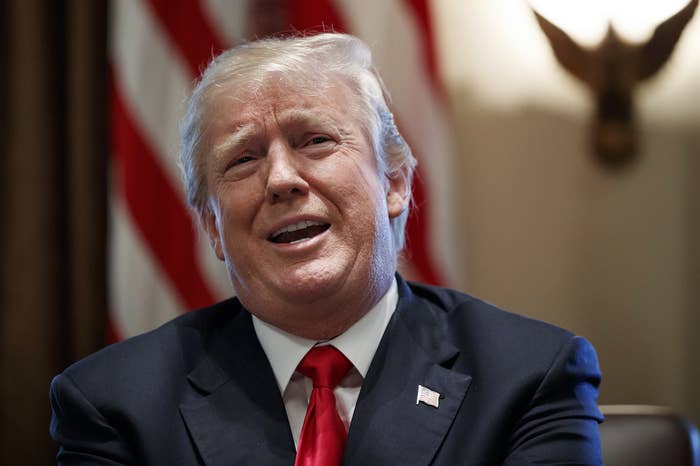 Growing frustrated while discussing immigration with lawmakers in the Oval Office, President Trump suddenly asked why people from "shithole countries come here" — referring to people from Haiti, El Salvador, and African nations — a source close to negotiations told BuzzFeed News.
The group on Thursday was discussing the possibility of restoring protections for immigrants who have come from those countries, according to the Washington Post, which first reported the comment.
The president also suggested the United States bring more people from countries like Norway.

"Why are we having all these people from shithole countries come here?" Trump asked the group of lawmakers.
The Trump administration has been discussing the possibility of a deal on the immigration status of hundreds of thousands of young immigrants under the Deferred Action for Childhood Arrivals program, or DACA, as well as increased security at the border.

Trump has said a deal that does not include funding for a wall along the southern border would be rejected.
Trump reportedly made the comments while lawmakers were discussing restoring temporary protection status for immigrants, such as those from El Salvador, who had their status removed this week.
In a statement, The White House did not deny Trump made the comment.
"Certain Washington politicians choose to fight for foreign countries, but President Trump will always fight for the American people," said White House spokesman Raj Shah in a statement. "The president will only accept an immigration deal that adequately addresses the visa lottery system and chain migration — two programs that hurt our economy and allow terrorists into our country.
"Like other nations that have merit-based immigration, President Trump is fighting for permanent solutions that make our country stronger by welcoming those who can contribute to our society, grow our economy and assimilate into our great nation. He will always reject temporary, weak and dangerous stopgap measures that threaten the lives of hardworking Americans, and undercut immigrants who seek a better life in the United States through a legal pathway."
A former Trump administration official told BuzzFeed News that although the president's comment may be distasteful to some, it could resonate with his base.
"While it might be uncomfortable for some people in the media to recognize, I think there's a large segment of voters who it resonates with as anti-pc 'straight talk,'" the former official said.
The statement, however, did spark immediate criticism, including from members of the president's own party.
House Republican Mia Love, a representative from Utah whose parents were born in Haiti, asked Trump to "apologize to both the American people and the nations he so wantonly maligned."
"The President' [sic] comments are unkind, divisive, elitist, and fly in the face of our nation's values," Love told BuzzFeed News in a statement. "This behavior is unacceptable from the leader of our nation. My parents came from one of those countries but proudly took an oath of allegiance to the United States and took on the responsibilities of everything that being a citizen comes with."
Republican Carlos Curbelo of Florida said that "under no circumstances is it acceptable to degrade, denigrate or dehumanize" immigrants with temporary protection status.
Republican Rep. Ileana Ros-Lehtinen, also from Florida, criticized the president's comment, saying it "ignores the contributions thousands of Haitians have made to our #SoFla community and nation."
When asked about the president's reference to an excremental aperture, a State Department spokesperson referred BuzzFeed News to the White House.
The African Union told the Associated Press that "we believe that a statement like this hurts our shared global values on diversity, human rights and reciprocal understanding."

"Given the historical reality of how many Africans arrived in the United States as slaves, this statement flies in the face of all accepted behavior and practice," the union spokeswoman Ebba Kalondo said. "This is particularly surprising as the United States of America remains a global example of how migration gave birth to a nation built on strong values of diversity and opportunity."
It is not the first time President Trump has reportedly made disparaging and offensive remarks about immigrants or their countries of origin.
In December, the New York Times reported that Trump lashed out in a meeting in June after reading a document with data on immigrants coming into the US.
After reading out loud that more than 15,000 people had arrived from Haiti, Trump reportedly said they "all have AIDS."
John Hudson and Lissandra Villa contributed to this report.