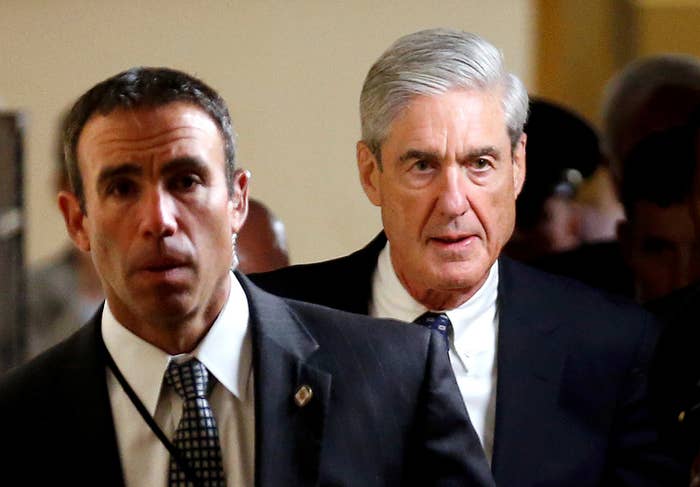 WASHINGTON — Republican Sen. Jeff Flake says he will block all of President Trump's judicial nominees until his bill to protect special counsel Robert Mueller goes to a vote.
Flake's move comes after Trump forced Attorney General Jeff Sessions to resign and appointed Matt Whitaker, a Trump loyalist who has repeatedly criticized Mueller's investigation, as acting attorney general. Trump had repeatedly railed against Sessions for recusing himself from overseeing the investigation of Russian interference in the 2016 election.
Flake has long been a critic of Trump but has mostly declined to use his leverage in the razor-thin Senate to hold up Republican judges. That changed Wednesday when Flake sought unanimous consent to bring his bill to protect Mueller forward for debate. Majority Leader Mitch McConnell refused, blocking the bill.
Flake then declared he will vote to reject all judicial nominees. "This is not a moment for our national leadership to be weak or irresolute," he said on the Senate floor.
Flake is the swing vote in the Senate Judiciary Committee and, with Democrats, can vote down judicial nominations. McConnell could still bring these nominations forward to the Senate floor against the will of the committee, but Flake said he doubts this would happen because it would alienate GOP senators.
"I'd be surprised, because there's such a slim margin on the floor. Some members are sticklers for precedent and you don't want to get in the habit of basically nullifying a committee's actions," said Flake.
McConnell has made confirming conservative judges to lifetime appointments one of his top priorities under the Trump administration. Dozens of nominations hang in the balance. If he were to bypass the Judicial Committee, Flake would need the help of just one more Republican senator to kill nominations. Flake said he is in talks with other Republicans to team up with him, but did not identify who.
The Senate Judiciary Committee passed the Mueller protection bill months ago, but Mitch McConnell repeatedly refused to bring it forward for a vote. He argued the bill is unnecessary because there is no sign that Trump will fire Mueller. Flake argues that is no longer true.
"The justification given in April for not bringing it to the floor for a vote was that nobody was being fired, nothing to see here, special counsel Mueller was not in any danger. That clearly is not the case now," said Flake Wednesday.
The Special Counsel Independence and Integrity Act, cosponsored by Democratic Sen. Chris Coons, would require that the special counsel could only be fired for good cause, and would allow for the courts to overturn the firing if good cause could not be proved.
Coons said he is certain the bill has the needed support of 60 senators to pass the Senate. But it has always faced very long odds of becoming law, given that it would require Trump signing on to a measure that limits his own powers.
Technically Trump cannot fire Mueller on his own. Under current Justice Department regulations, only the attorney general can fire Mueller.
Deputy Attorney General Rod Rosenstein, the department's number two official, had overseen the Mueller investigation since Sessions recused himself last year. Whitaker's appointment as acting attorney general puts him in charge of the probe, but Democrats have called on him to recuse himself as well.