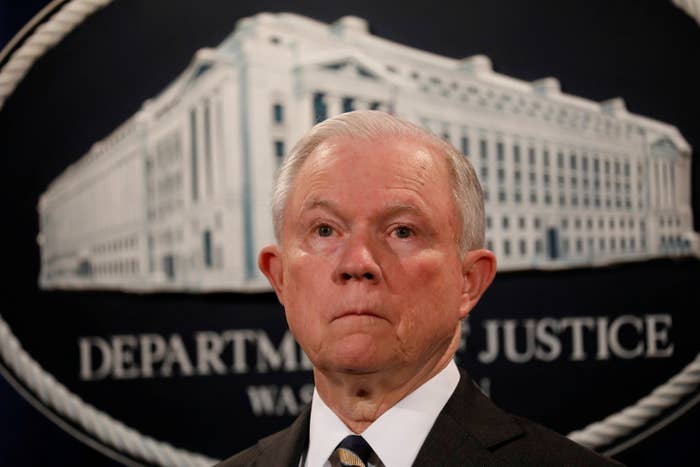 WASHINGTON — Attorney General Jeff Sessions on Wednesday submitted his resignation, marking a significant break — albeit one two years in the making — with President Donald Trump by one of his earliest and closest allies.
Sessions offered his resignation via a letter hand-delivered to chief of staff John Kelly, writing that he did so at the president's request.
"Thank you for the opportunity, Mr. President," Sessions wrote.
Sessions' resignation comes a day after the midterm elections, which was long seen as the expiration date for Sessions' tenure as the nation's chief law enforcement officer. Trump made clear his displeasure with Sessions early on, but wasn't expected to make any major changes in his cabinet before the election.
Trump later confirmed in a tweet that he had accepted Sessions' resignation and thanked him for his service. An administration official, speaking on condition of anonymity, said that Kelly called Sessions before the president held a press conference midday Wednesday to ask for his resignation.
Session's chief of staff Matthew Whitaker will take over as acting attorney general while the White House seeks a permanent replacement, Trump tweeted shortly after Sessions' letter became public. Whitaker, whose appointment became official on Wednesday, will take on oversight of special counsel Robert Mueller's probe into Russian interference in the 2016 election, assuming there are no ethical issues that would prevent him from doing so. Deputy Attorney General Rod Rosenstein — who was still in his job as of Wednesday afternoon — had taken on responsibility for the probe after Sessions recused himself last year. Rosenstein was at the White House on Wednesday afternoon for a previously scheduled meeting, according to an administration official.
Whitaker, who joined the Justice Department as Sessions' chief of staff last year, had previously been a partisan political figure in Iowa — running for state treasurer in 2002 and US Senate in 2014, losing both times, and later serving as the campaign chair for Sam Clovis's run for state treasurer. In between his political runs, he served as the US attorney for the Southern District of Iowa for more than four years in the George W. Bush administration.
"It is a true honor that the President has confidence in my ability to lead the Department of Justice as Acting Attorney General. I am committed to leading a fair Department with the highest ethical standards, that upholds the rule of law, and seeks justice for all Americans," Whitaker said in a statement released Wednesday evening. "Attorney General Sessions has been a dedicated public servant for over 40 years. It has been a privilege to work under his leadership. He is a man of integrity who has served this nation well."
Whitaker was critical of the appointment of a special counsel in the Russia investigation and, after Mueller was appointed, has been critical of moves taken by his office and has recommended ways of limiting his reach. He did not address the Mueller investigation in his statement Wednesday night.

Under Justice Department regulations, Mueller can only be removed from office "for misconduct, dereliction of duty, incapacity, conflict of interest, or for other good cause."
Sessions was the first sitting US senator to endorse Trump in the 2016 election, but over the next two years he became an object of the president's ire for his decision to recuse from the Russia investigation. Trump reportedly expressed his dismay in private at first, but his frustration spilled into the public sphere, with Trump openly, and repeatedly, criticizing Sessions to reporters and on Twitter.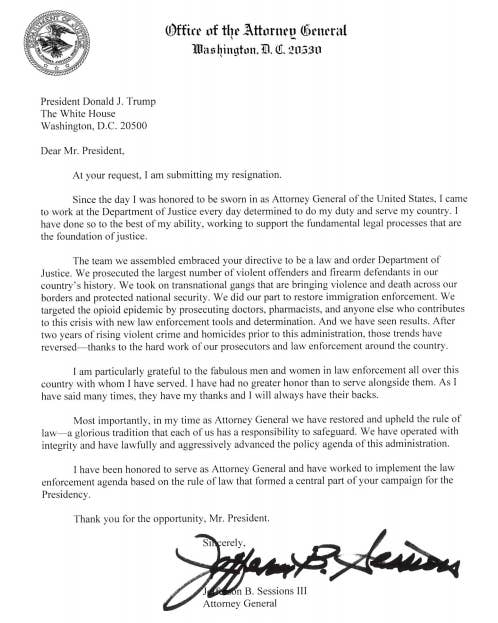 In his letter to Trump, Sessions touted the department's prosecutions of violent offenders, focus on immigration enforcement, and efforts to combat the opioid epidemic.
"Since the day I was honored to be sworn in as Attorney General of the United States, I came to work at the Department of Justice every day determined to do my duty and serve my country," Sessions wrote. "I have done so to the best of my ability, working to support the fundamental legal processes that the foundation of justice."
The White House now faces the challenge of finding a nominee to replace Sessions in a far more politically fraught climate than when Trump announced Sessions as his choice in November 2016. Republicans kept their majority in the Senate, meaning any future nominee will face a politically friendly chamber, but potential nominees will have watched Trump publicly turn on Sessions for decisions the president didn't like. The circumstances of Sessions' departure could scare off qualified candidates who worry the administration won't protect the Justice Department's independence.
Sessions left the Justice Department building at around 5:30 p.m. on Wednesday, accompanied by Whitaker, Rosenstein, Solicitor General Noel Francisco, and Joseph "Jody" Hunt, the head of the Civil Division who previously served as Sessions' chief of staff. Sessions shook hands with the four men, gave a thumbs up to the crowd of at least 150 applauding Justice Department employees who gathered to see him off, waved, and climbed into a black SUV.
In the months leading up to the midterm elections, Trump derided his attorney general in a series of interviews. In a Sept. 19 interview with Hill.TV, Trump said, "I don't have an attorney general. It's very sad." And in an interview that aired on Fox News on Aug. 23, Trump again slammed Sessions for his decision to step away from involvement in the Russia probe, saying the reason he tapped Sessions for attorney general was because of his loyalty dating back to the campaign. He claimed Democrats are "very strong" at the Justice Department and that Sessions "never took control."
"I said, 'What kind of a man is this?'" Trump said of Sessions' decision to recuse.
That criticism over the summer prompted Sessions' strongest public pushback to date. In a statement at the time, Sessions said that he "took control of the Department of Justice the day I was sworn in, which is why we have had unprecedented success at effectuating the President's agenda."
"While I am Attorney General, the actions of the Department of Justice will not be improperly influenced by political considerations. I demand the highest standards, and where they are not met, I take action. However, no nation has a more talented, more dedicated group of law enforcement investigators and prosecutors than the United States," Sessions said.
Trump routinely used Twitter to lash out against Sessions and the Justice Department. In late February, after Sessions announced that the Justice Department's inspector general would investigate allegations of abuse by the department in obtaining Foreign Intelligence Surveillance Court warrants, Trump took to Twitter to complain about the move, calling it "DISGRACEFUL!"
On April 2, in response to complaints from Republicans in Congress that the Justice Department wasn't producing documents fast enough related to the Hillary Clinton email investigation and the firing of former FBI deputy director Andrew McCabe, Trump tweeted that it was "an embarrassment" and appeared to mock the department's name, putting "Justice" in quotes.

And in late May, following a New York Times report that Trump had tried to convince Sessions to reverse his decision to recuse last year, Trump tweeted that he wished he had chosen someone else to be attorney general.

Trump used the platform to criticize Sessions for what the president saw as his failure to investigate Hillary Clinton and Democrats. Last summer, Trump tweeted that Sessions "has taken a VERY weak position on Hillary Clinton crimes" and asked where the "A.G." investigation was into "Ukrainian efforts to sabotage Trump campaign." The president previously called Sessions "beleaguered," and tweeted, "So many people are asking why isn't the A.G. or Special Council looking at the many Hillary Clinton or Comey crimes. 33,000 e-mails deleted?"

The Washington Post reported that Trump had derided Sessions as "Mr. Magoo," a cartoon character described by the Post as "elderly, myopic and bumbling." The Post also reported that Mueller's team was looking into a time period last summer when Trump was discussing firing Sessions.
Sessions, 71, a former US senator and federal prosecutor from Alabama, was largely quiet amid the personal jabs from the president, and generally expressed his support for Trump. In his tenure as the nation's top prosecutor, Sessions pushed ahead with policies that embodied his tough-on-crime agenda and hardline stance on immigration, including the "zero tolerance" border policy that led to thousands of migrant family separations, a new charging policy requiring prosecutors to pursue mandatory minimums for certain nonviolent drug offenders, and ending the Deferred Action for Children Arrivals program.
Sessions has defended the department against the president's attacks. After Trump in February criticized having the Justice Department's inspector general investigate alleged abuses of the surveillance warrant application process, Sessions released a statement saying that officials had "initiated the appropriate process that will ensure complaints against this Department will be fully and fairly acted up on if necessary."
"As long as I am the Attorney General, I will continue to discharge my duties with integrity and honor, and this Department will continue to do its work in a fair and impartial manner according to the law and Constitution," Sessions said.
Rumors that Trump would oust Sessions have circulated for nearly a year. The New York Times reported that after Sessions announced his recusal from the Russia probe in early 2017, Trump accused Sessions of disloyalty and asked him to resign. Sessions submitted a resignation letter, according to the Times, but Trump rejected it, sending a handwritten note that said, "Not accepted."
On April 9, when news broke that federal agents had executed search warrants for Trump's personal attorney Michael Cohen based on information Mueller referred to the US attorney's office in Manhattan, Trump once again criticized Sessions for giving up control over the probe. Cohen pleaded guilty Aug. 21 to federal charges, including campaign finance violations for orchestrating payments during the campaign to two women who claimed to have had affairs with the president; Cohen said he acted at Trump's direction.
"The attorney general made a terrible mistake when he did this and when recused himself, or he certainly should have let us know if he was going to recuse himself and we would have put a different attorney general in," Trump said in comments to the press at the White House at the time. "So he made what I consider to be a very terrible mistake for the country. But you'll figure that out."
"Law and order"
Sessions announced that he was backing Trump in February 2016, joining the then-candidate Trump at a rally in Alabama. When Trump won the election, Sessions, a former US attorney in Alabama with a hardline conservative record in the Senate, was widely considered a frontrunner for attorney general.
Sessions had his confirmation hearing on Jan. 10, before Trump was sworn in. At the hearing, then–Minnesota senator Al Franken told Sessions that a story had just broken on CNN about an unverified dossier — a document later published by BuzzFeed News — that claimed the Russian government had compromising material about Trump. Franken asked what Sessions would do if there was evidence that anyone affiliated with the Trump campaign communicated with the Russian government.
Sessions replied: "Senator Franken, I'm not aware of any of those activities. I have been called a surrogate at a time or two in that campaign and I didn't have — did not have communications with the Russians, and I'm unable to comment on it."
The Senate voted 52–47 to confirm him, with Democratic Sen. Joe Manchin of West Virginia crossing party lines.
Sessions was later accused by Democrats of lying under oath after the Justice Department disclosed that Sessions had spoken twice in 2016 with the Russian ambassador at the time, Sergey Kislyak. Sessions denied his answer in January was false, saying at a Senate hearing in June 2017 that he was responding to a "rambling" question from Franken about allegations of communication between Trump surrogates and the Russian government.
"It simply did not occur to me to go further than the context and to list any conversations that I may have had with Russians in routine situations as I had many routine meetings with other foreign officials," Sessions said.
At his confirmation hearing, Sessions wouldn't commit to recusing from matters related to the 2016 election, but he announced on March 2, 2017, that he would do so.
Trump was upset about Sessions' decision to recuse, and he went public with those frustrations in July 2017, telling the New York Times that he wouldn't have chosen Sessions for attorney general if he knew he would recuse. Trump continued to lash out against Sessions, not just on the recusal but also on the Justice Department's action — or lack thereof, in the president's opinion — on Hillary Clinton's use of a private email server when she was secretary of state. Former attorney general Loretta Lynch announced in July 2016 that the Justice Department would not press charges against Clinton.
Sessions' recusal meant that Rosenstein became the senior official in charge of the investigation into Russian influence in the 2016 campaign. On May 17, 2017, the Justice Department announced that Rosenstein had appointed Mueller, a former FBI director, as special counsel to lead the Russia investigation, spurring charges from Trump that the probe was a "witch hunt."
Amid the firestorm over the Russia investigation, Sessions pressed ahead with criminal justice policies that underscored Trump's "law and order" focus during the campaign. In May 2017, Sessions announced a new charging policy that required prosecutors to pursue "the most serious, readily provable offense," replacing an Obama-era policy that gave prosecutors greater discretion, and revived a civil asset forfeiture program that was largely halted during the Obama administration. He also directed significant resources towards addressing the opioid addiction crisis.
Civil rights groups decried Sessions as an enemy to people of color and the LGBT community, citing as examples his focus on "religious liberty" issues, the department's investigations into affirmative action in higher education, and a directive to interpret a section of the Civil Rights Act that prohibits employment discrimination based on sex as not applying to transgender people.
A proponent of tough immigration policies, Sessions moved to undercut so-called "sanctuary" cities, decrying them in speeches as responsible for crimes committed by people unlawfully in the United States. In July 2017, the Justice Department announced state and local law enforcement agencies would have to certify cooperation with the Department of Homeland Security and provide advance notice of the release of immigrants in custody in order to be eligible for certain Justice Department grants. Federal judges have struck down the new requirements; appeals are pending.
In March, the Justice Department sued California, challenging the state's sanctuary laws as unconstitutional. In July, a federal judge rejected most of the administration's challenges; the Justice Department has appealed.
In September 2017, Sessions announced that the administration was winding down the Deferred Action for Childhood Arrivals program, an Obama-era initiative that had protected hundreds of thousands of young, undocumented immigrants against deportation. "We cannot admit everyone who would like to come here. That is an open border policy and the American people have rightly rejected it," he said at the time. Judges have ruled that the administration's attempt at ending DACA was unlawful; the Justice Department has asked the US Supreme Court to weigh in, attempting to bypass appeals in the circuit courts.
In April, Sessions alerted US attorney offices across the country about a new "zero tolerance" policy, directing them to prosecute all cases of alleged illegal entry referred by the Department of Homeland Security. That led to mass family separations at the border, and subsequent court challenges. DHS stopped referring cases to the Justice Department after Trump ordered a halt to separations at the border, but litigation over family separations and the treatment of migrants in US custody has continued.
Amid Sessions' more controversial moves, the day-to-day work of the department pressed on, but current and former Justice Department attorneys told BuzzFeed News last year that morale was low at the department amid the president's attacks on Sessions. One DOJ attorney at the time said that "Trump's attitude that the AG, and by extension the Department as a whole, exists solely to defend him is deeply concerning."
Several career officials have left the department in the past year, and the New York Times reported last month about clashes between political appointees and career lawyers.