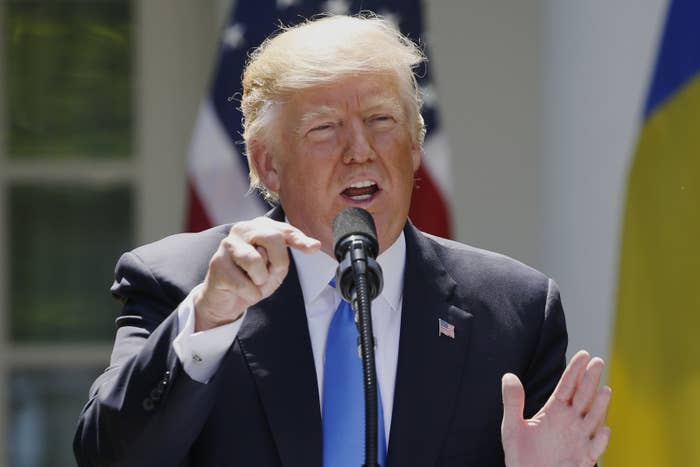 Congressional Republicans are standing behind special counsel Robert Mueller, who is leading the Justice Department's investigation into Russian interference in the 2016 election, amid rumors that President Trump is considering firing him.

Republicans said on Tuesday that it would look terrible for Trump to fire Mueller, whose investigation covers possible collusion between Russia and members of the Trump administration.
"That would obviously be a bad move. I don't think he's really pondering it," Rep. Adam Kinzinger said. "My thought is more it's somebody like Newt Gingrich floating it because he's got a book coming out."
Christopher Ruddy, CEO of Newsmax Media and a friend of the president's, told PBS on Monday and then CNN on Tuesday that Trump saw Mueller as "illegitimate" and was considering firing him. Trump ally Newt Gingrich has been calling for Mueller's removal, tweeting on Monday that "Republicans are delusional if they think the special counsel is going to be fair."
The White House has distanced itself from Ruddy's comments, and press secretary Sean Spicer told reporters that he has not spoken to Trump about the topic.
Congressional Republicans stood behind Mueller on Tuesday and said he should be given the freedom to conduct his investigation.
"I know Bob Mueller and I have confidence in Bob Mueller," House Speaker Paul Ryan said. "I think the best thing to do is to let Robert Mueller do his job. I think the best vindication for the president is to let this investigation go on independently and thoroughly."
At a morning press conference, Ryan and House Majority Leader Kevin McCarthy grew frustrated at reporters asking about Mueller, insisting there was no story. "You're creating a rumor that's not happening," said McCarthy.
Rep. Charlie Dent called Mueller "a very distinguished man [with] impeccable credentials." He too said Mueller should be left to conduct his investigation independently.
Even if Trump did want to fire Mueller, it is far from clear that he would be able to do so — at least not very easily. According to current regulations under which Mueller was hired, only the attorney general can fire a special counsel. Since Attorney General Jeff Sessions has recused himself from anything related to the 2016 election, that authority would fall on Deputy Attorney General Rod Rosenstein, who is standing behind Mueller.
Trump could ask Rosenstein to reconsider. Should Rosenstein refuse, Trump could ask him to resign or fire him and direct his successor to fire Mueller. Trump could alternatively direct the Justice Department to repeal the regulation, potentially allowing the president to directly fire a special counsel.
In any case, pushing for Mueller's firing would be a drastic move, given the uproar that followed Trump's firing of then-FBI director James Comey last month.
"At the end of the day it's ill-advised even if the president could [fire Mueller]. But best we can figure out, he couldn't anyway," said Rep. Chris Collins, Trump's liaison to Congress.
"I can't give credence to reports of that, it's such an out-of-bounds thought," Sen. Bob Corker said Tuesday. "I can't imagine that anyone in the White House is seriously discussing that. So it's hard for me to even respond in a serious way. It's beyond possibility to me that anyone is considering taking that kind of action."
There was grumbling among some members of Congress. Rep. Kevin Cramer said he believed Mueller's investigation should be dissolved because there is no evidence of collusion between the Trump administration and Russia.
Rep. Mark Walker said Mueller is broadly respected by both Republicans and Democrats, although he noted that the respect isn't set in stone.
"From the people that I've talked to, both Republicans and Democrats, there seems to be a mutual respect," said Walker. "Of course there was with Comey too and it kind of dissipated with both sides."
Alexis Levinson and Henry Gomez contributed to this story.