Government drug experts have advised that the new legislation banning so-called legal highs does not cover poppers, as the chemicals in them don't affect the brain in a direct way.
In guidance that appears to call into question the validity of the Psychoactive Substances Act 2016, the Advisory Council on the Misuse of Drugs (ACMD) said poppers do not fall under the definitions of "psychoactive" as laid out in the legislation – due to come into force in April.
The new advice follows a controversial Commons debate in January that specifically discussed whether poppers should be included in the legislation. MPs believed when voting for the bill that it would cover the liquids – the chemical name for which are alkyl nitrates. (Amyl nitrate is the most commonly used in poppers.)
The government subsequently tasked the ACMD in February with examining how poppers would by affected by the new legislation. Its conclusion is clear: "Alkyl nitrites ("poppers") do not fall within the scope of the current definition of a 'psychoactive substance' in the Psychoactive Substances Act 2016."

Therefore, the ACMD said, calls for poppers to be specifically removed from the legislation are unnecessary: "Consequently, the ACMD does not see a need for an exemption under the Psychoactive Substances Act 2016."
In a letter to Home Office minister Karen Bradley MP, the ACMD explained: "The definition of a 'psychoactive substance' in the Psychoactive Substances Act 2016 is not explicit with respect to direct or indirect effects on the central nervous system."
Professor Les Iversen, the chair of the council, wrote that the definition of psychoactive as stated in the bill as "stimulating or depressing the person's central nervous system" is unclear.
He added that in the view of the ACMD, a psychoactive substance has a "direct action on the brain". Poppers, he ruled, do not, and therefore "substances having peripheral effects, such as those caused by alkyl nitrites, do not directly stimulate
or depress the central nervous system."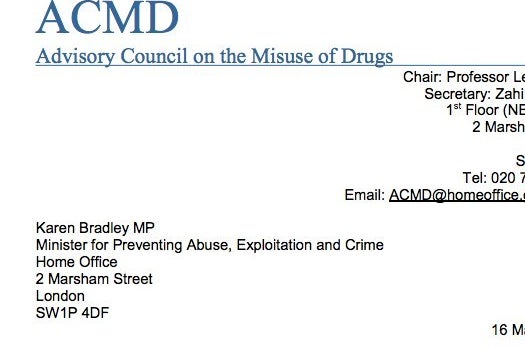 In the letter, he explained that the ACMD's view is that poppers appear to induce a high in those taking it, but as this is not caused by changes in the brain but in related areas, poppers are not strictly psychoactive.
"The brain perceives a transient 'rush' or 'high' as an indirect effect caused by increased blood flow caused by the dilation of blood vessels in brain and periphery," he said. "The effects of 'poppers' on blood vessels in the brain should be considered to be 'peripheral' as these lie outside the 'blood-brain barrier'."
In a statement to BuzzFeed News, the Home Office said: "We have noted the advice of the Advisory Council on the Misuse of Drugs and we intend to respond shortly."
The slated ban on poppers – which has a variety of uses recreationally, including heightening sensation during sex, increasing arousal, and relaxing muscles during intercourse – has sparked widespread criticism, and prompted Conservative MP Crispin Blunt to reveal that he uses the substance.
"I 'out' myself as a poppers user," he said during the Commons debate, "And would be directly affected by this legislation and I am astonished to find it is proposing to be banned – so would very many other gay men."