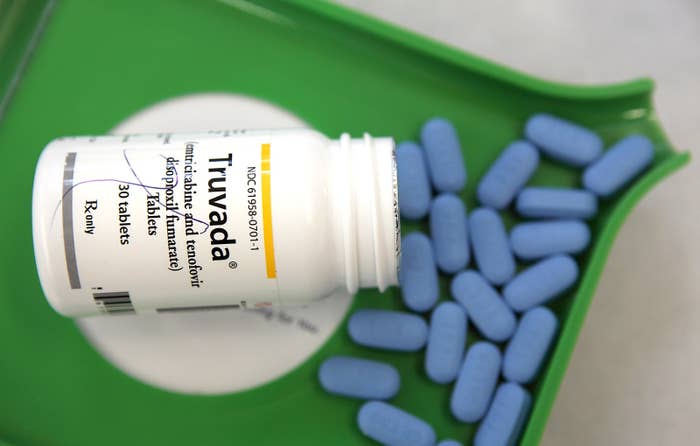 The reason NHS England gave on Monday for rolling out the drug that prevents HIV to only 500 people appears to be contradicted by statements found in its own documents, BuzzFeed News can reveal.
In the announcement earlier this week, which was roundly criticised, NHS England said it would not be making PrEP – the treatment regime that blocks HIV infection – widely available because: "NHS England is not responsible for commissioning HIV prevention services." The statement emphasised that instead, "local authorities are the responsible commissioner for HIV prevention services."
But details of NHS England's responsibilities, as set out in an NHS England file from 2015, dispute these assertions, calling into question the basis on which this week's announcement was made.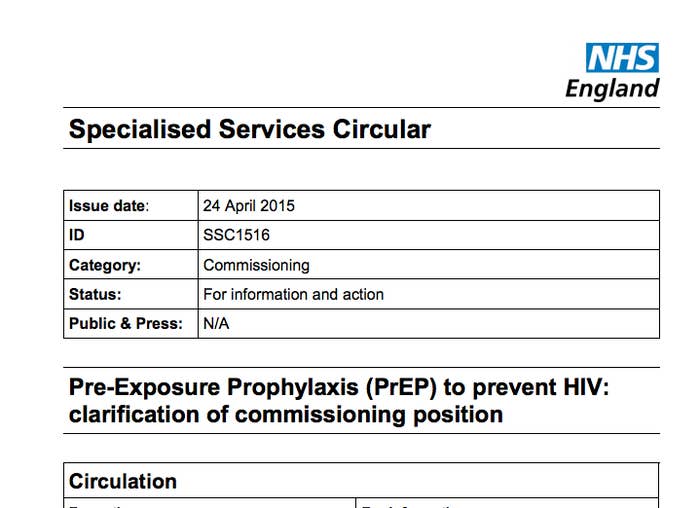 In a circular entitled "Pre-Exposure Prophylaxis (PrEP) to prevent HIV:
clarification of commissioning position", which was sent out to a variety of major interested parties – including Public Health England and local authority commissioners – NHS England stated:
"NHS England is the responsible commissioner for all antiretroviral drugs (ARVs), including where they are used in HIV prevention either in preventing mother to child transmission or as post exposure prophylaxis following sexual or occupational exposure to HIV infection (PEP / PEPSE)."

The drug used for PrEP – the brand name for which is Truvada – is an antiretroviral medication that is also given to some HIV-positive people to suppress the virus. It is also one of the pills used in PEP (post-exposure prophylaxis), the regime that is used for a few weeks following exposure to the virus. PEP, which has been available on the NHS for years, helps reduce the risk of the virus taking hold if someone mistakenly has unsafe sex.
When BuzzFeed News asked NHS England to explain why it is that within a few months the organisation said it was responsible for providing antiretroviral drugs and for HIV prevention, before saying the opposite, it did not respond.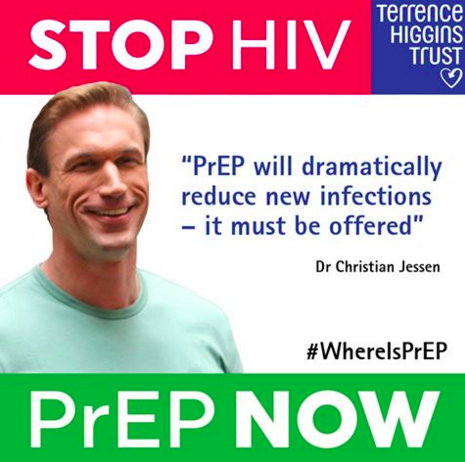 Norman Lamb MP, the former health minister, today weighed in on the furore, by drafting an early day motion calling for a debate in the Commons about NHS England's decision and demanding that the government intervenes so that the drug is made available for high-risk groups "as soon as possible".
The motion reads: "This House raises serious concerns over the recent decision by NHS England to delay the national roll-out of Pre-Exposure Prophylaxis (PrEP) for HIV; notes that this decision was made despite overwhelming evidence of the effectiveness of PrEP in reducing infection with HIV in high-risk groups..."
The motion also questions the validity of NHS England's assertion that it is not responsible for providing PrEP. It adds that the decision to implement a few "test sites" for 500 people, to monitor the drug further, "may be intended to avoid acceptance of responsibility for commissioning HIV prevention treatments rather than local authorities". It emphasises that "responsibility for commissioning PrEP should lie with NHS England rather than local authorities."
Yesterday, following statements from local authorities who said they neither had the funding to offer PrEP, nor was it their responsibility, BuzzFeed News asked NHS England to respond and a spokesman replied: "No further comment."

BuzzFeed News has repeatedly asked NHS England for an interview with its chief executive, Simon Stevens, to explain its decision surrounding Monday's announcement, but has been repeatedly denied. Stevens has not given any interviews about the PrEP decision, but earlier this week gave an interview to the BBC about its diabetes prevention programme.
A protest against the decision not to make PrEP widely available will be held outside the offices of NHS England next week.
UPDATE
An NHS England spokesperson told BuzzFeed News:
"There is no conflict between the statement from last year. NHS England continues to be the commissioner of ARVs for indications where there is a likelihood of HIV infection due to exposure.
"It is because NHS England are the commissioner in these cases that consideration was given to the use of ARVs pre-exposure.
"The determination now made by NHS England is that administering ARVs to individuals who are known not to be HIV+ and not to have been exposed (ie PrEP) is a different form of service and falls outside of our remit."