Ecstatic Scenes As Ireland Says "I Do" To Same-Sex Marriage
In a resounding victory for LGBT rights, Ireland's referendum on same-sex marriage passed with a landslide. BuzzFeed News reports from inside Dublin Castle, where campaigners rejoiced and history was made.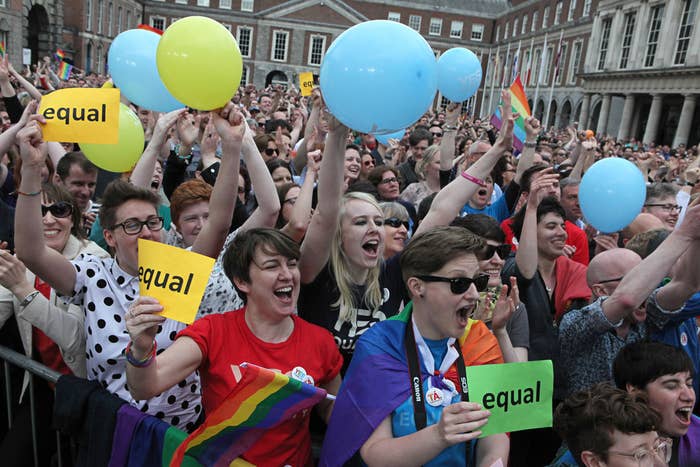 DUBLIN, IRELAND -- Ireland became the first country in the world to introduce same-sex marriage by a vote of the people on Saturday, prompting joyous scenes of celebration from supporters who gathered here.
With a landslide victory for the "Yes" campaign, the results of the referendum revealed 62.1% had voted in favour of same-sex marriage, while 38% voted against, with a majority of more than 400,000. The voter turnout of 61% was among the highest in Irish electoral history.
In extraordinary scenes at Dublin castle, where the results were announced by Referendum Returning Officer Ríona Ní Fhlanghaile at 7 p.m., Yes supporters erupted into spontaneous cheers and applause, amid people jumping in celebration, hugging, crying -- their fists raised in victory. Roars of approval rang out across the ancient courtyard as the more than 4,000-strong crowd celebrated, while the international press captured the jubilant moment.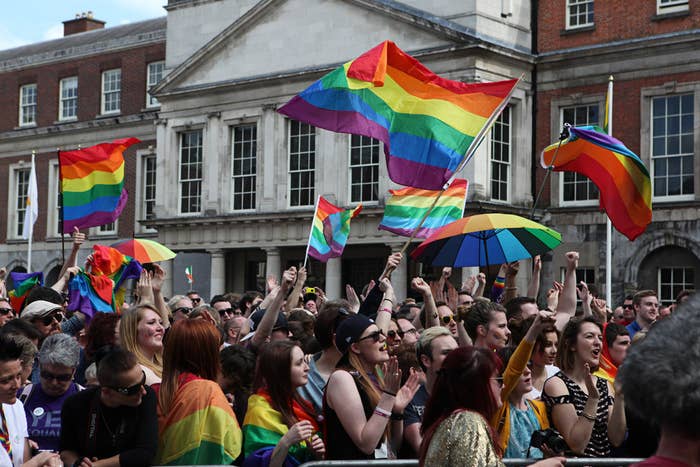 On stage at the front of the courtyard, Brian Sheehan, co-director of the Yes Equality campaign, told the crowds: "The Irish people have done something extraordinary, generous, loving, caring, inclusive. They have said that lesbian and gay people are, for once, full and equal citizens in Ireland...and we're the first country in the world to have done so by popular vote."
Applause reverberated around the castle.
Throughout the afternoon, as the crowds poured into the vast courtyard a few hundred at a time, with police keeping back many more, waves of cheers echoed across the stone-clad quadrangle as each constituency result was announced on a large screen showing a map of Ireland. Rainbow flags fluttered in the bright afternoon sun, as result after result confirmed a dramatic victory.
By 4 p.m., when the overall announcement had been expected, just 13 constituencies had been called, but all were in favour: Dublin South-West, with 71% voting Yes; Cork South-Central, with 66%; Kildare North 70%; Wicklow 68%; and on and on they came.
Only one constituency voted No: Roscommon-South Leitrim, with just 51% against. The result was met with loud boos and jeers.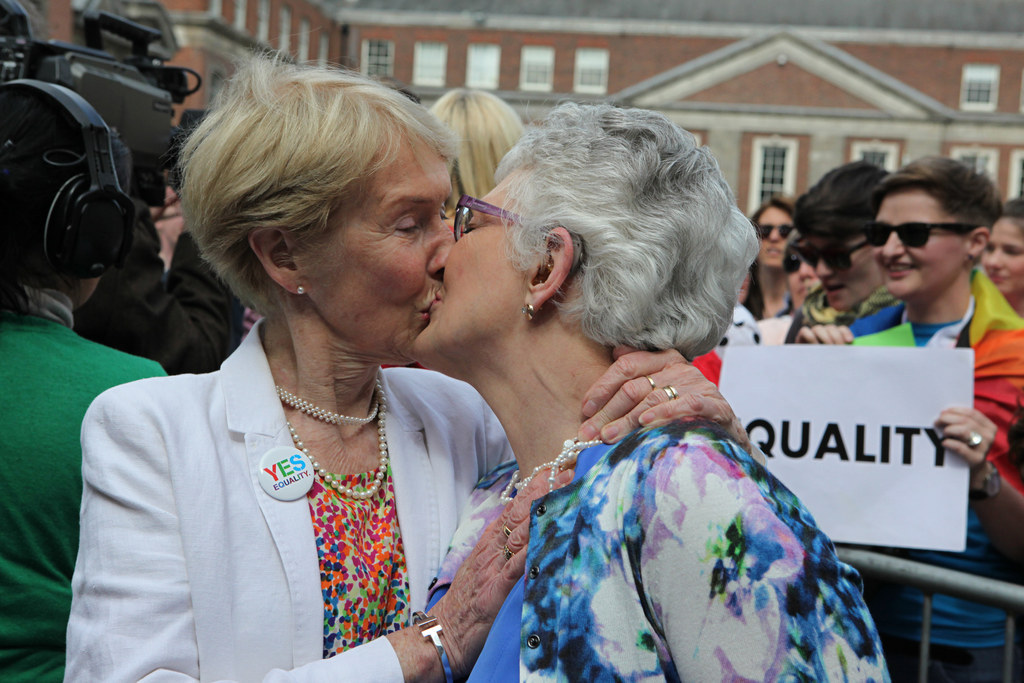 Balloons in every colour of the LGBT rainbow floated overhead, echoing the real rainbow that arched over the Dublin skyline earlier in the day. A huge inflatable silver YES also sailed above the crowd -- the word that captured a campaign and a country.
In an atmosphere of ebullient unity, young and old, gay and straight, bisexual and transgender, waited for every constituency to be announced, a mini celebration each time as the reality of an overall Yes result loomed ever closer. Clusters of friends and total strangers burst into song after song, with Abba's "I Believe in Angels" returning more than once, as the football chant "Olé, Olé, Olé" took over.
As the results were emerging, Panti Bliss, the drag queen and Ireland's most iconic LGBT rights activist, sashayed round the perimeter of the courtyard to meet the public and celebrate with them. In a walkabout reminiscent of a royal visit, a pink-suited Panti, (whose real name is Rory O'Neill), beamed and joked with the crowds, as fans clasped and congratulated her.
She told BuzzFeed News: "I feel incredible today, it couldn't feel any better. It's thrilling. I will be partying all night. This is the one day of the year I'm allowed."
She also had some words for those who voted against the measure.
"I honestly believe that in time they'll understand that their fears are unfounded and they'll look back and think, yes, today is a good day," she said. "I don't have to forgive them, they voted No for their own concerns, but I think their concerns are unfounded and I hope in time they'll come to agree with me on that."
Her words were met with loud applause, as she continued making her way through the crowds and more people surged into the open-air venue.
David Norris in the courtyard, celebrating.
A buoyant David Norris, the gay Irish senator and veteran campaigner for LGBT rights, told BuzzFeed News: "It's a real justification and vindication for everything we worked for. I want to thank the straight people of Ireland, the majority of whom voted to make us for the first time part of the Irish family."
"I feel great," he added, grinning. "Though I doubt anyone will be seeking my hand in marriage at the age of 71 with a new liver. I don't think I'll be looking for a husband tonight, but rather a nice soft bed and a good book."
Climbing onto the stage, Norris addressed the crowd crying the motto of the French Revolution, "Liberty! Equality! Fraternity!," to deafening cheers.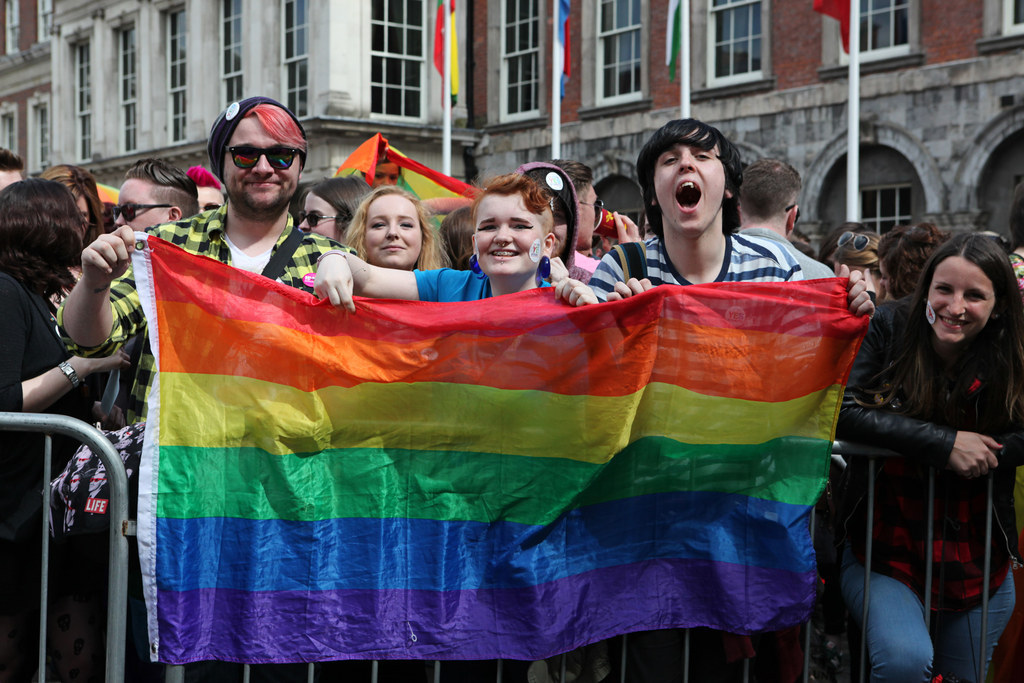 After months of, at times, bitter arguments over the rights of LGBT people to marry, the clear win is already being seen as not only a comment on liberalising attitudes towards homosexuality but also a reflection of the loosening grip of the Catholic Church in Ireland, where homosexuality was only decriminalised 22 years ago.
Celebrations, special club nights, and spontaneous street parties were expected to continue throughout the night as Ireland came to terms with a day that made history, that confirmed Ireland as a progressive trailblazer on the world stage, and where, for the first time, LGBT people felt that their country recognised them as equal citizens.
Ireland, on May 23 2015, said "I do" to same-sex marriage.