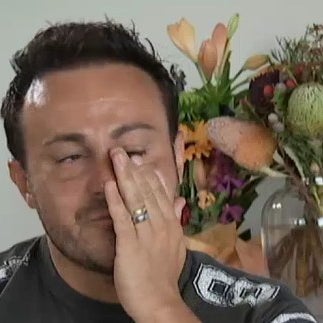 Airport officials in Hong Kong confiscated the ashes of a British man's husband because they did not consider him to be the next of kin, BuzzFeed News can reveal.
Marco Bulmer-Rizzi, 38, was carrying the cremated remains of his husband, David Bulmer-Rizzi – who died on their honeymoon in Australia after falling down a flight of stairs – through Hong Kong International Airport when security staff stopped and questioned him before taking the ashes.
The incident on 22 January came just days after BuzzFeed News revealed that Australia's refusal to recognise same-sex marriage meant the death certificate stated that David was "never married" and the funeral arrangements had to be approved by his father. The story sparked an international outcry that led the premier of South Australia to apologise to Bulmer-Rizzi and promise to change the law.
It is only now, nearly three months on, that he has felt able to discuss publicly what happened as he tried to fly home with his late husband's ashes.

The Hong Kong airport incident proved to be one of numerous problems he encountered while repatriating his husband, partly as a result of international laws not acknowledging their marriage.
But Bulmer-Rizzi also said he received little assistance from the UK Foreign Office, prompting him to speak out about the treatment of LGBT spouses when travelling abroad.
Because he was not recognised as the next of kin, he did not have a death certificate that detailed his legal claim on the ashes. He said he asked the British authorities to provide him instead with documentation explaining his next-of-kin status so that he could travel home unhindered, but the Foreign Office did not do so.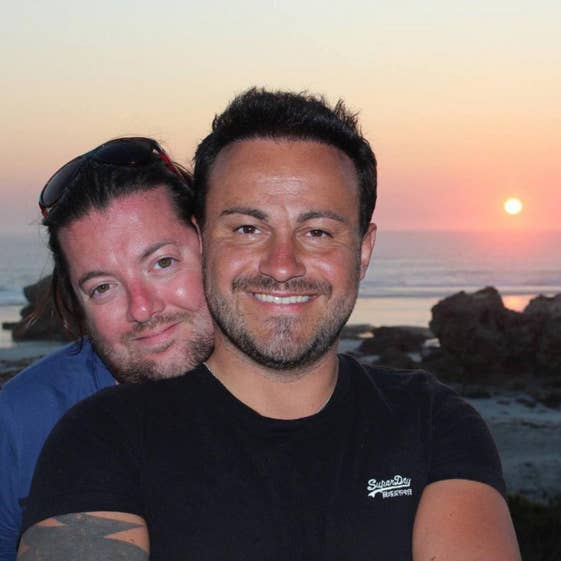 At the stopover in Hong Kong – where same-sex marriage is not legal – security officials spotted the ashes as they went through the X-ray scanner, prompting a guard to apprehend him.
"I was taken to one side and she said, 'What's in this box?'" he told BuzzFeed News. "She wanted to open the box. And I said, 'These are human remains. It's my husband. My husband died while we were in Australia. She just looked at me and said, 'I need to take this away.'" But before taking the container, the guard inquired again about the identity of the deceased.
"She said, 'Who did you say died?" And I said, 'My husband. And this is his passport.' And she said, 'No. I'm gonna take this [the ashes] away.'"
Bulmer-Rizzi, who was still in shock from the sudden loss of his husband a week earlier, said that when the security guard removed the ashes he had a "meltdown".
"I put my hand down [on the box] and said, 'No, you can't. I need to see your supervisor.'" The official's manager arrived to find Bulmer-Rizzi in a state of distress, trying to stop what was left of his husband from being taken from him.
"I felt like I was losing him again," he said, adding: "All I wanted was to be able to travel with David's ashes on me so he wouldn't have to travel back by himself."
Although it is legal to travel with human remains, Bulmer-Rizzi was aware that he lacked the paperwork confirming their relationship, so he pleaded with the more senior official to release the ashes back into his care.
"Again I was asked who the remains were and I said, 'My husband, David.' At that point I wanted the world to know that it was my husband. And she asked me, 'What do you mean "your husband"?'"
Apart from the deceased's passport, the only piece of documentation Bulmer-Rizzi said he could give the officer was a letter from the funeral home. The note, he added, merely stated that "David's body had been cremated and the remains I had were human."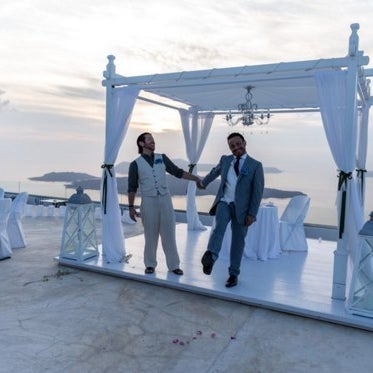 Eventually, however, after looking at both passports and the letter, the official decided to overrule the other guard and allowed Bulmer-Rizzi to retrieve the ashes and continue back to the UK. He has since made a complaint to the airport. The situation should not have occurred, he said, and could have been avoided had his pleas to the British consulate before he left Australia been met.
"I explained to them that I was really worried about travelling with David's remains because I knew I might end up going through another country claiming to be his husband, possibly where same-sex marriage wasn't even recognised, and I didn't have any official documents [stating their relationship]," he said. "I specifically asked the consulate if they could give me anything and they said no."
He added: "The government could have simply issued me a letter saying I was David's next of kin. My government should step up." The failure to do so, he said, not only exacerbated the difficulties transporting his husband's remains but also exposed wider failures of the Foreign Office to help same-sex couples.
Bulmer-Rizzi said he phoned the British consulate in Melbourne after doctors told him that his husband, who was at the time in a coma, would likely die.
"There was nothing in place," he said, adding that there was also no pertinent information for LGBT people on the Foreign Office website. "They weren't aware. It came as a complete surprise to them that somebody who is in a same-sex marriage might find themselves in a position where they're not recognised as the next of kin."
Marriage for gay couples came into force in 2014 in England and Wales, but despite it not being available in Australia – and in certain states such as South Australia not even overseas same-sex marriages are recognised – the consular staff were not prepared for any of the implications for British nationals, he added.
"I thought whenever there was a change of policy in the UK that would impact UK citizens abroad, there would be some sort of [training] process. They had no information to give me. They had no clue."
When BuzzFeed News' story of his husband's death hit news channels in Australia, Bulmer-Rizzi said he emailed the woman he had been in contact with at the consulate in Melbourne asking for further advice about repatriating the body. "[She] said they were waiting for guidance from London because they were no policies or procedures in place."
As the story went viral around the world amid widespread public anger, Jay Weatherill, the premier of South Australia, telephoned Bulmer-Rizzi promising to change the law within months so the state would recognise overseas same-sex marriages, and pledging to issue him with a death certificate that would denote that the deceased was married. Bulmer-Rizzi has since been issued with an interim death certificate that now indicates the marital status of his husband.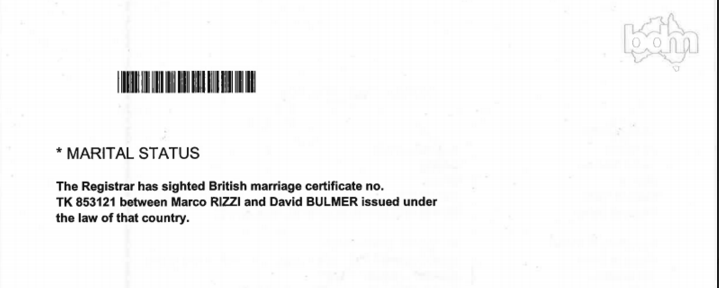 "In many ways South Australia has gone further than my own government has," he said.
Although the Foreign Office closed a loophole – as a result of the Bulmer-Rizzi case – that prevented Britons in a handful of countries being able to get UK-style death certificates, it came too late for him: "They [the British consulate] should have understood and stepped in.
"They should have given me a next-of-kin letter, just something so that if I had issues with the hospital, in terms of making final decisions, I could have just said, 'I'm David's next of kin and this letter is to confirm that.'"
Without that official acknowledgment, his father-in-law, Nigel Bulmer, had to approve all such final decisions.
"When you can't makes those choices for your husband, it felt like I was letting David down," he said. "It's the worst possible feeling you can have. This is why I want to raise the issue, because I don't want anyone else to go through it. What about all the other [LGBT] people whose partner is taken ill?"
He called for the Foreign Office to introduce a range of services to better assist Britons in similar circumstances: staff training among embassy and consulate staff to improve knowledge of LGBT laws, a designated employee to deal with LGBT Britons subjected to discrimination, and a section on the Foreign Office website with country-specific advice for LGBT people when travelling abroad.
"I want somebody [at the Foreign Office] to tell me what they're doing about this," he said. "I want them to understand there's a real person behind this, that there were two real people behind this. I need someone to understand the human impact of it – the anguish you go through when that happened and your union is invalid. That's what it comes down to."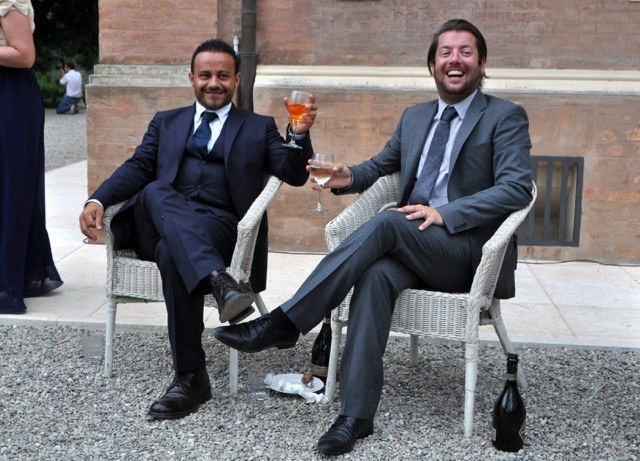 He has been to see his MP, Bridget Phillipson, to discuss how the authorities could improve the consular help currently available, and she is writing to the Foreign Office. Meanwhile, Bulmer-Rizzi called on the government to do more to ensure the rights of LGBT citizens are protected when abroad.
"This is what marriage equality means," he said. "The first step is that we can go to a register officer – which was the best day of my life – but I had no idea that I would be exposed to a whole other side of what being married means. The next step for same-sex marriage is to issue something that says 'next of kin.'"
Bulmer-Rizzi also advised gay couples to seek advice before travelling to anti-gay countries, in the event of an emergency, and to consider securing power of attorney status to avoid what he suffered.
Jay Weatherill has kept in touch with Bulmer-Rizzi, giving him updates on the progress of changing the law in South Australia to recognise overseas same-sex marriages – it is expected to pass within a few months. And in February, Victoria, the state adjacent to South Australia, changed its law as a result of the Bulmer-Rizzi case, beating its neighbour in the process.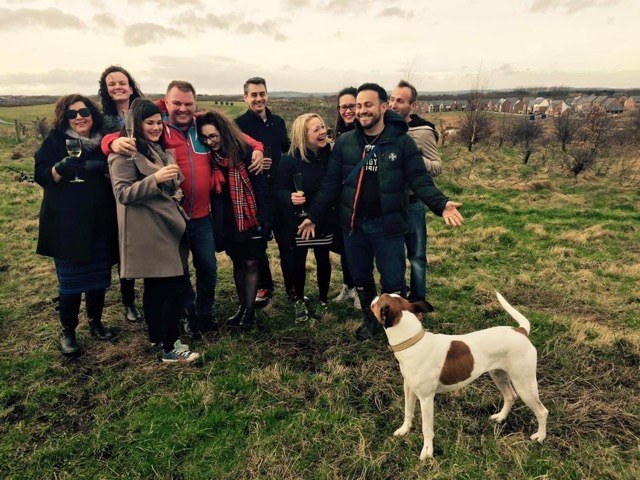 Also in February, Marco Bulmer-Rizzi was finally able to scatter the ashes of his beloved in Houghton-le-Spring, David Bulmer-Rizzi's hometown in Sunderland, with a group of David's friends.
That evening, Marco Bulmer-Rizzi uploaded to Facebook photos of the occasion showing the group of friends hugging as they said goodbye to David. The status update ended with a simple message: "I am not grateful for many things of late, but I am grateful for having you."
A Foreign Office spokesperson told BuzzFeed News that they would happily arrange a meeting between Bulmer-Rizzi and a member of staff to discuss the issues he has raised, and said: "We have the greatest sympathy for Mr Bulmer-Rizzi and our staff in Australia and the UK worked hard to offer support and find a practical solution. Following this exceptional case, we put in place a process enabling us to issue a death registration quickly once an application is received."
The spokesperson added: "We have asked the premiers and chief ministers of states and territories where UK same-sex marriages are currently not recognised to urgently consider legislation or other measures that would allow for such recognition on death certificates."
The company responsible for providing security officials to Hong Kong International Airport did not respond to BuzzFeed News's request for comment.
UPDATE
Following publication of this story a spokesman for AVSECO, the company that provides security for the airport, said: "We have conducted a thorough record check on the information provided but we did not come across the alleged case on the material date. I am sorry that I cannot be more helpful on this occasion."