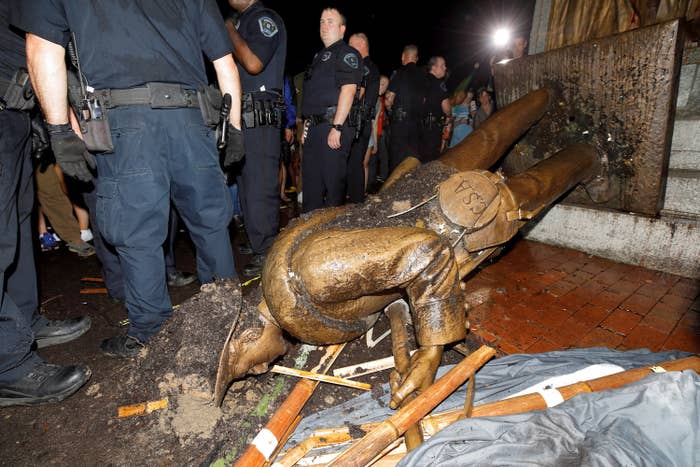 Police arrested seven protesters on Saturday at a rally at the University of North Carolina at Chapel Hill, as tensions continued to run high after a contentious statue memorializing UNC participation in the Civil War was brought down last week.
Two of the arrests were related to alleged assaults, the destruction of property, and the incitement of a riot, a university spokesperson told the New York Times.
Another two arrested were in connection with alleged assault, and three were in connection with alleged destruction of property and resisting an officer.
None of those arrested were affiliated with the university, according to a UNC statement. About 100 people turned up to Saturday's rally and there were no reports of any serious injuries.
The statue, known as Silent Sam, had been in place for more than 100 years. As a symbol of the Confederacy, it became a focal point for campaigners who called for its removal.

Demonstrators began gathering at 10 a.m. at the site of the statue, in the town of Chapel Hill, and protests continued until 3 p.m., according to an account of events given by the town manager.
A significant number of pro-Confederate counterprotesters also showed up Saturday, as shown in footage captured by reporters at the scene.
On Thursday night, UNC police filed charges against three protesters said to have been involved in Monday night's takedown of the statue, with more charges possible.