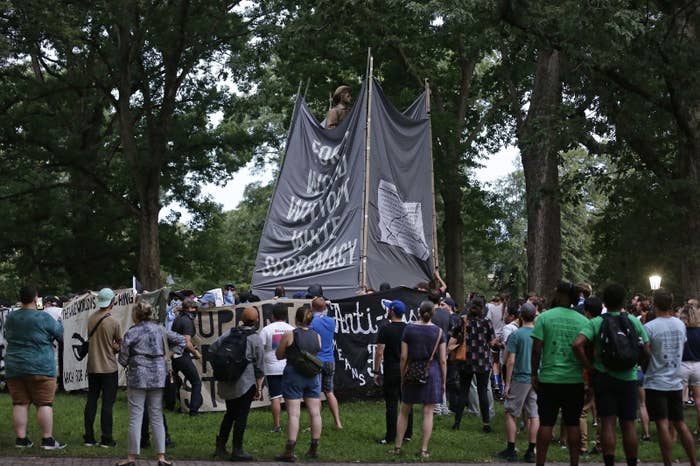 A contentious Confederate statue on the campus of University of North Carolina at Chapel Hill was torn down by a group of protesters Monday night.
Around 300 protesters marched through Franklin Street, a prominent thoroughfare in Chapel Hill, at times blocking the road to traffic, before eventually gathering around the base of the "Silent Sam" statue, chanting "stand up, fight back" and "hey, hey, ho, ho, this racist statue has got to go," according to WRAL.
By 9:30 p.m., the statue had been torn down and protesters then buried its head in dirt. ABC11 reported that a small group used a rope to bring the statue crashing down.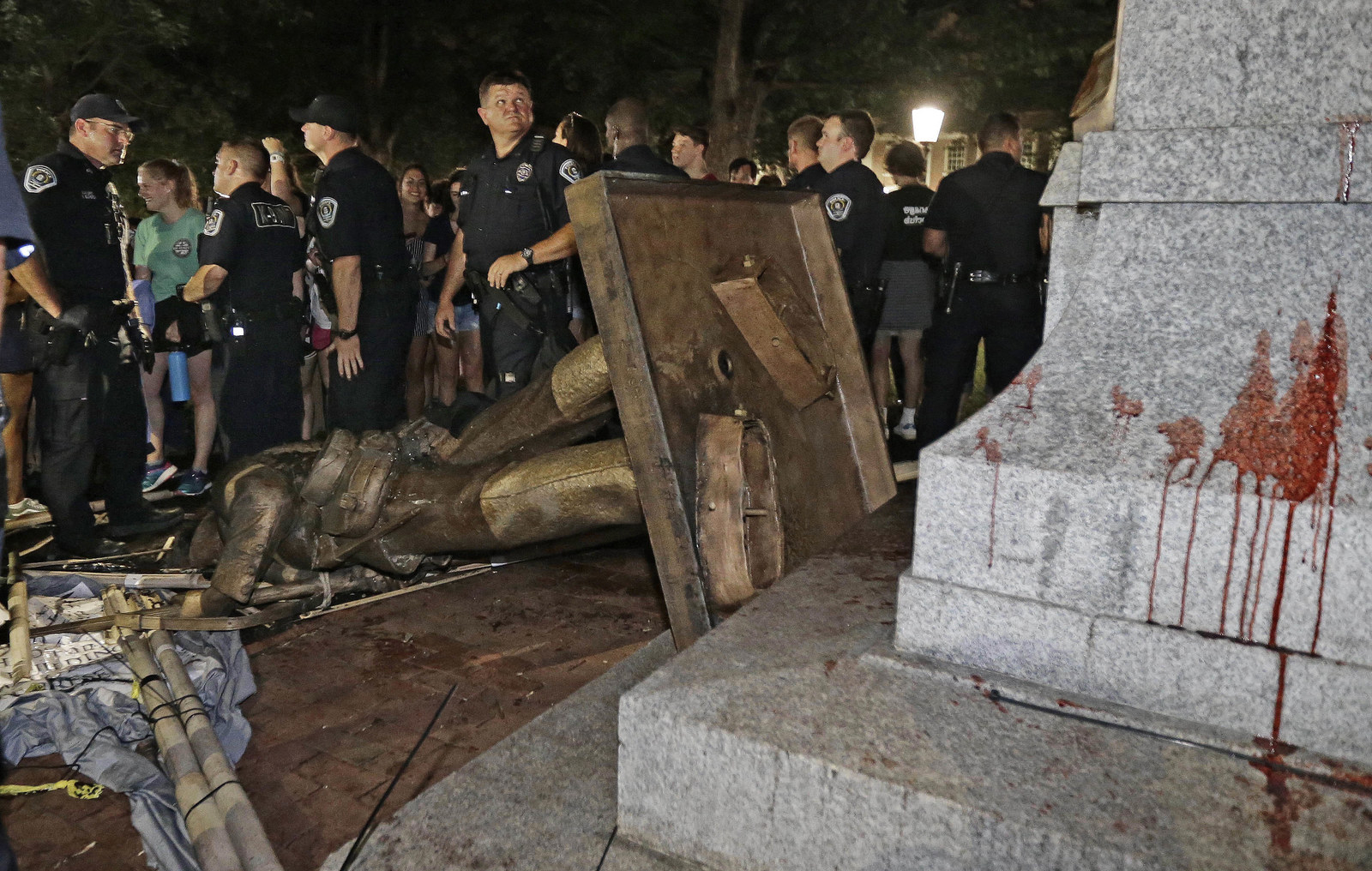 One person was arrested and charged with concealing their face during a public rally and resisting arrest, WRAL reported. Chapel Hill police did not immediately respond to a BuzzFeed News request for information.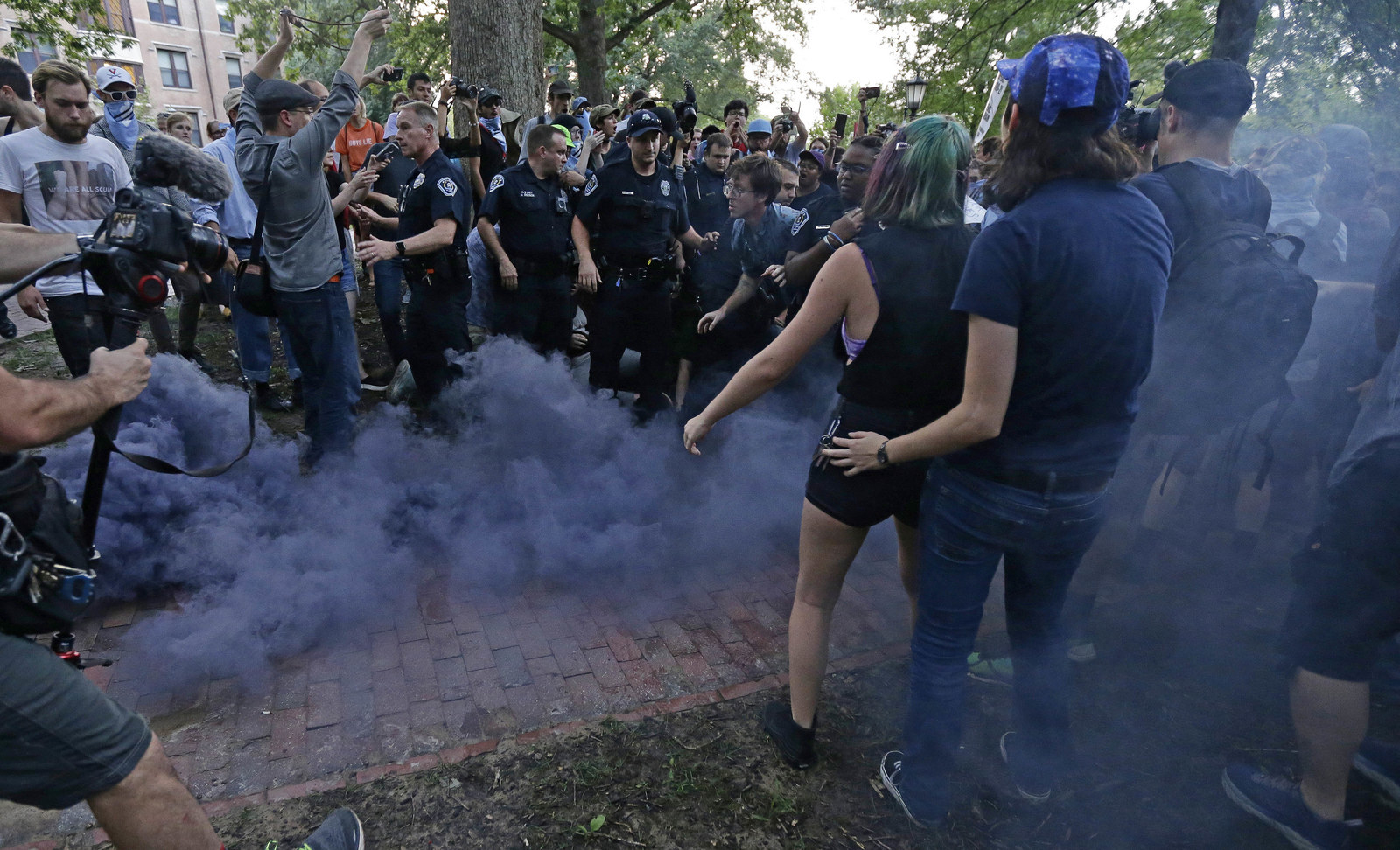 The statue was erected in 1913 as a monument to the more than 300 alumni of the school who died during the Civil War and the more than 1,000 who joined the Confederate States Army.
The statue has been controversial for decades, but after a white supremacy protest in Charlottesville, Virginia, turned deadly last year, students at UNC renewed calls to tear it down.
In a statement to BuzzFeed News after the statue was torn down Monday, school officials said that "tonight's actions were dangerous, and we are very fortunate that no one was injured." The university said it has opened a vandalism investigation and is "assessing the full extent of the damage."
North Carolina Gov. Roy Cooper said on Twitter that he has been in contact with local law enforcement and school officials, "and appreciates their efforts to keep people safe."
In a statement, Cooper's office added that the "governor understands that many people are frustrated by the pace of change and he shares their frustration, but violent destruction of public property has no place in our communities."