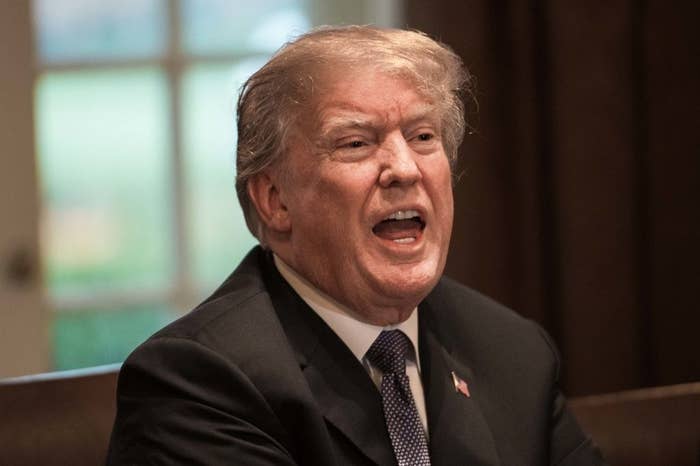 President Trump has told Syria and its close ally Russia to "get ready" for a missile strike on Syria, but a White House official said the US has not yet decided how to respond to a suspected chemical weapons attack on civilians that is thought to have killed more than 70 and injured 500.
In response to media reports that Russian forces would be able to shoot down any US missiles fired at Syrian targets, Trump tweeted Wednesday morning, "Get ready Russia, because they will be coming, nice and new and 'smart!"'
He also referred to Syria's President Bashar al-Assad as a "Gas Killing Animal who kills his people and enjoys it!"
During a press briefing Wednesday, White House press secretary Sarah Huckabee Sanders said officials have not determined how to respond to the attack in Douma on Saturday.

"We have a number of options and all of those options are still on the table," Sanders told reporters.

When asked specifically about Trump's tweet, Sanders said a missile strike was "certainly one option," but not the only option being considered.
On Thursday morning the President followed up with a tweet saying that there was no confirmed time or date for a potential missile launch.
Trump's original tweet appeared to be responding to comments from Alexander Zasypkin, the Russian ambassador to Lebanon, who told the Hezbollah-run al-Manar TV station, "If there is a strike by the Americans then ... the missiles will be downed and even the sources from which the missiles were fired."

In response to Trump's tweet, Russian Foreign Ministry spokesperson Maria Zakharova said in a Facebook post, "Smart missiles should fly toward terrorists, not the legitimate government that has been fighting international terrorism for several years on its territory."
She went on to point out that a missile strike could eliminate any evidence that investigators from the Organisation for the Prohibition of Chemical Weapons might want to find. The OPCW has sent a fact-finding mission to Douma.
"Or the whole idea is to quickly cover up the traces of provocation by the strikes of smart missiles, and international inspectors would have nothing to look for as evidence?" she wrote.
The Syrian government called the US threats of an attack "reckless" and said they endangered international peace and security.
In a follow-up tweet, Trump then said there was no need for hostilities between Russia and the US.
Other Western leaders have been much more cautious in the language they have used to describe the apparent chemical weapons attack. France and the UK have agreed that action should be taken against whoever was behind the attack, but have stopped short of pointing the finger of blame squarely at the Syrian regime.

In a phone call on Thursday, British Prime Minister Theresa May and President Trump agreed that action was needed in response to the Assad regime's "dangerous behavior" with chemical weapons.
"They agreed it was vital that the use of chemical weapons did not go unchallenged, and on the need to deter the further use of chemical weapons by the Assad regime," a Downing Street spokesperson said. "They agreed to keep working closely together on the international response."
Trump's position was bolstered on Wednesday by a statement from the World Health Organization, which said chemical weapons were used in Douma to kill at least 70 people and injure as many as 500.

The WHO, which is working closely with local health partners to assist the thousands of people evacuated from the region, is demanding "unhindered access" to the site.
The WHO said in a strongly worded statement that it was "deeply alarmed by reports of the suspected use of toxic chemicals in Douma city, East Ghouta."
More than 70 people "sheltering in basements" in Douma died on Saturday, the organization said, and 43 of these deaths were related to "symptoms consistent with exposure to highly toxic chemicals." Two health facilities were also damaged, it claimed.
"According to reports from Health Cluster partners, during the shelling of Douma on Saturday, an estimated 500 patients presented to health facilities exhibiting signs and symptoms consistent with exposure to toxic chemicals," the WHO's statement read.
"In particular, there were signs of severe irritation of mucous membranes, respiratory failure and disruption to central nervous systems of those exposed," it said.

The suspected chemical weapons attack has sparked a fresh diplomatic crisis between Syria, its allies Iran and Russia, and the West over the seven-year Syrian civil war.
Without naming Syria and Russia — which have both denied that chemical weapons were used at Douma — the WHO reminded "parties to the conflict" that there is an outright ban on the use of chemical weapons under international law.

"Global norms against chemical weapons reflect a particular abhorrence to their disproportionate harm to the eldest, the most infirm, and the youngest among us," the statement said.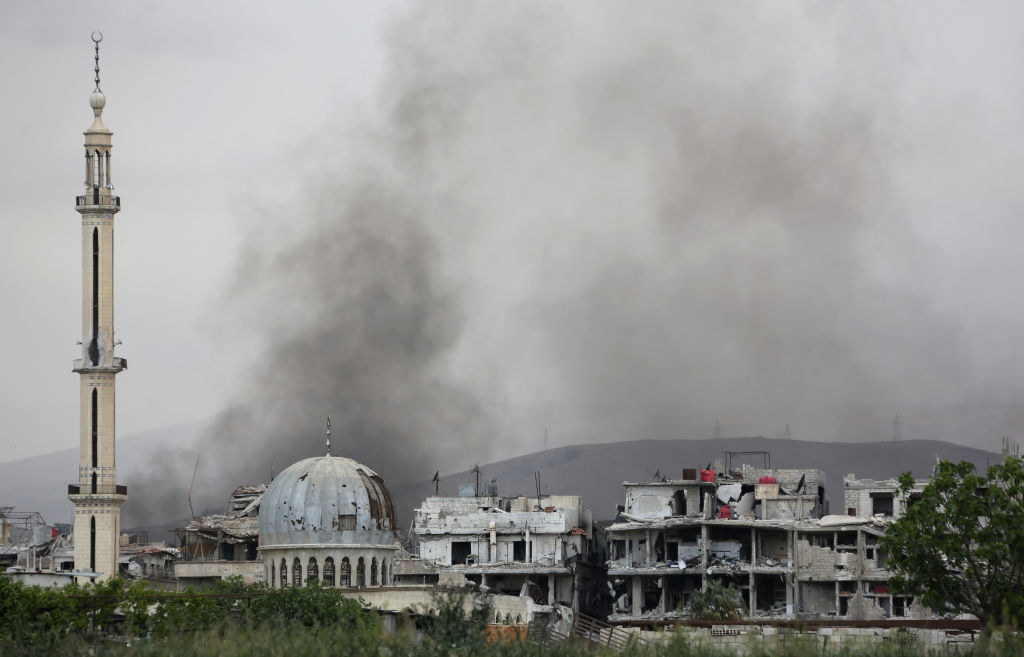 Dr. Peter Salama, WHO's deputy director-general for emergency preparedness and response, said, "We should all be outraged at these horrific reports and images from Douma. WHO demands immediate unhindered access to the area to provide care to those affected, to assess the health impacts, and to deliver a comprehensive public health response."
WHO is now coordinating a health care response for the thousands of people who have been evacuated from East Ghouta and taken to Damascus and elsewhere, after rebels who were holding out against government-led forces at Douma finally surrendered.