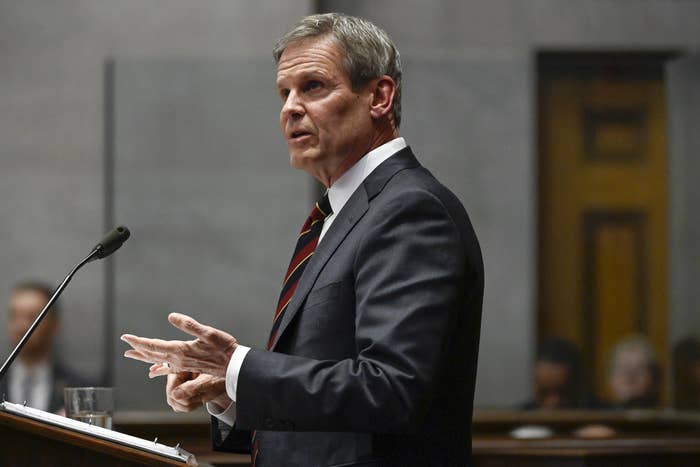 After three children and three adults were killed Monday morning during a school shooting in Nashville, Republican Gov. Bill Lee tweeted that he was "praying for the school, congregation & Nashville community."
"I am closely monitoring the tragic situation at Covenant, & the @TNDeptofSafety & @TNHighwayPatrol are assisting local law enforcement & first responders at the scene," Lee tweeted. "As we continue to respond, please join us in praying for the school, congregation & Nashville community."
Lee's prayers come roughly nine months after he announced he did not support restricting firearms or stronger gun control laws, according to the Associated Press. After 19 kids and two teachers were killed in Uvalde, Texas, in May 2022, Lee told reporters that his focus was on security at schools.
In June 2022, he signed an executive order, along with other Republican governors, calling for enhanced school safety measures, but the executive order didn't mention "guns" once. Lee didn't immediately respond to BuzzFeed News' request for comment.
The executive order noted that Tennessee had invested more than $100 million "to support improvements in school safety, hiring of school resource officers, and building security."
"We're not looking at gun restriction laws in my administration right now. There's one thing to remember, criminals don't follow the laws. Criminals break laws," Lee said, according to the AP. "We can't control what we can't control."
Lee wasn't the only state official to mention prayer after the mass shooting on Monday. David Rausch, director of the Tennessee Bureau of Investigation, told reporters he sent his "heartfelt prayers" to the community.
"Now I know there will be people who want to criticize us for prayers, but that's the way we do that in the South, right," Rausch said. "We believe in prayer and we believe in the power of prayer, & so our prayers go out to these families."
When contacted by BuzzFeed News, a spokesperson for Rausch said he had nothing to add.
On Monday morning, a 28-year-old shooter killed three children and three adults inside the Covenant School, a private Christian school in Nashville. In 2021, Lee passed into law that most adults 21 and older are allowed to carry handguns without a permit. The law does not require citizens to complete training.
During Lee's State of the State address in February, he didn't mention guns or firearms once. Instead, he proposed funding to place at least one Department of Homeland Security agent in each of the state's 95 counties, and he spoke about the SafeTN app, where anybody in the state can report suspicious activity.
Gun violence in the US is a public health crisis, according to the American Public Health Association. It is a leading cause of premature death in the country, responsible for more than 38,000 deaths annually. As of March 27, at least 4,202 people have died from gun violence this year, and another 5,676 have died by suicide, according to data from the Gun Violence Archive. As of March 27, there have been 130 mass shootings, six of which have been in Tennessee.