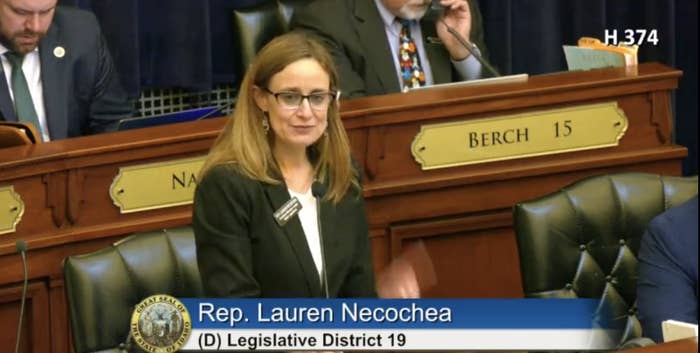 Idaho state Rep. Lauren Necochea grew emotional as she took the floor in a House committee hearing considering revisions to the state's criminal abortion law, describing how she returned to the state after college and the early years of her career to start her family.
As much as she's loved raising her daughters near their grandparents and extended family, the Democratic lawmaker said she can't encourage them to do the same.
"I can't encourage my two daughters to settle in Idaho with the laws we have in the books," Necochea said at the hearing on March 29. "I would be terrified to have my daughters try to carry a pregnancy here. This is not a safe place to be pregnant. I think the statute is tearing families apart and is pushing our OB-GYNs out of state, and this bill does nothing to change that."
In Idaho, abortion is banned at all stages of pregnancy with very limited exceptions — and the language of the law and its criminal penalties has created confusion that doctors say has hurt their ability to treat patients.
"Every week I am hearing about another OB leaving the state," Emily Corrigan, an OB-GYN in Boise, told IdahoNews.com. "Physicians must be able to act before a patient acutely decompensates when the medical complication occurs. We were hired to be the expert in these scenarios in this city and in this state. Please let us do our jobs."
But before that, on March 29, a bill was introduced to clear up some of the language, including that rape and incest victims can get an abortion in the first trimester if it is reported to the police or child protective services.
A doctor can also perform an abortion if the pregnant person is close to death. However, some doctors have said they aren't sure what the line is between saving a pregnant person's life and being convicted of a felony if they perform the procedure.
"How close to death do you need to be before you can intervene?" Dr. Lauren Miller told KTVB7. "... We shouldn't just be talking about preventing death. That's not what we do as healthcare providers. We maintain the health of our patients and sometimes, unfortunately, termination of pregnancy is a part of that conversation."
The blurry line is what's been wrenching for Necochea, who is a fourth-generation Idahoan. At the March 29 hearing, she spoke about how after leaving the state, she came back to be close to her family.
"After I had my first child, my first daughter, I knew I wanted to come back here, come back home to Idaho," she said. "I called up my mom and said, 'How much free childcare can you give us?' And she said 24/7, so that was a good deal, so we came and we live just a few blocks from my parents. My dad is probably on his way to pick up my daughter from school right now, and my seventh-grader is probably already there hanging out. They're the glue that holds us together and lets me do what I can do."
She went on and explained how she's torn because while "family is everything," she wants to stay in Idaho to care for her parents as they age, but she also wants to be close to her daughters as they grow up and potentially have their own children.
With the restrictions on reproductive healthcare in Idaho, she said, she'll encourage them to leave.
Since the overturning of Roe v. Wade, many states, including Idaho, have banned abortion, and people have reported difficulty accessing even routine healthcare procedures. In January, an Idaho woman posted about her 19-day miscarriage on TikTok because a doctor wouldn't perform a D&C, also known as a dilation and curettage procedure, which removes tissue from inside a person's uterus.
Idaho has some of the strictest abortion laws in the country. In addition to the criminal ban, it's illegal to get abortion medication for a minor. And on Wednesday, Gov. Brad Little signed an "abortion trafficking" law, which makes it illegal to help a minor travel to get an abortion without their parents' consent. It's the first of its kind in the US, and anyone convicted under it can serve up to five years in prison.