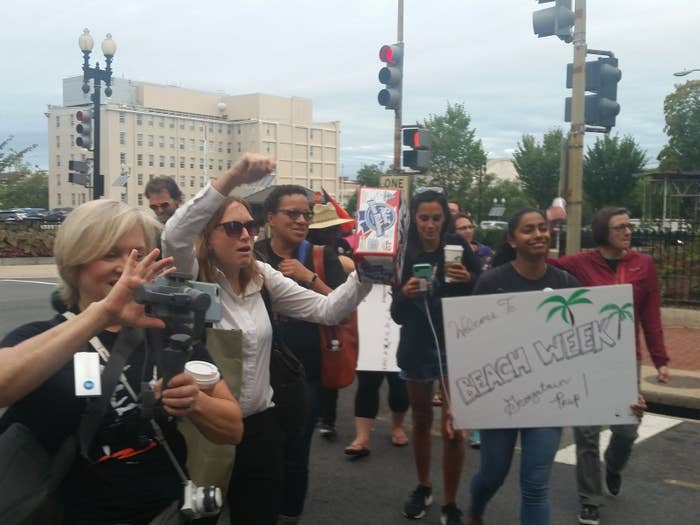 A handful of protesters chanted about beer and Beach Week outside Senate Majority Leader Mitch McConnell's Washington, DC, home on Friday morning in the lead-up to a key vote on Brett Kavanaugh's nomination to the Supreme Court.
"What do you do with a drunken justice early in the morning," the crowd sang in a video posted to social media.
"Chug! Chug! Chug! Chug!"
The kegger-themed protest, which included cans of PBR and signs evoking frat parties, was intended to draw attention to questions about Kavanaugh's character and temperament, organizer Jennifer Flynn Walker told BuzzFeed News.

"Was it over the top? Yes. We're having a confirmation kegger in front of Mitch McConnell's house," said Walker, who works at the Center for Popular Democracy.
"If they have him as a Supreme Court justice, it's a complete and total sham," she said, pointing to the allegations of attempted sexual assault against Kavanaugh (which he has denied), and his conduct during testimony in front of the Senate Judiciary Committee.
"We're talking about a Supreme Court nominee and the dominant discussion is about drinking at frat parties and rape," said Walker, who estimated about 20 demonstrators participated in the morning protest.
As leader of the House, McConnell is responsible for calling the Senate to vote on Kavanaugh.
Walker said he was at home at the time of the protest, but that he didn't respond: "He didn't come out or anything, and say pass me a beer. But we know he was there."
A representative for McConnell didn't immediately respond to a request for comment. McConnell later held a vote in the Senate on whether to end debate and allow the nomination to proceed to a final vote. The measure passed 51–49.
Friday's beer protest highlighted questions about Kavanaugh's drinking habits during his high school and college years that have arisen since Christine Blasey Ford told the Senate said that Kavanaugh was "visibly drunk" at the time of the attempted assault.

Kavanaugh has sought to characterize his drinking as youthful fun, and mentioned his love of beer numerous times during Senate testimony last week, drawing a contrast with more serious drinking.
"I liked beer. I still like beer," Kavanaugh told the Senate. "But I did not drink beer to the point of blacking out."
Multiple classmates from Kavanaugh's time at Yale, however, have accused him of lying to the Senate.
"We said, unequivocally, that each of us, on numerous occasions, had seen Brett stumbling drunk to the point that it would be impossible for him to state with any degree of certainty that he remembered everything that he did when drunk," three former classmates wrote in the Washington Post.
"No one should be able to lie their way onto the Supreme Court."