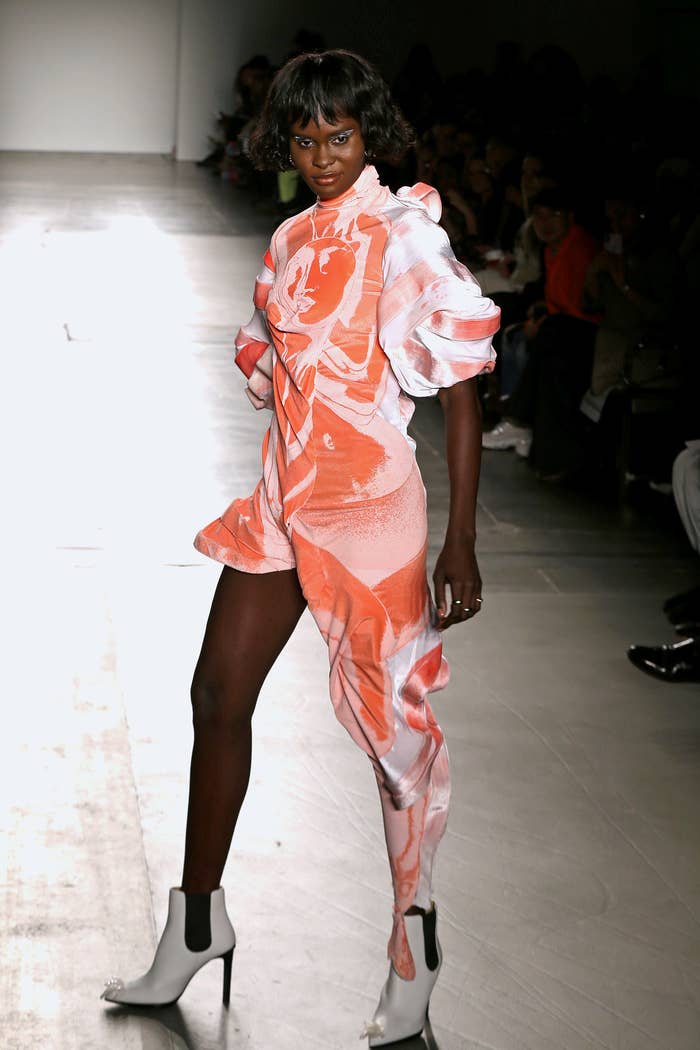 A New York City fashion institute placed two school officials on administrative leave Friday following a fashion show featuring "racist references" that led to backlash from models and students.

The runway show, put on during a New York Fashion Week showcase for graduating students of the Fashion Institute of Technology's MFA program, included "large prosthetic ears and lips and bushy eyebrows," the school said in a statement addressing the incident.
In addition to students who protested the prosthetics, model Amy LeFevre, who is black, told NBC News that she "almost broke down in tears" when she found out she was supposed to wear them during the show and said she felt "pressured" by those in charge.
She said she told the runway show's organizers that the prosthetics called back to offensive caricatures of black people.
LeFevre said FIT students "did come to support me, realizing how inappropriate [the accessories] were," but said that they were yelled at to move away from her.
LeFevre eventually ended up walking the runway without the accessories.

FIT president Joyce Brown said in the school's latest statement that she would be sending LeFevre and the other models who participated in the show letters of apology. Requests for comment from LeFevre were not immediately returned Saturday.

The collection was designed by FIT alum Junkai Huang. However, Brown said in the statement that Huang's collection "was not aimed at invoking or provoking racial implications" and noted that "it also appears — based upon information available — that the styling and accessorizing used in the show were provided to him rather than chosen at his discretion."
"To us, this indicates that those in charge of and responsible for overseeing the show failed to recognize or anticipate the racist references and cultural insensitivities that were obvious to almost everybody else," Brown said.

It was not clear who provided Huang with those accessories. Requests for comment from both Huang and FIT were not immediately returned Saturday.

FIT said that the school has also commissioned law firm Bond, Schoeneck & King to investigate the incident. Both Mary Davis, dean of the School of Graduate Studies, and Jonathan Kyle Farmer, chair of the MFA Fashion Design Department, have been placed on administrative leave pending the investigation's conclusion.
In an Instagram post, Farmer apologized to LeFevre and took "full responsibility" for the accessories, NBC News reported.

"I deeply apologize for any harm and pain I've caused to those involved with the show, including Amy LeFevre," he wrote. "It was never our intent for the show's styling to be interpreted as racist or to make people feel uncomfortable but I now fully understand why this happened. I take full responsibility and am committed to learning from this situation and taking steps to do better."

Farmer's Instagram account is now private.
The fashion industry has been no stranger to designs invoking racist tropes in recent years. In 2018, Prada was criticized for a window display featuring figurines in what many said was blackface, and agreed to racial equality training for its employees in New York City moving forward. Gucci has also apologized for clothing featuring blackface imagery, and Burberry announced new diversity initiatives after it included a "noose hoodie" in a 2019 fashion show.